Quynh-Giao Sartor, MD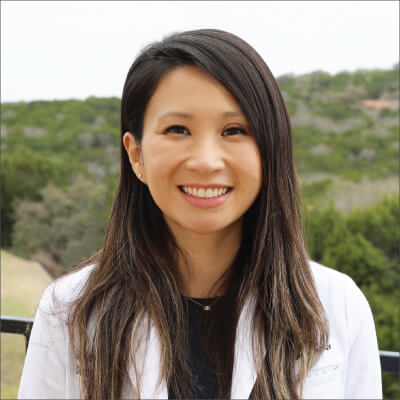 Quynh-Giao (QG) Sartor, MD was born into a first generation Vietnamese-American family and grew up within the Houston inner loop. She completed her undergraduate studies at Brown University with a Bachelor of Science in Neuroscience, magna cum laude, and with distinction in Chemistry and Comparative Literature. She then obtained a Medical Doctorate and completed her internal medicine internship and dermatology residency at Baylor College of Medicine (BCM) in Houston. At BCM, she was nominated for the Alpha Omega Alpha honor society and awarded the Debra Kalta Award for outstanding research in dermatology.
Dr. Sartor's professional expertise includes medical dermatology as well as in-office cosmetic and surgical procedures, for which she is certified by the American Board of Dermatology. She particularly enjoys managing melasma, acne, skin rashes, skin cancers, as well as complex medical dermatology requiring biologic therapy. Dr. Sartor is fluent in Vietnamese and has a special interest in treating ethnic skin. She has authored multiple book chapters and peer-reviewed manuscripts on skin infections, skin care, surgical techniques, and acne vulgaris.
Dr. Sartor was featured in Houstonia Magazine as a "Top Doctor" of 2021 and 2022.  She is passionate about connecting with patients, practicing open communication, and customizing a personalized plan for her patients. Dr. Sartor is excited to return to her hometown of Houston after several years of practicing in Katy, Texas.
In her free time, Dr. Sartor enjoys pilates, cooking, traveling, and spending time with her husband and their rescue cat Russ. She looks forward to getting to know you and your family at Westlake Dermatology.
Dr. Sartor in the Media
Book Online
Quynh-Giao Sartor, M.D.

Patient Testimonials About Dr. Sartor
"Dr. Sartor really takes her time to talk and explain procedures. Her staff is always friendly and welcoming." — Jordan A. (July 18, 2023)
"Friendly and helpful. Dr. Sartor listened to my son and really spent time hearing his concerns. Fantastic! My older son also went last year and said he wishes all my doc visits were at Westlake. His younger brother agrees!" — Knox W. (July 13, 2023)
"Dr. Sartor is a great physician" — Stephanie C. (June 29, 2023)
"Dr. Sartor is super awesome and the whole team is super nice. There is never a long wait!" — Juanita G. (June 20, 2023)
"Dr. Sartor is very kind and thorough!! Wonderful staff." — Vanessa T. (June 6, 2023)
"I adore the staff and Dr. Sartor is so fun! Love it when there are specials I can use to get the best services!" — Amy Z. (May 31, 2023)
"Dr. Sartor is awesome. I really appreciate her effort to take the time and answer questions. Bedside manner is something you need to keep patients coming back and she definitely has that down. She doesn't try to be a salesman or pressure any product/treatment that you don't need. I recommend her to everyone!" — Momotaz R. (May 17, 2023)
"Dr. Sartor is amazing and the reason why I go to west lake for my (medical) dermatological needs. The entire team, and facility, is excellent and I highly recommend Westlake to my colleagues." — John A. (May 15, 2023)
"I like Dr. Sartor's bedside manner – she is professional, but friendly, and does great work!" — Shelley A. (May 10, 2023)
"I was very impressed by Dr Sartor and her assistant. They had to numb my scalp for a biopsy and the whole procedure was painless. All the staff are lovely. I would highly recommend them" — Patricia T. (May 9, 2023)
"Friendly and welcoming staff. On my first visit, Dr. Quynh-Giao Sartor was very sweet and understanding. That same day, I was given a clear and easy plan going forward!" — Jacob Z. (May 2, 2023)
"Loved the ambiance of the clinic and how nice Dr. Sartor was! She addressed my concerns very thoroughly and would definitely recommend to others!" — Christina S. (April 7, 2023)
"Dr. Sartor was so personable I immediately felt at ease. Everyone I interacted with at the office was proficient, friendly, and made my visit enjoyable. I am so happy to have found you all as my new derm!" — Ashley C. (March 30, 2023)
"Dr. Sartor was super helpful and patient and addressed all of my concerns." — Jessica S. (March 30, 2023)
"Staff ate all very friendly greeting patients. Dr. Sartor is very professional, she explained conditions in details." — LiJen S. (March 28, 2023)
"Dr. Sartor was thorough and friendly. She listens patiently and knows the science and art of dermatology well. Thanks!" — Wayne F. (March 21, 2023)
"I love the appearance of the waiting room and the patient rooms are very sleek and clean as well. The parking lot is easily accessible and there are plenty of spots. Dr. Sartor was lovely to meet. She was quick, thorough, and informative. I would highly recommend the location and Dr. Sartor to any of my friends or family." — Ellen W. (March 16, 2023)
"Dr. Sartor is amazing. I was anxious over bruising last time with injections and she set my mind at ease. I am so happy with my results." — Stacy H. (March 11, 2023)
"This was my first appointment at Westlake Dermatology, and it was great! I was totally impressed by Dr. Sartor and her staff, they are truly amazing. I was warmly greeted when I walked through the door, and that energy did not change. They were very pleasant, welcoming, and professional throughout my entire visit. I am totally satisfied and happy with the treatment, the outstanding medical care, and the results. I will be singing the praises of Dr. Sartor and Westlake Dermatology every chance I get. Great experience!" — Gwendolyn T. (March 7, 2023)
"Dr. Sartor was great and worked with me to make a plan I was comfortable with since I am pregnant" — Grace F. (March 7, 2023)
"Dr. Sartor is so sweet and reassuring. Her bedside manner is 10/10! She also did an amazing job at educating me during my visit. I would definitely recommend and friend and certainly plan to return to this location for future visits." — Bridger F. (March 2, 2023)
"I love Westlake! Dr QG always does such a wonderful job with my Botox, it looks so natural!" — Lauren G. (March 2, 2023)
"Dr. Sartor was absolutely amazing. I was a bit anxious coming in for the first time but she made the visit feel like home. The assistant was the absolute same, plus I didn't even feel the needle pricks she was so good. Great service." — Seth K. (February 27, 2023)
"Great staff and Dr Sartor!! I highly recommend Westlake Dermatology – been patient for fifteen + years beginning in Austin, they have been taking care of me (was a lifeguard during college summers and way too much sun). Every doctor was been excellent and all nurses, office staff always very courteous and professional. I highly recommend!" — Harvey D. (February 22, 2023)
"Dr. Sartor is the greatest doctor I've ever visited. Very sweet and attentive to her patients€¦ she is also wonderful to her staff. I would recommend everyone to her!" — Williams W. (February 9, 2023)
"Dr. Sartor was very thorough and professional. She took time and listened. Made me feel very comfortable. The office was friendly and efficient." — Shaw S. (February 8, 2023)
"Great team, Dr Sartor provides great care. I always recommend this clinic" — Chapman C. (February 7, 2023)
"I love Dr Sartor! She's the absolute best I've seen, never upsells, gives me advice that fits my needs, and She's funny and friendly too!" — Zachmeyer Z. (February 7, 2023)
"I didn't wait long at all and everyone was really friendly from the ladies at the front to the doctor and her assistant. The doctor immediately diagnosed my issues and was able to resolve them. It was a positive experience." — Frazier F. (February 2, 2023)
"Dr. Sartor was amazing!" — Bamburg B. (February 1, 2023)
"I loved the demeanor of Dr. Sartor – she was very pleasant and kind. She empathized with my current skin concerns and offered tangible alternatives and treatment options. Another thing I greatly appreciated is that while the clinic is very nice I didn't feel overly pressured to buy any of their items as I've experienced at other dermatology clinics in the area." — Amaefule A. (January 25, 2023)
"Loved the doctor! She listened, was very knowledgeable, and kind. She's the first dermatologist I've seen to know what's wrong with me!" — Pua P. (January 24, 2023)
"Very clean atmosphere. Dr. Sartor was very helpful with looking at my skin." — Loredo L. (January 18, 2023)
"Dr. S rules!" — Steiner S. (January 12, 2023)
"Dr was extremely nice and explained everything thoroughly" — Tarnopol T. (January 11, 2023)
"Wonderful staff, very friendly. The Doctor took the time to explain what she needed to do for a biopsy and the care afterwards" — Phillips P. (January 9, 2023)
"Dr. Sartor was very friendly, gave me thorough aftercare instructions, and was an excellent listener. Her whole team was super. I'd gladly recommend them." — Taylor T. (January 9, 2023)
"Doctor and her assistant were very nice and helpful And I'm excited for their help" — Henriquez H. (January 4, 2023)
"Dr. Sartor is so professional and personable as is the whole staff." — Kate G. (December 28, 2022)
"Liked the entire staff especially Dr. Sartor. Efficient and friendly." — Lenora S. (December 21, 2022)
"Dr. Sartor and her staff are amazing. She is the best dermatologist I've been to and one of the best MD's overall. Any issue I have cosmetic or medical she's knows the best way to treat it. She explains everything too. She's knowledgeable about all skin types including black and other ethnic skin issues. She's very down to earth and social and nice. Staff is friendly as well. I loved all my visits. 10/10" — Serena O. (December 12, 2022)
"Love the staff and Dr Q. They knew exactly is wrong with my skin." — Luan P. (November 30, 2022)
"I loved the beautiful office. Dr. Sartor is so lovely, beautiful and professional. Her medical assistant, Angelina, is just as great!" — Heather T. (November 29, 2022)
"Everyone is so welcoming, particularly Dr. Sartor who patiently explains everything. She is lovely and I plan to return. I have been looking for a new dermatologist for some time- I am so pleased with the results of her work." — Angela B. (November 23, 2022)
"Dr. Sartor is absolutely amazing! Her Medical Assistant was extremely kind, caring, and very professional. Highly recommend!" — Jahira S. (November 22, 2022)
"Love this place! Everyone is super nice. Dr. Sartor is very thorough with all my concerns." — Cindy T. (November 16, 2022)
"I just love Dr. Sartor and her staff! She has the best bed-side manner and is so knowledgeable, as well as down to earth. She is warm and welcoming, and that is just so hard to find in doctors these days. I am very thankful that Austin Westlake Dermatology decided to move offices to Houston, as I've been a longtime patient (I started in Austin) and wanted to stay within the same practice." — Mary A. (October 13, 2022)
"Everyone was very friendly. Dr QG was very professional and helpful. Plus, the waiting area was really cool too." — John T. (October 13, 2022)
"I've been seeing Dr. Sartor for about six months and she's always great! She's very friendly and personalizes care to address my skin concerns and offers multiple plans of action. I'd highly recommend her to anyone dealing with acne." — Emily W. (October 12, 2022)
"Dr. Quynh-Giao Sartor is so amazing! She takes her time to listen your concerns no matter what it is. She is extremely knowledgeable and works hard to find the perfect solution for your, and she has a great sense of humor!" — Robert A. (October 10, 2022)
"Dr. Sartor is so amazing and kind she makes you feel very comfortable. The staff was wonderful as well." — Leila M. (October 10, 2022)
"I was greeted and seen in a timely manner. Everyone was friendly and Dr. Sartor was very knowledgeable and answered all my questions." — Michael M. (September 14, 2022)
"Dr. Sartor was very attentive and chose the best options for my skin concerns! The front staff is super friendly during check in and check out. I would recommend all my friends to Dr. Sartor for their Dermatology needs!" — Karla Q. (September 1, 2022)
"Absolutely love the kindness of everyone in the office. From the friendly front desk to the Doctor's kind demeanor. Dr. Sartor went above and beyond to fit me in her very booked schedule with a procedure during her lunch break in order to be able to use my last day of insurance coverage. That was highly unexpected and so very appreciated. She also spoke kindly to her nurse in the room stating, We are so happy to have her here! It is evident this is a great environment and the kind of place that makes me feel comfortable and cared for. Professional. Clean. And Kind. I immediately told my friends about my experience and can't recommend it enough. I have been looking for a dermatologist that I trust. So glad to say I found her!" — Emily H. (August 31, 2022)
"Dr. Starter and her staff are very professional and courteous." — Danny R. (August 16, 2022)
"Dr. Sartor and Karla are great at what they do. They make you feel comfortable and have amazing bedside manner. Thank you for all that you do." — Sahajdeep S. (August 15, 2022)
"Dr. Sartor is wonderful and the client attentiveness is great! Clean, elegant establishment." — Vanessa T. (August 9, 2022)
"Dr. Sartor is very professional and extremely knowledgeable. She is personable and friendly." — Michael S. (August 8, 2022)
"Wonderful and friendly staff. Inviting and comfortable atmosphere… Dr. Sartor is very sweet as well as knowledgeable and caring." — Rebecca P. (July 27, 2022)
"Dr. Sartor is a wonderful dermatologist. She is very thorough, attentive, and has great treatment recommendations. I found her through ZocDoc and it's incredibly easy to get an appointment. My husband, son, and myself have all seen her for dermatology visits and we are thoroughly impressed with the clinic!" — Sarah A. (July 27, 2022)
"Dr. Sartor & staff always listen, pleasant." — Kleo G. (June 29, 2022)
"We recently relocated from Austin where we were long time patients of WD. Very happy to find a Houston location. The central database is great. Dr. Sartor was able to view my history before my visit. She was patient, listened, explained what/why and I didn't feel rushed. Beautiful clean office. Definitely recommend." — Susan H. (June 23, 2022)
"I'm a 64-year-old man with pale skin who grew up in the California desert and subsequently have a history of skin cancers. I've been a patient of Dr. Quynh-Giao (QG) Nguyen Sartor for almost 3 years now. She is patient, kind, and comprehensively qualified. I would recommend her without question for any dermatology issue." — Chris A. (June 20, 2022)
"Very clean office and friendly staff. Love the bedside manner of Dr. Sartor." — Brooke A. (June 8, 2022)
"Always enjoy my visits. Friendly staff, no waiting time, beautiful facility and Dr. Sartor is kind and so knowledgeable!" — Elizabeth M. (June 7, 2022)
"Dr. Sartor is thorough, efficient, timely, has an amazing bedside manner, and really listens to her patients." — Jeff H. (May 16, 2022)
"I loved the time and care both Dr. Sartor and her nurse took with my case. They were both extremely compassionate and thorough. I would highly recommend this practice to others." — Cheryl A. (May 5, 2022)
"The staff is very friendly and they greet you with a smile. Dr. Sartor is very knowledgeable and kind, goes above and beyond to provide good and compassionate care, I felt I mattered as a new patient at her practice." — Elisa S. (May 4, 2022)
"Great service. Dr. Sartor is amazing!" — Craig B. (April 19, 2022)
"Very personable, technically professional, and efficient care. I would recommend this place to anybody with dermatologic needs" — Ronald W. (April 7, 2022)
"Loved the ambiance of the clinic and how nice Dr. Sartor was! She addressed my concerns very thoroughly and would definitely recommend to others!" — Christina S. (April 7, 2022)
"Profesional and courteous staff; physician knowledgeable and easy to talk to." — Tito L. (April 6, 2022)
"Short wait time, friendly and professional staff, and satisfied my overall objectives for the appointment." — Steven W. (April 4, 2022)
"I love that the doctor was very nice and friendly." — Shavondra G. (March 30, 2022)
"Dr Sartor was so personable I immediately felt at ease. Everyone I interacted with at the office was proficient, friendly, and made my visit enjoyable. I am so happy to have found you all as my new derm!" — Ashley C. (March 30, 2022)
"Very efficient and thorough. The doctor was on time, covered a lot with me, and addressed all my concerns." — Gabrielle M. (March 30, 2022)
"Dr. Sartor was super helpful and patient and addressed all of my concerns." — Jessica S. (March 30, 2022)
"Everyone was really nice and informative!" — Tayler L. (March 29, 2022)
"Super-friendly staff." — Hal W. (March 29, 2022)
"Staff are all very friendly greeting patients. Dr. Sartor is very professional, she explained conditons in details." — LiJen S. (March 28, 2022)
"The office staff was great and I loved how attentive Dr. Sartor was. Definitely would recommend!" — Dana P. (March 23, 2022)
"Excellent bedside manner!" — Dennis H. (March 23, 2022)
"Every person I interacted with during my visit was very professional, kind, and concerned as to how I was feeling. 100% positive experience." — Monica F. (March 22, 2022)
"Friendly, courteous and prompt and timely. Fully satisfied with diagnosis and treatment." — Bangalore S. (March 15, 2022)
"So friendly and knowledgeable! Best dermatologist I've ever seen!" — Adam R. (March 1, 2022)
"The staff was so well put together, from their attitudes to their outfits! Presley was super informative and thorough with all information! Also, Dr. Quynh-Giao Sartor and her assistant were phenomenal! I felt very comfortable and understood!" — Tia F. (February 23, 2022)
"The office is super great looking. The consultation was filled with great information. All of my questions were answered and concerns addressed. But most importantly was how quickly I went from check in to waiting area to examination room. I was in and out and in my car in little over an hour." — Brian D. (February 22, 2022)
"I loved that it was quiet and not crowded. The decor was peaceful and inviting . The ladies at the front were so sweet. I felt that the doctor and her nurse were very attentive and caring. Thrilled!" — Dorothy H. (February 14, 2022)
"My visit was very detailed, I loved having different options presented to treat my acne. Very happy overall!" — Melissa C. (February 14, 2022)
"The entire staff demonstrated kindness and understanding and accommodation of the needs of a small child who was scared and in distress." — Loralei M. (February 13, 2022)
"Doctor was amazing! Super sweet and helpful!" — Kayla M. (February 7, 2022)
"Everyone was very nice and I finally got a diagnosis." — Catherine M. (February 7, 2022)
"Dr. Sartor was a knowledgeable, clear communicator and was sensitive to my economic stresses." — Fernanda P. (February 3, 2022)
"Dr was so friendly! I felt very comfortable." — Aja M. (February 1, 2022)
"Friendly staff. Dr. Sartor is patient, caring and very thorough." — Veronica M. (February 1, 2022)
"The staff and doctor were all friendly, professional, and competent. They had me in and out quickly as well. Great experience!" — Annie C. (January 31, 2022)
"This was my first visit and I was so pleased to meet Dr. Sartor. She has a wonderful bedside manner, and gave very thorough and helpful explanations!" — Tamara G. (January 31, 2022)
"I love that Dr. QG Sartor is very knowledgeable with African American skin types. My acne and hyperpigmentation is literally almost nonexistent! Her compound works AMAZINGLY at fading dark marks! I'm truly amazed at how much my skin has improved since my first visit with her. I doubt that I'll ever see anyone else as long as she practicing!!!" — Cherelle J. (January 25, 2022)
"Fast and convenient. Treatments are explained well and effective." — Jose G. (January 24, 2022)
"I enjoyed their office customer service. They were so genuine. I didn't feel like a new patient. And the Dr. was friendly and very helpful. She shared with me what she wasn't able to do and referrd me to where I could get my needs met. Thank you so much." — Marjorie D. (January 20, 2022)
"I loved everything, in all of my visits (over 6) have all been amazing. The staff/doctors/nurses are very professional, sweet and caring. Very reasonable price per visit (no insurance)." — Kaitlyn M. (January 20, 2022)
"Everyone was very kind and Dr Sartor was most generous with her time." — Marcia A. (January 19, 2022)
"The staff and doctor were really friendly. I loved my experience! Explained the plan well and gave great recommendations." — Emily A. (January 17, 2022)
"As a busy professional, I value my time. As a result I greatly appreciate that I never have to wait to be seen. If my appointment is for 9:00 that is when I am received and seen. I also appreciate that everyone from the receptionist to the physician is friendly and inviting. And finally I like the aesthetics of the office which is attractive while warm and inviting." — Brad I. (January 13, 2022)
"Quick & excellent service. Kind and intelligent doctors!" — Laura L. (January 13, 2022)
"Gorgeous offices, excellent bedside manner." — Savannah G. (January 12, 2022)
"Super friendly staff and providers. Also very helpful by phone in between visits. The staff always gets us seen very quickly and back to work and school." — Jacob T. (January 10, 2022)
"Enjoyed how quickly I get in and out of the appointment. I always feel hopeful and happy when I leave because all my concerns are addressed with my doctor and solutions are found." — Kelsey L. (January 5, 2022)
"Very nice staff and Doctor. Did not make me feel bad about myself and didn't try to over sell me. Really lovely people." — Kimberly H. (January 5, 2022)
"The office was well designed and clean. The staff were all friendly and welcoming. The Md was personable, efficient, and explained all of what she was seeing. Overall, great first experience and I'll be coming back for a follow up!" — Sarah M. (January 4, 2022)
"Dr Sartor was professional and reassuring!" — Cullen T. (January 3, 2022)
"Dr. Sartor was kind and interested in what I told her. All of the staff members were helpful and friendly. The office itself was comparable in decoration to a fancy, Park Avenue office in New York. I felt very comfortable, and I really appreciated that Dr. Sartor took a conservative approach to achieve a natural look, not pushing extra services or product to me." — Nan R. (December 27, 2021)
"Very professional service" — Emeka O. (December 27, 2021)
"Everyone was very friendly and the dermatologist explained everything well! Also they had such a beautiful building space!" — Natalie M. (December 22, 2021)
"Dr Sartor is excellent!" — Meredith P. (December 15, 2021)
"Dr. Sartor is a literal skin angel! Always incredibly personal, informative, elaborate yet direct. She gives realistic expectations and several different approaches to meet your goal. She makes you feel excited about skincare and the potential results." — Sydnee B. (December 15, 2021)
"Great staff, friendly and professional. Appointment was on time! Dr Sartor was excellent, asked pertinent questions and listened. Highly recommend this Dr and her staff." — Elizabeth S. (December 15, 2021)
"Staff & office atmosphere was great." — Trina J. (December 15, 2021)
"Beautiful office with great staff and physician." — Tyler H. (December 14, 2021)
"Friendly staff and good bedside manner. Made me feel comfortable and cared for." — Jasmine M. (December 14, 2021)
"Very kind and pleasant staff. Easy to talk with the nurse and Dr. Concerns were addressed sincerely which put me at ease." — Valerie W. (December 9, 2021)
"Nice, caring, and thorough staff on every level." — Kimberly C. (December 8, 2021)
"Very friendly staff and comfortable environment." — Sebastian G. (December 2, 2021)
"Friendly and informative staff" — Jasmine Y. (December 1, 2021)
"Such friendly staff!! Great care. :)" — Sarah S. (December 1, 2021)
"Reception was courteous and efficient. Dr Sartor was thorough and very good about explaining her findings." — Steve C. (November 30, 2021)
"Dr Sartor and Stephanie were so friendly and patient with me. They took the time to answer questions and explained every procedure so that I understood the plan beforehand." — Nicole Y. (November 23, 2021)
"Excellent customer service from start to finish. Beautiful office. I loved that Dr. Sartor really took the time to listen to my concerns and explained everything to me. Will definitely be recommending to friends and family." — Dennys M. (November 16, 2021)
"Very professional and took time to talk and answer questions!" — Lindsee E. (November 16, 2021)
"Great bedside manner, knowledge, and sense of humor. Loved her!!" — Jeff H. (November 15, 2021)
"Doctor Sartor was awesome! She answered all my Q's (I had a lot) and took the time to chat with me about details for my skin condition + fully explain the solution. Fantastic." — Alexandra S. (November 10, 2021)
"Love Dr. Sartor! The office staff is always professional. Lovely office." — Kathleen G. (November 10, 2021)
"Everyone was so nice and I was greeted with warm smiles. With everything going on today that felt really good!" — Kevin N. (November 9, 2021)
"Everyone was great." — Jade R. (November 8, 2021)
"Physician was knowledgeable and not pushy with great bedside manner." — Monica W. (November 3, 2021)
"Physician was patient, kind and informative. The staff was professional and accommodating. Thanks." — Myles T. (November 3, 2021)
"Dr QG Sartor is amazing and very thorough. Highly recommend!" — Dana F. (October 26, 2021)
"Excelente atencion y bastante amables la dra. Y las empleadas un amor ." — Emilda R. (October 25, 2021)
"Very friendly and efficient. Check in went smoothly and I was taken to the exam room right on time. Dr Sartor seems very knowledgeable and is willing to explain things in layman's terms. I appreciated that effort and enjoyed the convenience of not having to go to the Medical Center." — Hunter M. (October 21, 2021)
"Quick and easy diagnosis. Loved Dr. Sartor!" — Kaitlyn M. (October 20, 2021)
"Wonderful place and staff." — Fadi S. (October 20, 2021)
"Easy to work with." — Jack H. (October 19, 2021)
"Great physicians & care! I'd highly recommend!" — Mark B. (October 19, 2021)
"Quick and easy!" — Jose G. (October 19, 2021)
"Very professional and made me and my son feel comfortable. I would highly recommend." — Guadalupe D. (October 19, 2021)
"I would recommend the clinic to anyone who is looking for an excellent dermatologist. The clinic is very nice and clean, staff are very friendly."" — Min F. (October 14, 2021)
"The MA that helped me was 10/10. Also Dr. Sartor was really attentive and great at making sure all my concerns were addressed." — Victoria K. (October 13, 2021)
"Dr. Sartor is such a down to earth physician that can listen and understand . The most comprehensive and effective care I have received in the field of dermatology." — Carter T. (October 11, 2021)
"I loved how quick everything was without sacrificing information. The doctor was very well informed and explained everything well." — Madiyah M. (September 23, 2021)
"My doctor was so thorough and sweet and she also gave great life advice. The medical assistant was very helpful and the front desk lady was nice also. I felt very comfortable and at home." — Paiton J. (September 21, 2021)
"Really liked Dr. Sartor. She is a great listener. Very pleasant." — Mary C. (September 21, 2021)
"The staff and Dr. were very friendly and efficient, waiting time was minimal and my appointment went smoothly , very nice all around experience ." — Lisa S. (September 21, 2021)
"Nice and convenient office. Setting up an appointment online was easy. The staff were nice, fast and knowledgeable." — Martin Y. (September 13, 2021)
"Dr. Sartor was wonderful! She went through all aspects of the procedure and thoroughly discussed the various options with me. Her knowledge of her profession and practice is readily apparent, as is her care and concern for the health and well-being of her patients. I highly recommend Dr. Sartor for any Botox and dermatological needs; she's amazing!" — Luana S. (September 7, 2021)
"Everyone was very friendly and the doctor addresses all of my questions!" — Sharon M. (September 1, 2021)
"The entire staff was very welcoming and the office is very professional and nicely kept. I was seen right away and was able to submit a lot of my forms online before the visit. My dermatologist explained everything to me and was very informative I highly recommend this office to anyone either new to the area or even just trying to find someone who will actually listen to you." — Brennah P. (August 30, 2021)
"Everyone was very nice and helpful. No complaints!" — Madalyn M. (August 30, 2021)
"Great place! I arrived 30 mins early and they got me in a room right away, couldn't even finish the paperwork. Dr. Sartor was great! I will definitely be going back for any spots of concern." — Lauren W. (August 26, 2021)
"This office has no wait time and professional + friendly staff. Doctor had excellent bedside manner and was very helpful. Thank you!!" — Emily M. (August 26, 2021)
"Dr. Quynh-Giao Sartor very through.. make you feel very comfortable." — Kioshi H. (August 25, 2021)
"I love how kind Dr Sartor & the staff are. I love that I never feel upsold or pressured, and I love that I always leave feeling confident!" — Amy Z. (August 23, 2021)
"Visit was awesome! Everyone was very nice and extremely professional!" — Danny R. (August 17, 2021)
"I love Dr Sartor!! She's awesome and diagnosed my skin condition swiftly. I would not go anywhere else but Westlake Dermatology." — Rafael M. (August 17, 2021)
"I thought everyone at Westlake Dermatology was pleasant and professional. There was no real wait time. Dr Sartor gave me some good product recommendations to improve my skin issues and was quick and efficient." — Jennifer B. (August 11, 2021)
"Loved it, everyone was so friendly." — Cassandra B. (August 11, 2021)
"Such a great experience. Nice, young staff that are in touch with modern practices and products." — Madeline B. (August 11, 2021)
"Pleasant environment, efficient and friendly care." — Sean M. (August 10, 2021)
"Courteous, prompt and professional!!!!" — Chris P. (August 5, 2021)
"I was seen as soon as I walked in with no wait time. Dr. Sartor was very knowledgeable and gave me a clear plan of action to address my issue." — Evan W. (August 5, 2021)
"The doctor was very nice and took her time with me. She was funny and did her best to educate me on what I have and how to best treat it. I also like that they sell Elta MD that I've been using for years so it makes it convenient for me." — Ashley S. (August 5, 2021)
"Dr. Sartor was awesome!!!" — Michael S. (August 4, 2021)
"Everyone was very kind and welcoming." — Nancy N. (July 27, 2021)
"The ability to schedule online is cool. The staff is friendly. The advice given makes sense." — Tony M. (July 27, 2021)
"Excellent care in a clean and beautiful environment." — Penny W. (July 23, 2021)
"I enjoyed the comfortable, clean, atmosphere." — William M. (July 22, 2021)
"Dr. Sartor was amazing! I felt so comfortable and safe." — Marla M. (July 21, 2021)
"I come here for acne and I really like how they have friendly staff. Their prices are affordable and the office is safe and clean." — Alexis N. (July 21, 2021)
"Short wait time and everyone is always very nice." — Julio R. (July 21, 2021)
"It felt like there was no judgment and my needs were taken into consideration." — Maria P. (July 20, 2021)
"Wonderful customer service, the whole staff are just very nice." — Sonja T. (July 20, 2021)
"Everybody was very pleasant and helpful. It was great to find an appointment for the same day. Facilities are first class." — Sara S. (July 19, 2021)
"Dr. Quynh was great, she's very personable." — Dominique B. (July 15, 2021)
"I liked how professional they were." — Erica N. (July 15, 2021)
"Immaculate, aesthetically appealing reception and examination rooms with friendly, punctual and professional team. Ideal first impression on someone so new to the neighborhood and Westlake Dermatology." — Cynthia K. (July 15, 2021)
"Wait time wasn't bad, you can fill out everything online before so you don't have to show up early(if you're a new patient). I saw Doctor Quynh-Giao Ly Sartor. She was so friendly and made me feel right at home and super comfortable. She is very informative and kind. I would definitely recommend Weslake Dermatology and her to anyone. (I drove from the Woodlands and it's worth it)." — Hayden M. (July 14, 2021)
"Wonderful! So happy I switched from Nigro and happy to tell my friends!" — Linsey F. (July 14, 2021)
"Amazing service!!! Dr Sartor rocks." — Marika C. (July 13, 2021)
"Very quick and professional." — Russell M. (July 12, 2021)
"Staff are professional and helpful! The physician is working with me to resolve my issue. Great practice." — Rhonda T. (July 6, 2021)
"No suggestions for improvement. Very modern, clean lobby/waiting area. All people I interacted with were very nice." — Leslie S. (June 10, 2021)
"The visit was great. I left feeling positive about my appearance with no pressure to do more procedures than I came in for. I love that the doctor has a less is more approach and talked me through what to expect from what I was requesting to make sure I understood before moving forward." — Amy Z. (June 3, 2021)
"I just love Dr. Sartor & Amri, they're always so personable, relatable to the struggles of my skin issues, and make me feel comfortable when it comes to discussing, examining, & treating my skin condition. Dr.Sartor is new however in a short amount of time has made me feel like I've been a patient with her for years. When I first found out I was getting a new doctor I was apprehensive. However she has surpassed all expectations I've had. Most importantly she takes her time to build her patient relationships. She remembers I'm in school, knows I like my nails long, and knows how I feel about my skin issues. She does her best to make sure all of my needs are met. Amri is always quick and super professional and is really knowledgeable about not only this particular practice, but her job field as a whole. It's always an in and out process with me that's why I don't mind driving from Huntsville all the way to downtown Houston, because I know at Westlake Dermatology I will receive top tier service!! I will always come back." — Tira B. (June 2, 2021)
"Everyone was so nice! The office is gorgeous and Dr. QG Sartor was wonderful. She provided excellent guidance and modern solutions (the newest medicines, etc). I was very impressed with my experience." — Stefanie C. (May 27, 2021)
"Dr. Sartor was excellent! She takes the time to connect with her patients and the conversations flow organically…like they don't sound robotic or anything! Amri is an excellent nurse! Both are very personable! If I were to live outside of Texas, I would travel back to Dr. Sartor and Amri for my dermatological care! 15/10 would recommend!" — Mithil S. (May 27, 2021)
"The whole experience was great. The office was beautiful, it felt like walking into a spa. The nurse Amri was so sweet and helpful. And the doctor made everything so easy to understand." — Alexis S. (May 13, 2021)
"This was a totally superior Doctor 's visit experience. I was greeted with respect, empathy, kindness by all. I can't say enough about Dr Sartor's knowledge, skills, gentleness, and care. I would give her an 11 over 10! Thank you." — Jean L. (April 30, 2021)
"Honestly I LOVED this visit. My first one was not good at all. The doctor this time sat with me and explained what my acne meant why it's there. She cared about what I've used before, professionally check my skin, and walked me through. She is very cheerful and down to earth. She broke everything down and stated my needed routine." — Liliana C. (April 27, 2021)
"Easy, quick appointment! I really appreciate the respect for my time and the care and concern for my questions and issues. Definitely would recommend!" — Megan S. (April 22, 2021)
"Excellent experience" — Arminda M. (April 22, 2021)
"Everyone was lovely. Good vibes all around :D" — John L. (April 21, 2021)
"Experience was great." — Gabriel M. (April 21, 2021)
"I was super happy with my visit." — Rexanne F. (April 16, 2021)
"So glad this dermatology office has opened in our neighborhood. Beautiful setting. Cordial staff. Excellent doctor." — Stephen R. (April 9, 2021)
"Love Westlake Dermatology! Started going in 2016 while I lived in Austin. I would commute to the Bee Caves location even when I moved back to Houston because I didn't trust any other dermatologist!!! I was thrilled when they opened an office in Houston, and am always so happy with how fast the results are!! Every doctor and PA is so kind and knowledgable. I even got my sister hooked on Westlake Dermatology now. She was equally shook at their expertise and how EASY they make everything!!!" — Michelle C. (April 6, 2021)