Sarah Grimmer, DNP, APRN, FNP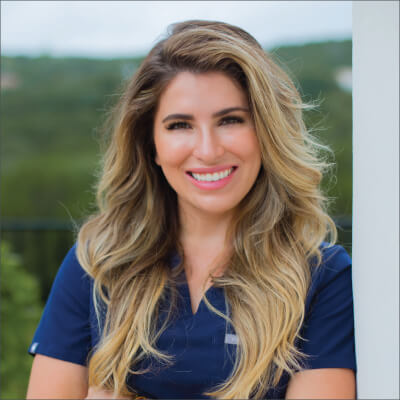 Sarah Grimmer is a Registered Nurse with a Baccalaureate Degree of Science in Nursing from The University of Texas Health Science Center, where she graduated with honors. Sarah studied abroad in Bogotá, Colombia at the Universidad Manuela Beltran, where she was able to enrich her nursing education, public health knowledge, and Spanish language.
Prior to joining Westlake Dermatology, Sarah practiced in Pediatrics and Cardiothoracic Transplant ICU. Previous to her nursing career, Sarah earned her first Baccalaureate Degree of Science in Sports Management, with a Communication minor and Law cognate from Texas A&M University.
Sarah has a love and passion for skin care and aesthetics, both of which can complement an active and healthy lifestyle. She enjoys building relationships with her patients while guiding them towards treatments that enhance their natural aesthetic. Sarah has years of extensive training in cosmetic procedures alongside Dr. Gregory Nikolaidis and has completed trainings with Allergan, Galderma and Merz. She performs dermal filler and neurotoxin injections, microneedling, hair restoration with PRP, cryolipolysis with Coolsculpting, and a variety of skincare lasers at the Downtown Austin location.
Sarah is a member of the Sigma Theta Tau International Nursing Honor Society and is licensed through the Texas Board of Nursing. She is currently pursuing her Master's degree through the Family Nurse Practitioner track, as well as her Doctorate in Nursing Practice at The University of Texas Health Science Center.
Patient Testimonials About Sarah Grimmer
"Sara Grimmer is spectacular!" — Jenny Y. (December 21, 2022)
"Sarah is just a calming presence. And an expert NP. Such caring and capable hands with a spirit to match" — Mary B. (December 6, 2022)
"Loved Sarah's knowledge and comforting presence and I absolutely trust that I'm in good hands." — Rachel S. (November 16, 2022)
"I never have to wait! Everybody is always friendly, happy and very helpful. Sarah Grimmer was great! I love this place." — Ginger F. (November 15, 2022)
"Sarah is Excellent ." — Ada C. (November 15, 2022)
"Sarah is amazing!!!" — Larry V. (September 29, 2022)
"Sarah is fantastic. I cannot say enough about her! Well she is too beautiful but other than that she is perfect!" — Sandra C. (September 15, 2022)
"Sarah Grimmer is awesome!" — Bobby M. (September 14, 2022)
"Sarah Grimmer is so wonderful!! I've seen her around 10-15 times now and she consistently provides amazing service. Keep up the good work!!" — Amber F. (August 24, 2022)
"I love Sarah at the DT office!! She's the best injector I've had in the 20 years I've been getting my filler and Botox!! Seriously!! She's leaps and bounds about anyone else 've seen in Austin and so sweet and kind to boot! Keep up the good work!" — Amber F. (August 19, 2022)
"Sara is amazing!" — Caitlin B. (August 12, 2022)
"Sarah was great. So friendly and knowledgeable. Really trust her to get great results from the treatment" — Sarah W. (July 29, 2022)
"Sarah was so sweet and helpful walking me through everything on my first visit!" — Hunter J. (July 27, 2022)
"Sarah is the absolute best and extremely friendly. She made me feel at ease during my Botox injections. I would highly recommend her and the location in downtown Austin!" — Stephanie H. (July 27, 2022)
"Sarah is always so great. Great work and fun to be around!" — Courtney W. (July 25, 2022)
"Sarah G is truly wonderful! I recommend her to everyone who is looking for a skilled RN for cosmetic reasons." — Sheri C. (July 25, 2022)
"Sarah made me feel so comfortable during my first injectable treatment!" — Megan B. (July 22, 2022)
"Sarah Grimmer is above and beyond the most thorough, professional, caring and EFFECTIVE technician I have ever worked with, she is an absolute delight and I look forward to seeing her! I'm incredibly impressed with her knowledge and skill set, for both skincare and treatments!" — Jessie R. (July 20, 2022)
"Sarah Grimmer is awesome! I recommend her to friends and family." — Bobby M. (June 16, 2022)
"Sarah is extremely knowledgeable. I trust her completely and I'm always comfortable and pleased with the results of her artistry." — Jillian W. (May 25, 2022)
"Sarah was amazing! Never oversold me and did exactly what was needed for my insecurities and why I was there. Everyone was super nice and I really enjoyed my experience. And it was fast!" — Addison G. (May 19, 2022)
"I always urge my friends to switch providers. The doctors and specialists at WD ( shout out to Sarah Grimmer who changed my life!) all decisions and treatments are done with the patient in mind. You can get exactly what you ask for at most other places, and that means potentially compromising your health and the outcome of your procedures. I especially appreciate the time Sarah and other doctors I have seen take to educate me on when and why to take particular measures. Always impressed with the depth of knowledge and my results" — Jess C. (May 19, 2022)
"Sarah is absolutely incredible . I love coming to WD and being treated like royalty ." — Laurie S. (May 6, 2022)
"Sarah is so pleasant and a pleasure to see (even though she's sticking needles in my face)" — Kathie J. (May 6, 2022)
"Sarah was awesome I went in Wanting way more than I needed, she could've easily obliged and made more money, but she did not. She was super knowledgeable, friendly and is great at injecting, I hardly felt a thing. Won't be going anywhere else in Austin!" — Jason B. (May 3, 2022)
"I felt so at ease knowing i was in Sara's hands. She knows what she's doing and pays such close attention to detail. Sending all my friends and family to her!" — Sally F. (April 15, 2022)
"Sarah was amazing! Informative, knowledgeable and made me feel so comfortable. Looking forward to my next appointment." — Jaclyn G. (April 7, 2022)
"Sarah is awesome!!!" — Marco V. (March 5, 2022)
"I'm always so happy to see Sarah G. For my Botox treatments! She is super friendly and the injections never hurt! I would highly recommend going to Westlake Dermatology (downtown Austin location) and scheduling with Sarah G.!" — Stephanie H. (March 4, 2022)
"Y'all always make me feel calm before any treatment!" — Geneva C. (March 4, 2022)
"Sarah's AMAZING. Highly recommend." — Nicholas C. (March 3, 2022)
"Sara was great! Felt very relaxed." — Hannah L. (February 24, 2022)
"Sarah is amazing at her job. She always makes sure I feel comfortable and gives me amazing results. She is the only person I will work with!" — Hannah L. (February 17, 2022)
"Sarah was absolutely amazing and is so good at what she does! I am extremely happy with my results!" — Lindsey H. (February 17, 2022)
"The people downtown are so friendly and professional…my first time with Sarah as my injector…she's delightful, and is a really good listener. Excellent results." — Leola P. (February 10, 2022)
"I really loved how easy and painless the whole process is! Sarah is awesome." — Kate P. (January 14, 2022)
"Sarah Grimmer was wonderful. She is so kind and easy to talk to. Wonderful experience!" — Payton J. (January 14, 2022)
"Sarah is awesome as always!" — Courtney L. (January 13, 2022)
"Sarah is fantastic." — Zacharia M. (January 13, 2022)
"Fantastic service" — Tony P. (January 7, 2022)
"Sara was fantastic! With this being my first experience with Botox, she explained everything in detail, listened to my concerns and made helpful recommendations all while sharing in my excitement!" — Kaitlin H. (January 6, 2022)
"Helpful and thorough" — Andrew V. (December 3, 2021)
"Sarah is amazing! Thanks" — Bobby M. (December 3, 2021)
"I love Sarah and Nicole!. What a rare combination of talent and caring!" — Sandra C. (December 2, 2021)
"Sarah is great, she makes you feel great." — Celia O. (November 12, 2021)
"Service & friendliness was great!" — Monica H. (November 5, 2021)
"The staff is super friendly and they have the aesthetic eye necessary for these beauty services. So in love with the results!" — Charlotte R. (November 5, 2021)
"Sarah and Nicole were amazing!!" — Jillian S. (October 28, 2021)
"I LOVE SARA!! She knows how to hit all the right areas. My face never looks frozen or scared but the wrinkles just disappear. The is also able to inject without me ever even feeling the slightest pinch." — Amber F. (October 23, 2021)
"The extreme expertise, care, and results I always get. I never feel rushed, and my provider is always ready to educate me on my procedures to help me understand why they've chosen the methods or products they have to help me achieve the outcomes I desire. I fully trust the doctors and practitioners at westlake dermatology. Started my skin and facial procedure journey with WD in 2015 and haven't looked back!" — Jessica C. (October 18, 2021)
"Sarah is amazing and very professional! Her expertise in the area was extremely valuable during my visit to the clinic." — Darla P. (October 7, 2021)
"Sara is phenomenal. Very accommodating, gives honest recommendations. Genuinely cares about her work and is the only person I trust when it comes to these types of services." — Ryan N. (October 1, 2021)
"Sarah is my go-to for all things cosmetic. Super kind and always makes it a great experience!" — Tori C. (October 1, 2021)
"Liked Sara, she was gentle and painfree." — Holly M. (September 17, 2021)
"Sara was fantastic!!" — Hannah M. (September 10, 2021)
"Everyone at the office was very nice and efficient!" — Morgan W. (September 9, 2021)
"Friendly staff, worked with my busy schedule and found time to fit me in. Always so Helpful." — Kathryn F. (September 3, 2021)
"Sara is always personable and very professional. I have gone to her twice for my Botox and will continue. She does a great job." — Alexandria A. (August 27, 2021)
"I have been a patient of both Nicole and Sarah Grimmer and they always treat me like family! It's so nice to walk into a medical office and feel like you're cared for with such attention to detail, kindness and patience. I will be back!" — Ashlee F. (August 13, 2021)
"Loved Sarah so much, she walked me through everything and was super transparent with pricing and what to expect. She was so nice and I am thrilled I started my botox journey with her!" — Megan S. (August 5, 2021)
"Love the experience from beginning to end. Sarah was amazing. It was my first time ever getting any type of cosmetic procedure done. She made me feel comfortable and answered all of my questions. I can't thank her enough for everything!" — Mckenzie W. (July 30, 2021)
"Sarah is amazing! Can't recommend her enough." — Jillian W. (July 29, 2021)
"Sarah was so kind and welcoming! She really made me feel at ease during the visit and the procedure. She listened to my concerns and was incredibly thoughtful. Will definitely be seeing her from now on and would recommend her to any of my close friends." — Karina A. (July 23, 2021)
"Sarah Grimmer is wonderful! She has made me feel so understood and has been able to empathize with my desire to improve my skin. She answers all of my questions with patience and clarity. She is an A+ health professional!" — Janet H. (July 21, 2021)
"Sarah is amazing at what she does." — Mike W. (July 21, 2021)
"Sara is great. Really enjoy coming in every time I see her. My Botox is done beautifully." — Kathie J. (July 15, 2021)
"Sarah is incredible at what she does. Efficient and friendly, and gets what will work for my face." — Louise A. (July 15, 2021)
"RN Sarah was amazing! What a lovely woman. Thanks for starting my Friday off on such a good note. Looking forward to more treatments with her, and thank you for the skincare recommendations." — Janna K. (July 9, 2021)
"Sarah Grimmer is amazing!! I am so thankful to have got this last minute appointment! Life changing!" — Heather L. (July 8, 2021)
"Sarah was fantastic!" — Stacia K. (July 8, 2021)
"Love you guys! I always have an amazing experience." — Kimberly L. (June 21, 2021)
"Sara Grimmer is absolutely AMAZING! She was so genuine. I felt like she really heard me out, I was a little nervous for my first injection session, that INSTANTLY went away. Dr. Chike-Obi came in for a greeting since it was my first visit, so nice! A big fan." — Johnathan S. (April 30, 2021)
"Sarah was wonderful and very kind and genuine helping me address my concerns." — Denyse H. (March 8, 2021)
"Everyone was super friendly." — Ethan W. (January 29, 2021)
"My consultation and treatment with Sarah Grimmer was incredible. This was my very first cosmetic procedure ever and I was a little nervous at first. Sarah patiently answered all of my questions and made me feel extremely comfortable, seen and heard. She helped me feel reassured that I was making a good choice. I didn't feel pressured or rushed in any way." — Zach B. (January 22, 2021)
"Sarah Grimmer is a god send. She made me so comfortable and walked me through each step. I got lip injections and I had no swelling and no bruising and I will always go back to her." — Shelby P. (January 15, 2021)
"Sarah was extremely professional and knowledgeable. Would highly recommend Westlake services!" — Shaun W. (December 18, 2020)
Book Online
Sarah Grimmer, DNP, APRN, FNP