Avery Stevens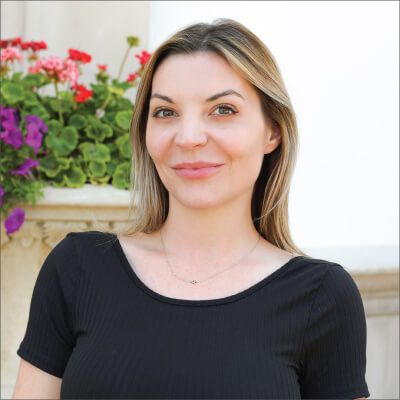 After studying Marketing at the University of Texas at Austin, Avery Stevens joined Westlake Dermatology in 2015 to further pursue her interest in cosmetic dermatology and plastic surgery. She is familiar with every Westlake Dermatology location and fosters close relationships with the plastic surgeons and cosmetic dermatologists within the practice.
Avery's primary focus is building relationships with her patients, while providing them a sense of comfort as they embark on their cosmetic journey. She aims to deliver the highest quality service to her patients by openly discussing their aesthetic goals, providing various treatment options, and then customizing an ideal plan to help them achieve these goals.
WD Cosmetic Consultants offer complimentary consultations for plastic surgery procedures including breast augmentation, facial procedures, and body contouring, as well laser treatments for skin tightening and resurfacing.
Book Online
Avery Stevens

Patient Testimonials for Avery Stevens
"VERY INFORMATIVE, AND EXPLAINED EVERYTHING!! I HAD ABSOLUTELY NO QUESTIONS WHEN THE VISIT WAS COMPLETED!" — Jana W. (July 19, 2023)
"Your location was so nice and I loved Avery!" — Alektra H. (July 11, 2023)
"Avery is amazing and so through!" — Ytzel M. (July 5, 2023)
"Avery, my consultant, was great! She explained my options and patiently answered my questions and addressed my concerns. My experience was great!" — Joann L. (June 29, 2023)
"Avery is awesome! She was super professional and friendly and made me feel comfortable. She did a great job at explaining the steps necessary for my procedure and how to go about moving forward. I appreciated that she didn't make me feel rushed and took the time to listen and answer my questions or concerns." — Vanessa R. (May 30, 2023)
"Avery was amazing. So informative and helpful. The options are overwhelming, but she listened and was honest on the best options that provide real results for what I want. Meeting with her was nothing like consultations I've had in the past. I was hesitant to come, but it was more than worth it to meet with her and chart my best course moving forward." — Cathryn C. (May 23, 2023)
"I went in for a consultation with Avery. She is was fantastic and a wealth of knowledge." — Dena W. (April 15, 2023)
"Loved chatting with Avery during my consultation." — Rachael K. (March 30, 2023)
"Avery is Sooo good! She really took the time to review the options – made me feel at home and comfortable with any questions thoughts or ideas I had!" — Marcia K. (February 28, 2023)
"Avery is really informative, she gave me multiple suggestions" — Melody F. (December 28, 2022)
"Avery was very professional and knowledgeable." — Maurice O. (June 17, 2022)
"Avery did my consult and was very informative and easy to talk to! Highly recommend!" — Rachel A. (April 28, 2022)
"I went in for a consultation with Avery. She was fantastic and a wealth of knowledge." — Dena W. (April 15, 2022)
"Loved chatting with Avery during my consultation." — Rachael K. (March 30, 2022)
"Avery was great. Looking forward to my surgery." — Shelly S. (March 4, 2022)
"Consultant was very thorough and honest. I felt comfortable reviewing my issues with her." — Thelma G. (February 16, 2022)
"New office is very nice. My consultant was very informative." — Vijayalakshmi V. (February 16, 2022)
"Large enough that clients don't feel like cattle. Very clean. Friendly, knowledgeable and professional staff." — Janice D. (January 11, 2022)
"The staff will stop at nothing to make my prescription perfect. Thank you!" — Naomi F. (December 16, 2021)
"The cosmetic consultant was super lovely and In depth. She answered all my questions and made me feel comfortable." — Nicole G. (December 14, 2021)
"I had a breast augmentation consult. Avery was amazing! She made me feel at ease and answered all of my questions thoroughly. I would highly recommend scheduling with her!" — Jessieca S. (November 11, 2021)
"I had a consult with Avery who exceeded my expectations in helping me feel more confident about moving forward with a procedure I've been contemplating for quite some time." — Debbie D. (November 10, 2021)
"Avery was phenomenal with her knowledge and sharing of information. She answered questions that we didn't even know we had." — William F. (October 5, 2021)
"Avery was very nice and explain all we need to know." — Eugenio T. (September 9, 2021)
"Avery was lovely and left me with all the info and insight I could need. She also had the exact procedure I want and her before and after is incredible." — Luke F. (August 26, 2021)
"Really liked Avery, detailed explanations and prompt appointment time." — Gina C. (August 11, 2021)
"Loved my consult with Avery! Super friendly and informative! Def moving forward with my procedure here!" — Sofia R. (July 15, 2021)
"Avery was amazing. She was warm, welcoming, kind and informative." — Clarissa R. (July 6, 2021)
"Avery is an absolute gem! I give her a 100% for her knowledge, professionalism and manner of conveyance." — Kathleen G. (May 20, 2021)
"Avery did a fantastic job explaining everything — great job." — Adrienne B. (April 14, 2021)
"Avery was amazing to work with. She listened to my concerns, made recommendations and didn't once pressure me to do anything. She's why I'll be choosing WD as my cosmetic surgery provider." — Jordan M. (April 9, 2021)
"I had an overall great experience that met and exceeded my expectations." — Alexa A. (February 10, 2021)
"Everybody was great! Very friendly and informative." — Klaryssa P. (January 21, 2021)
"Avery was a pleasure meeting and knowledgeable on the subject of my visit." — Stephen F. (January 16, 2021)
"Avery was Fantastic! She answered all my questions and knew exactly what I was looking for and explained in depth everything for me. What a great employee, keep her around! Thank you Avery." — Sharon W. (December 2, 2020)
"I would highly recommend. The staff was so nice & made me feel confident with my decisions." — Jacqueline R. (November 6, 2020)
"Avery was amazing and made my consultation easy! She was very knowledgeable and nice. Made the whole appointment a breeze!" — Kylee L. (October 2, 2020)
"Everything was great! Everyone was so nice and helpful." — Michele J. (September 25, 2020)
"Very easy to talk to …." — Adalberto R. (September 17, 2020)
"Avery was great!" — Laura C. (July 31, 2020)
"Avery was amazing. You are all generally so positive and helpful. I feel valued and respected as a client." — Teresa T. (July 29, 2020)
"I enjoyed meeting Avery – she is great! Very relatable." — Loretta G. (June 11, 2020)
"I am very pleased. At this time I can't think of anything." — Vicki C. (May 29, 2020)
"I had a great experience. Everyone was nice and Avery was very informative and a pleasure to meet with." — Lakeysha G. (February 5, 2020)
"I had a consultation with Avery and she was amazing. She is very knowledgeable, caring and professional. She made me extremely comfortable and answered all my concerns adequately. She is definitely an asset to your company." — Teresa C. (December 20, 2019)