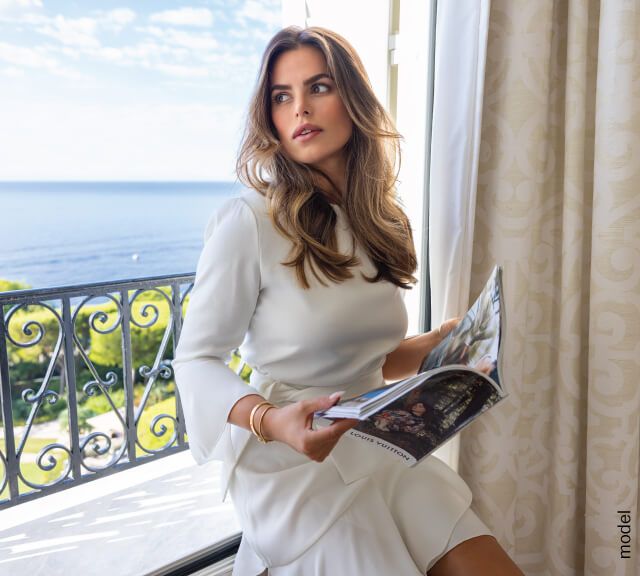 Eyelid Surgery
December Special: Save 20% on eyelid surgery with Daniela Atencio, MD. Contact us today for more details.
Eyelid surgery is available at Westlake Dermatology with plastic surgeons at locations in Austin, Houston, and Round Rock.
The eyes are often the first facial area to show signs of aging. As we age, our eyelid skin stretches, muscles weaken and fat begins to accumulate causing "bags" around the eyes. This aging tends to make the eyes look tired and swollen. Eyelid surgery, or blepharoplasty, can correct both the upper and lower eyelids to enhance the eye area, making the eyes dramatically younger and vibrant.
Before and After Eyelid Surgery
View Eyelid Surgery Photo Gallery
The anatomy of aging eyes
Over time, our face succumbs to the combination of gravity's constant pull along with significant weakening facial muscles. The skin around the eyes begins to droop at the corners resulting in an unnatural "sagging" appearance. Additionally, fat around the eyes begins to bulge as the orbital septum, a thin wall of muscle tissue around the eyes, becomes weak. Blepharoplasty involves the surgical removal of this excess fat and skin to make the eyes look renewed.
Types of Eyelid Surgery
Depending upon the needs and desired results of each individual patient, eyelid surgery can consist of upper blepharoplasty, lower blepharoplasty, or a combination of both:
Upper Belpharoplasty
Patients with sagging skin, loose muscle, or excess fat tissue along their upper eyelids will benefit from an upper blepharoplasty procedure. This form of eyelid surgery targets the upper lids and is ideal to correct fatty or excess skin that can fall over the eye which aesthetically causes a disruption in the natural contour of the upper eyelid and in severe cases visual impairment.
Lower Belpharoplasty
Individuals with drooping skin or excess tissue along their lower eyelids can benefit from a lower blepharoplasty procedure. Lower blepharoplasty can address a variety of lower lid issues including eye bags (extra fatty deposits), puffiness, dark under eye circles, wrinkling, and extreme droopiness that reveals an increased amount of the whites of the eyes.
Upper & Lower Belpharoplasty
Both upper and lower blepharoplasty can be performed in unison during a single procedure in order to correct upper lid and lower lid issues. This combination procedure, often referred to as a "quad bleph", provides the most dramatic results.
How is eyelid surgery performed?
For many eyelid surgery procedures, the use of twilight anesthesia allows the patient to remain awake and comfortable during the entire procedure. For an upper blepharoplasty, a very fine incision is placed in the natural crease above each eyelid and allowing for repositioning of fat deposits, tightening of muscles and tissue, and/or removal of excess skin. For a lower blepharoplasty, an incision is made just below the lower lash line and excess skin in the lower eyelids is removed. The incisions are closed with very fine sutures.
Depending on a patient's individual need it can be very beneficial to combine eyelid surgery with a brow lift in order to fully rejuvenate the upper face. Blepharoplasty can also be combined with laser procedures such as Thermage™ or ActiveFX for enhanced tightening and smoothing of the surrounding skin.
How long does the procedure take?
While the time for a procedure differs by the individual, eyelid surgery typically takes between 1-2 hours to complete.
What kind of downtime is required?
Results of the eyelid surgery appear gradually as swelling and bruising subsides to reveal a smoother, better-defined eyelid and surrounding region. Most people feel ready to go out in public (and back to work) in a week to ten days after an eyelid surgery. By then, depending on your rate of healing, you'll likely be able to wear makeup to hide any bruising that remains. Vigorous activity including exercise can be resumed around three weeks after surgery. Learn more about recovering from eyelid surgery
Meet Our Surgeons
Eyelid surgery is offered at Westlake Dermatology locations in Austin, Dallas, and Houston.
AUSTIN
HOUSTON
How Much Does Blepharoplasty Cost?
The cost of an eyelid surgery procedure can vary greatly from individual to individual based on procedure characteristics and the individual needs of each patient. Learn more about blepharoplasty prices
Complimentary eyelid surgery consultations are available with our cosmetic consultants.  Book your appointment today to learn if the procedure is right for you!
Additional Eyelid Surgery Resources