Emily Wood, MD
Fellowship-Trained Cosmetic Dermatologist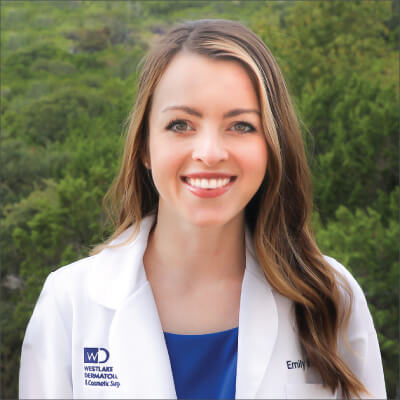 Emily Wood, MD is a board-certified dermatologist and fellowship-trained cosmetic dermatologic surgeon specializing in the practice of both cosmetic and medical dermatology. Dr. Wood received a Bachelor of Science in Biology graduating cum laude from Texas A&M University. She earned a Doctor of Medicine from Texas A&M University Health Science Center College of Medicine, graduating in the top quarter of her class.
She completed her dermatology residency at Baylor Scott and White in Temple, Texas, where she served as chief resident during her final year. During her chief year, she was inducted into the Gold Humanism Honor Society for her commitment to compassionate patient care. Subsequently, Dr. Wood completed a prestigious laser and cosmetic surgery fellowship program at Cosmetic Laser Dermatology in La Jolla, California. During her fellowship, she was involved in cutting-edge clinical research for novel cosmetic treatments involving fillers, neuromodulators, lasers, and minimally invasive body contouring.
View Dr. Emily Wood's Gallery of Before & After Photos
Dr. Wood is an expert in the use of lasers to improve a variety of medical and cosmetic conditions including acne, rosacea, scars, acne scars, birthmarks and wrinkles. She specializes in skin rejuvenation therapies, including neuromodulators (such as Botox and Dysport), fillers, liposuction, sclerotherapy, skin tightening, treatment of cellulite and rejuvenation of the aging chest, neck and hands. Dr. Wood is passionate about helping patients feel their best using the latest technology combined with an artistic eye and a gentle bedside manner.
She is equally passionate about medical dermatology and often finds the two entities overlap. She enjoys treating conditions such as psoriasis, atopic dermatitis, autoimmune conditions, acne, and rosacea. She also has a strong interest in the prevention, early detection, and treatment of skin cancer.
Dr. Wood has authored several peer reviewed publications as well as presented at local and national meetings. She has also written textbook chapters on filler, treatment of acne with light and lasers, and combining cosmetic treatments. She is an active member of several professional organizations, including the American Academy of Dermatology (AAD), American Society of Laser Medicine and Surgery (ASLMS), Texas Dermatologic Society (TDS) and Women's Dermatologic Society (WDS). She is also an active member of the American Society of Dermatologic Surgery (ASDS) and was selected as a member of the Future Leaders Network for 2021-2022.
Dr. Wood was raised in Tatum, Texas. In her spare time, she enjoys spending time with her husband, their Border Collie and Snowshoe cat. She also enjoys community outreach, traveling, fitness, curating charcuterie boards, Tex Mex, and spending time with friends and family.
Dr. Wood in the Media
Book Online
Emily Wood, M.D.

Patient testimonials about Dr. Wood:
"Dr. Wood and her staff are friendly and knowledgeable. I had a great experience!" — Marcia D. (July 21, 2023)
"Dr Wood is great!" — Molly C. (July 21, 2023)
"Dr. Wood was very kind, thorough, knowledgeable, and so helpful!" — Sophia E. (July 20, 2023)
"I loved Dr. Wood. I found her to be so genuine, caring and down to earth that I felt very comfortable. I will be moving forward with the plan we discussed." — Gina O. (July 17, 2023)
"Dr. Wood and the entire staff at Westlake Dermatology in Marble Falls are exceptional! They are thorough, friendly and take great care of their patients, from the moment you walk in the door, through exam/procedures and final check-out. With a long history of skin cancer, I appreciate Dr. Wood's expertise and concern, plus the efficient and personable staff." — Diana S. (July 14, 2023)
"Dr Wood and the staff were great, friendly, and helpful which made the visit stress free. I would definitely recommend." — Bruce R. (June 16, 2023)
"Emily Wood was really good and professional! I'll be back! Thanks" — William D. (June 6, 2023)
"Doctor did not rush the exam and asked good questions during the exam. Very professional." — Jerry R. (June 5, 2023)
"The doctor had great, friendly rapport. Made the experience comfortable." — Kevin T. (May 24, 2023)
"Absolutely 5 Star! I have needed a dermatologist for the last 65 years, and there is none better than Doctor Wood!" — Wesley H. (May 23, 2023)
"Dr Emily has been amazing to my teenager helping him deal with his acne. She's very friendly and knowledgeable in all areas. The entire staff in the office was great from check in to check out." — Jackson A. (May 18, 2023)
"Haley, Dr. Wood, and the front desk clerks were very kind, pleasant, welcoming, and professional. During my cosmetic consultation Dr. Wood listened to my concerns and presented available options along with the reasons she recommended them and the benefits and limitations of each. I was never talked down to or made to feel like my questions were odd or ridiculous. My only complaint is that Dr. Wood's first available date for any of the procedures is a month away, but that is to be expected when one finds a great doctor: They're popular." — Deana W. (May 18, 2023)
"As always, Dr Wood and her team are AMAZING!" — Schyler B. (May 17, 2023)
"Dr Wood was very informative and help me make decisions for my treatment. She was professional and friendly. She made sure I was comfortable and answered all my questions." — Gale d. (May 11, 2023)
"Dr Wood and Haley were absolutely AMAZING and so gentle with me. My first time at WLD and I know I will be back for any other procedures I might need or want. Thank you ladies" — Crystal C. (May 3, 2023)
"I love Dr. Wood! She is awesome! I recommended her to my husband and he also likes her!" — M. J. (April 28, 2023)
"Dr. Wood is extremely personable and helpful and keeps up-to-date on her research. Can't express how much I appreciate her!" — Natalie J. (April 26, 2023)
"I really thought the entire staff very courteous and efficient. I really liked Dr. Wood who seems very knowledgeable and good at explaining procedures." — Debbie T. (April 21, 2023)
"Very professional! Beautiful building and setting. Highly recommend if you need their services." — Richard A. (April 20, 2023)
"Dr. Wood and her medical assistant were both very personable, attentive, and thorough during my examination. All questions were answered and all issues were addressed." — Michael B. (April 19, 2023)
"Dr. Wood is amazing" — Garthe R. (April 17, 2023)
"Dr. Wood was very friendly and knowledgeable" — David W. (April 15, 2023)
"Thank you Dr. Wood and Savannah! GREAT JOB!!!" — Damon S. (April 13, 2023)
"Dr Emily Wood and staff were so nice and welcoming! They addressed my concerns and made recommendations for products I could use to help with my skin care needs. Highly recommend!" — Emily C. (April 12, 2023)
"My first visit with Dr. Emily Wood went very well she is very thorough and took her time checking my skin for any abnormal conditions during my visit. Staff was very kind as well." — Arthur B. (April 5, 2023)
"Very nice and well informed doctor (Dr Emily Wood). Very nice assistant. I received dysport injections today and will definitely be back for more and varying treatments." — Frances M. (April 4, 2023)
"The doctor was very helpful with my concerns and issues. I will always come back for my skin care needs." — Kimberly R. (April 1, 2023)
"The whole experience, from entering the beautiful building to interacting with everyone there, was very pleasant and calming. I was a little nervous, but Dr. Wood and her staff were so reassuring!" — Francine M. (March 30, 2023)
"Dr Wood and her team are fabulous!!!" — Schyler B. (March 17, 2023)
"Felt first visit was very successful. Impressed with Dr. Emily Wood and her staff who were very personable and professional." — Lola P. (March 17, 2023)
"Dr. Wood is amazing! It was so nice to see her and Casey. Lovely clinic, lovely staff. Everyone gracious and professional." — Elizabeth T. (March 17, 2023)
"No wait very straight forward service no pressure. Would highly recommend Dr Wood and staff!" — Mary H. (March 10, 2023)
"The atmosphere as soon as you walk in is very pleasant and everyone is very nice. My Doctor, Dr Wood, and all her Medical Assistants are just Awesome!! I would 100% recommend Westlake Dermatology" — Georgia R. (March 7, 2023)
"The front desk staff were very friendly and accommodating. Dr. Emily and Casey were very knowledgeable and explained everything to me. We have used Westlake when we lived in Austin and now living in Kingsland we were pleased with our first visit to the Marble Falls location." — Don J. (March 2, 2023)
"Dr. Wood had amazing bedside manner and explained all the procedures very thoroughly before doing them. 100% recommend." — Hailey G. (February 21, 2023)
"I love Dr Emily Wood and her team!!" — Mary D. (February 21, 2023)
"Comfortable, welcoming feeling from all staff. Promptly seen per appt. time. Dr. Emily kept me informed throughout the visit and was very attentive. Thank you" — Skrobanek S. (February 7, 2023)
"Great team at Westlake Dermatology. Punctual and courteous. It is one doctor visit that I actually look forward to. Dr. Emily is great." — Adams A. (February 6, 2023)
"Loved the comforting assistant in my procedure with Dr Wood. She patted my shoulder and assured me during procedure. Also loved the way Dr Wood would pause to let me catch my breathe and especially when she told me how much was done and how much left. Helped so much. Ty!!" — Field F. (January 30, 2023)
"I loved the professional, friendly staff. I thought Doctor Emily Wood outstanding and very knowledgeable. Her assistant was equally outstanding, outlining options and costs. The entire staff put me at ease. While beautiful, the building does not convey the warmth and genuine friendliness I encountered once inside. All great." — Grimm G. (January 26, 2023)
"Dr. Emily Wood & staff are very friendly and kind. Excellent care and she took the time to explain and answer questions. Highly recommend!" — Lewis L. (January 26, 2023)
"I really like Dr. Wood and Casey. They are friendly and made me feel comfortable during my examination. I will highly recommend them to my friends! The entire staff at Westlake Dermatology was professional and friendly." — Smiley S. (January 19, 2023)
"Love Dr. Wood… she is so professional, yet extremely personable." — Arredondo A. (January 19, 2023)
"I saw Dr. Wood and I would definitely recommend her to anybody I know so professional so sweet very kind made you feel very comfortable.." — Gibson G. (January 13, 2023)
"Loved Dr. Wood. Appointment was on time." — Humada H. (January 5, 2023)
"I liked the medical assistant. Polite, personable, professional. Dr. Wood was very clear and thorough." — Salvin S. (January 5, 2023)
"Staff is amazing! Love Dr. Wood. I was welcomed to the office by Frida, Bre and Ida! It was absolutely a delightful experience. Haley is also outstanding! Everything was explained well and I felt so comfortable with all the recommendations by Haley and Dr. Wood. Will be back and will recommend to everyone I know!" — Aldridge A. (January 3, 2023)
"Dr. Wood and her nurse Haley are incredible!! Couldn't recommend them enough for all derm needs!" — Alyssa R. (December 27, 2022)
"Dr. Wood and everyone in the office are awesome!!!" — Christopher S. (December 14, 2022)
"Very friendly from the time you check in until you leave. Dr. Wood actually listens to what you have to say and didn't make me feel rushed. I am very pleased with my visit and would highly recommend." — Tammy H. (November 30, 2022)
"Dr. Wood and her MA'S are wonderful!!! I love my new lips. She is the amazing!!!!" — Brenda E. (October 19, 2022)
"Dr. Wood is great. I always am pleased with her service." — Teresa P. (September 29, 2022)
"Really trust Dr. Wood and like her a lot…the staff are exceptionally efficient and respectful as well. Feel welcome there!" — Sandra T. (September 24, 2022)
"They are always so helpful and courteous. Dr. Wood is the best dermatologist I've ever seen. She's very knowledgeable and helps explain everything very well." — Ruthey H. (September 20, 2022)
"Dr. Wood was amazing. She was very thorough with her examination and explained everything step by step. I have already recommended her to someone." — Cynthia G. (September 16, 2022)
"I love Dr. Wood and her staff. They are super!" — Gena T. (September 14, 2022)
"Dr. Emily Wood was fantastic! Very efficient and thorough and timely! Super!" — Andrea W. (September 13, 2022)
"Dr. Wood was patient and caring with my 93yo Mom and communicated directly with her rather than directing her comments to me as many doctors tend to do. This may seem like a small thing to some but is very important and appreciated as Mom is very sharp/capable mentally and it is frustrating when I am the one addressed in an appointment and not her. Thank you Dr. Wood for making Mom feel like her opinion mattered and for your care and advice!" — Barbara F. (September 11, 2022)
"Dr. Wood and Savannah were great! I had a light therapy procedure done for the first time and they made me feel comfortable, at ease, and answered all of my questions. Highly recommend!" — Emily C. (September 1, 2022)
"Savannah and Dr. Wood were so personable and encouraging. The appointment was a wonderful experience and I look forward to seeing great results." — Tarsa R. (August 24, 2022)
"I just adore Dr. Wood. Brandy was awesome. Great visit." — Joan R. (August 23, 2022)
"Dr. Wood is a first rate practitioner. I recommend her to all my patients who are looking for a dermatologist." — Gregory S. (August 19, 2022)
"Dr. Wood and her staff is fantastic! Definitely would recommend her for all your dermatological needs, whether it be medical or cosmetic." — Brandie E. (August 13, 2022)
"Dr. Wood and her nurse were wonderful. Informative, caring, and they took the time to listen and address my concerns." — Julie E. (August 3, 2022)
"Dr. Wood and Haley were so personable and professional!" — Lindsey D. (August 3, 2022)
"Everyone is so nice and professional. The service is quick, but never rushed. Dr. Wood is amazing. Won't go anywhere else for treatments! She is knowledgeable, kind and remembers me each time-never a number or bill with Westlake Dermatology!!" — Monica A. (August 3, 2022)
"Love Dr. Wood! She's great at listening to my needs and any concerns." — Lisa D. (July 22, 2022)
"Nurse Devin and Dr. Wood and her team were incredible! I really felt heard and cared for. They were so sweet and knowledgeable. They all seemed personally invested in helping me reach my goals. It meant the world." — Carleigh L. (July 21, 2022)
"Dr. Wood and Haley are the dynamic duo! They are fantastic, kind, good listeners and understand what my goals are. I highly recommend this team for any procedures you might need! " — Tim R. (June 27, 2022)
"Liked everyone and everything! So glad that Dr. Wood was recommended to me!" — Elizabeth R. (June 23, 2022)
"Dr. Wood and her nurse VERY professional. I will continue to drive 250 miles just to see her!" — Karen W. (June 16, 2022)
"Dr. Woods is wonderful. You're€™re not just another patient. She takes the time with you and listens to all your concerns and provides comfort." — Erin M. (June 6, 2022)
"Dr. Emily Wood, Savannah and Hailey are all wonderful. So down to earth and real. " — Sonia S. (May 24, 2022)
"Dr. Woods is great! So kind and helpful for my teenager who is struggling with self esteem issues from acne." — Morgan W. (May 20, 2022)
"1st visit with Dr. Wood. I really liked her and she was very personable and thorough. Would recommend her to anyone." — Joan M. (May 19, 2022)
"Love everything about Westlake Derm. From the waiting room to the exam rooms. Dr Wood is very sweet and knowledgeable. Will definitely continue seeing her going forward!" — Jennifer B. (May 13, 2022)
"Dr. Emily Wood was both informative, friendly, patient and professional. She answered all my questions, and follow-up questions and treated me on the spot. I definitely plan on coming back." — Andres O. (May 11, 2022)
"Dr. Wood is the great! I couldn't be more pleased with the routine she has come up with for me. The ladies at the front desk are also very pleasant and friendly." — Marjory G. (May 5, 2022)
"Dr. Wood and Savannah are always so kind to my daughter and me! They take the time to get to know us and chat with us like we're friends!" — Chayse I. (May 3, 2022)
"Dr. Wood was excellent! She and her assistant makes you feel so comfortable and at ease. If I could, I would give my visit ten stars. If you are seeking a wonderful Dermatologist, please call and make an appointment with Dr. Wood. You will not be disappointed. " — Gail C. (April 28, 2022)
"Dr. Wood and her assistant were extremely personable and friendly. They made the process very easy and stress free. Everything was explained and Dr. Wood was quite knowledgeable with the product she used." — Maureen D. (April 28, 2022)
"Dr. Wood & her team (Savannah & Haley) are amazing!! Make you feel so comfortable because they are so sweet & truly care!!" — Jade B. (April 27, 2022)
"I really thought the entire staff very courteous and efficient. I really liked Dr. Wood who seems very knowledgeable and good at explaining procedures." — Debbie T. (April 21, 2022)
"Dr. Wood and her medical assistant were both very personable, attentive, and thorough during my examination. All questions were answered and all issues were addressed." — Michael B. (April 19, 2022)
"Dr. Woods is amazing" — Garthe R. (April 17, 2022)
"Dr. Wood was very friendly and knowledgeable" — David W. (April 15, 2022)
"Everyone was kind, friendly, and knowledgeable. I will recommend them to others." — Joyce G. (April 15, 2022)
"Dr Emily Wood and staff were so nice and welcoming! They addressed my concerns and made recommendations for products I could use to help with my skin care needs. Highly recommend!" — Emily C. (April 12, 2022)
"My first visit with Dr. Emily Wood went very well she is very thorough and took her time checking my skin for any abnormal conditions during my visit. Staff was very kind as well." — Arthur B. (April 5, 2022)
"Yall were great, thank you!" — Benjamin H. (April 5, 2022)
"Very nice and well informed doctor (Dr Emily Wood). Very nice assistant. I received Dysport injections today and will definitely be back for more and varying treatments." — Frances M. (April 4, 2022)
"The doctor was very helpful with my concerns and issues. I will always come back for my skin care needs." — Kimberly R. (April 1, 2022)
"Staff is very friendly and professional. Minimal waiting." — Patrick H. (March 31, 2022)
"The whole experience, from entering the beautiful building to interacting with everyone there, was very pleasant and calming. I was a little nervous, but Dr. Wood and her staff were so reassuring!" — Francine M. (March 30, 2022)
"Professional and personable" — Kay S. (March 24, 2022)
"Prompt, listens to my concerns highly professional" — Deborah C. (March 23, 2022)
"Super friendly people and a beautiful space!" — Cheryl D. (March 21, 2022)
"Kind nurses and doctor" — Sara T. (March 17, 2022)
"The office is so nice and all the staff very friendly and kind!" — Jane K. (March 15, 2022)
"Everyone was very friendly and conscientious." — Rebecca J. (March 11, 2022)
"Doctors always listen and guide with kindness." — Robert M. (March 10, 2022)
"Dr Wood is the sweetest and makes sure you leave happy!" — Marissa T. (March 8, 2022)
"The staff is knowledgeable and friendly. The offices are beautiful. Dr. Wood and Haley have been amazing since the start" — Erin M. (March 8, 2022)
"Very professional and a plethora of smiles." — Keith A. (March 4, 2022)
"Very nice and professional. Definitely liked as new patient" — Debra J. (February 25, 2022)
"Great service from check in to check out. Dr Wood listened to the things I wanted to address and I didn't feel rushed. Nice people. Easy to understand how I can reach my goals." — Kimberly B. (February 23, 2022)
"I absolutely love the staff. I recommend WL to everyone I know. Dr. Wood and her team are some of the most professional and kind people I've ever met. I am extremely loyal to this office." — Rosanna B. (February 21, 2022)
"Staff is always friendly, helpful & professional. Dr. Wood is amazing. She has helped to make such a difference in my appearance. She listens to your concerns and always makes the best recommendations. I trust her opinion" — Gena T. (February 21, 2022)
"Awesome experience from the assistant to the doctor!" — Lisa M. (February 18, 2022)
"Dr. Wood is amazing. She takes her times and listens to your concerns. Always answers all my questions. Always on time. Her nurse Haley is super nice." — Spomenka J. (February 17, 2022)
"Everyone was very friendly. Dr. Wood gave really good options for my inquiry. Thanks to all for being great." — Julie M. (February 15, 2022)
"Staff was extremely sweet from beginning to end. Dr Emily W definitely has helped me gain my confidence back with just the few visits I had with her for my acne!" — Karina E. (February 11, 2022)
"This was my first visit and I will say that it was one of the best places I've been for my skin checks. I've had skin cancer issues for several years and due to Covid, I haven't been for awhile. Dr. Wood and Savanah were friendly, caring and thorough. I highly recommend this location." — Brenda M. (February 10, 2022)
"Very friendly staff. Doctor was great!" — Terry P. (February 10, 2022)
"I really appreciated Dr Wood explaining everything the way she did and I got back to my room quickly!" — Reagan M. (February 9, 2022)
"Dr. Emily Wood is an excellent doctor. I am so happy I have found her." — Catherine H. (February 7, 2022)
"Dr Wood is not only a caring competent physician, she is a talented surgeon. The scar from the excision of my melanoma would make a Plastic surgeon proud." — Gregory S. (January 28, 2022)
"Everyone was wonderful to work with. I appreciated the wonderful care and hospitality." — Karen G. (January 25, 2022)
"Great front desk, nurse and doc." — Gregg J. (January 18, 2022)
"Very friendly, helpful, and professional staff. Dr. Emily is great! She took time to listen and provide information regarding my visit. Would definitely recommend to family and friends." — Sharon H. (January 15, 2022)
"Dr. Wood and her staff are amazing! They spent time with me and answered all my questions! Looking forward to scheduling a laser procedure soon." — Lyn O. (January 14, 2022)
"Dr. Emily was great. Very thorough in her exam and answered all questions and more. Very considerate throughout the whole process. She became my permanent dermatologist today for sure, I won't go anywhere else." — Patrick F. (January 14, 2022)
"Dr. Wood actually took a biopsy to determine the cause of the breakout on my skin. This shows me she is very through, professional and caring." — Anna D. (January 11, 2022)
"Very nice from front desk to nurse to doctor. Prompt, courteous and professional. Glad I found them!" — Alex M. (January 11, 2022)
"Dr Wood was very patient and took time to carefully examine all the spots I had concern with. Not a rushed appointment, so this was very much appreciated." — David A. (January 6, 2022)
"Dr Wood and her tech were polite, efficient, thorough and I will come back again. Also the front desk crew were great." — Robert B. (January 4, 2022)
"They were very friendly, explained all my options, and didn't make me feel pressured at all. Great experience." — Alaina R. (December 22, 2021)
"Doc was quick to acknowledge a procedure was not necessary or feasible." — William K. (December 22, 2021)
"Dr. Wood is very friendly, great bedside manner. Gentle with procedures. She went above and beyond for me and I appreciate her kindness and knowledge." — Krystal D. (December 22, 2021)
"Dr. Wood is very friendly and caring. She made me feel comfortable, and took care of what I needed. The staff was very friendly, and they got me right in to see the doctor. Loved the care I received." — Janet W. (December 17, 2021)
"Loved it. Very friendly ladies. Dr Wood was very caring explaining everything really well. Highly recommend." — Claudell R. (December 17, 2021)
"Very informed and easy to discuss with" — Patricia D. (December 17, 2021)
"I LOVE this place. From the time I walked in the door and then meeting Dr. Wood and her Assistant I have an enjoyable experience. Both Dr. Wood and her Assistant were so down to earth. I was NEVER rushed during our conversation. She's so professional, friendly, and knowledgeable. I will be going back. I will recommend to all my friends, family, and anyone else looking for a dermatologist. Dr. Wood, I'll be seeing you again very soon." — Donna B. (December 3, 2021)
"Everyone was so upbeat and helpful! Dr visit was right on time and very thorough." — Mary L. (November 30, 2021)
"Dr Wood and her assistant were amazing! Very professional, fun and on time! My new dermatologist is Dr Wood!!!!" — James M. (November 19, 2021)
"Dr Wood is Awesome!" — Jason G. (November 19, 2021)
"The entire experience…from the time we walked in, interaction with the front desk staff, engagement with the assistant/ nurse and meeting with Dr. Wood…everything was absolutely extraordinary and awesome!!!!!!!!!!!!!!" — Christopher S. (November 12, 2021)
"Dr and her PA were both very thorough and nice. Good to work with and happily answered all of my questions." — John B. (November 11, 2021)
"Very caring and compassionate." — Julie R. (November 11, 2021)
"Doc was great, very professional and kind staff. Thank you guys, see y'all again soon." — Hyo H. (November 9, 2021)
"Dr. Woods was very knowledgeable and very personable. All staff friendly and helpful. Very nice establishment." — Janelle S. (November 5, 2021)
"Staff and Dr Wood were excellent, would recommend for sure" — Susan E. (November 5, 2021)
"Dr. Wood is amazing! And her assistant was awesome! Thank you for explaining everything to us." — Madeleine S. (October 29, 2021)
"Very friendly , efficient, and I saw the Doctor quickly. I was impressed with the whole team!" — Tyma M. (October 29, 2021)
"Dr Wood was kind, patient and knowledgeable" — Gabriela E. (October 28, 2021)
"Everyone was very nice and explained everything in a way that my teenaged daughter could understand." — Chayse I. (October 26, 2021)
"Dr. Wood is very knowledgeable, thorough and friendly. I would highly recommend her for any type of care needed." — Vonda S. (October 22, 2021)
"Ease of access for new patient. Staff super friendly and helpful. Loved Dr. Emily Wood!" — Paige T. (October 19, 2021)
"The dr was very nice and I felt comfortable with her." — Tamara L. (October 15, 2021)
"The staff, medical assistant and doctor were very friendly and knowledgeable." — Margaret Y. (October 12, 2021)
"Efficient, friendly, professional. Liked the doc, the assistant, and the office staff. Would absolutely recommend." — John C. (October 12, 2021)
"Everyone is super welcoming!" — Kimberly C. (October 11, 2021)
"The staff was amazing, from the front desk to the doctor, everyone was great." — Wesley E. (October 8, 2021)
"Haven't been to the dermatologist in years. Everyone made me feel so at ease! Great place!" — Karen H. (October 7, 2021)
"Very friendly and professional." — Terrence D. (October 7, 2021)
"Dr. Wood is phenomenal! So kind and professional and a rock star at making me look gorgeous! Stop hesitating and make an appointment with Dr. Wood, one of the best decisions I've ever made." — Kacey G. (October 6, 2021)
"The staff was very informative about every question that I asked. They made me feel extremely comfortable even though I came in stressed. They made what seemed to be a difficult and long process nothing more than a quick fix. I greatly appreciate the help they gave me." — Stephen D. (October 5, 2021)
"Dr. Wood is amazing. She listened to all my concerned and I am extremely happy with my results." — Lorna N. (October 4, 2021)
"Y'all are absolutely amazing!!!" — Jen S. (October 4, 2021)