Fareesa Sandoval, MD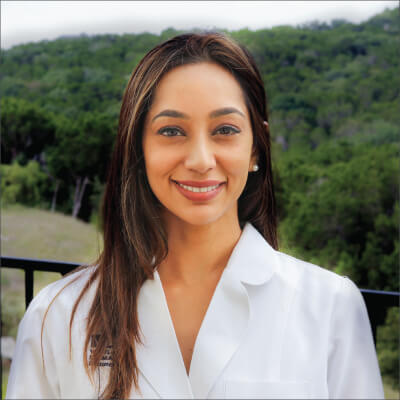 Fareesa Shuja Sandoval, MD completed her dermatology residency at Baylor College of Medicine, where she served as chief resident. During her second year of dermatology training, she received the highest score in the nation on her in-training exam. She has authored many publications and multiple book chapters, presented at scientific meetings, and was a clinical instructor at Baylor College of Medicine's Department of Dermatology prior to moving to Austin to join Westlake Dermatology.
Dr. Sandoval grew up in Houston and was selected in high school to be a Rice University/Baylor College of Medicine combined program scholar granting her early acceptance to medical school. At Rice, she obtained an undergraduate degree in Sociology and was a recipient of the Barbara Jordan scholarship. She graduated from Baylor College of Medicine with honors and received the Glasgow-Rubin Certificate of Commendation for Academic Achievement as well as being inducted into the Alpha Omega Alpha Honors Society.
View Dr. Fareesa Sandoval's Gallery of Before & After Photos
Dr. Sandoval is Board Certified by the American Board of Dermatology and is a member of the American Society of Dermatologic Surgery (ASDS), the American Academy of Dermatology, the Dermatology Foundation, the Texas Medical Association, and the Travis County Medical Society.  Dr. Sanoval was selected as a Texas Super Doctors Rising Star in Texas Monthly magazine in 2020 and 2021.
Dr. Sandoval's interests include adult and pediatric medical dermatology, skin cancer management, and cosmetic dermatology. She enjoys attending cosmetic dermatology meetings and workshops on a regular basis to stay up to date on the latest techniques.
Dr. Sandoval sees patients at our Round Rock clinic.
For more information on Dr. Sandoval's research and publications Click Here.

Book Online
Fareesa Sandoval, MD

Patient Testimonials for Dr. Sandoval
"Staff is polite, professional, caring and efficient. Doctor Sandoval is truly remarkable and thorough. I trust her implicitly and would recommend her to anyone. I have known her for the better part of a decade. I trust my skin to no one else." — Charles T. (October 10, 2023)
"We are very pleased with the environment at Westlake Dermatology. Everyone is friendly, pleasant, & professional. Dr. Sandoval is wonderful, caring, friendly, knowledgeable, & professional. Our visits are thorough and we know we are in good hands." — Harry F. (October 8, 2023)
"Friendly, prompt, and thorough. Dr. Sandoval really listens and answers all your questions." — Sophia C. (September 29, 2023)
"Mrs. Sandoval takes the time to listen and address my concerns. She makes recommendations and explains to my full understanding." — Eloisa O. (September 28, 2023)
"Always satisfied with Dr Sandoval. Her friendliness and gentleness with the needle is exceptional. " — Deborah F. (September 26, 2023)
"I loved the ambience, how everyone was so nice and helpful, and how there was no wait. The woman who helped me at the front desk was awesome and Olga & Dr. Sandoval were super helpful and answered all of my questions/set me up with a plan for the future. Plus free samples!" — Sarah M. (September 26, 2023)
"Loved the staff and Dr. Sandoval was a 10 plus! Thank you for an excellent patient experience :)" — Eleanor D. (September 25, 2023)
"Online appt booking is great! I'm very confident in my doctor. Easy, quick in and out." — Jolie M. (September 22, 2023)
"Appointments are always as scheduled. Dr. Sandoval is caring and thorough in her exams. I never feel she is rushed or short on time when she is with me." — Sharon A. (September 22, 2023)
"The ladies at the receptionist desk were both very inviting. Dr. Sandoval is not only a good Doctor, but has a very kind, caring, and has bedside manner." — Howard E. (September 22, 2023)
"Dr. Sandoval is amazing. Her personality and professionalism makes you feel welcomed and comfortable. My whole family goes to Westlake Dermatology. We have always had great service when we go." — Laura F. (September 20, 2023)
"Marina & Francis were as sweet as always! And Dr Sandoval works magic with filler and Dysport! She has the most gentle hand when it comes to injectables." — Sue B. (September 20, 2023)
"This visit was a perfect 10. On time, Desiree was great, Dr Sandoval was amazing! I highly recommend her!" — Linda R. (September 19, 2023)
"I liked the thoroughness of Dr. Sandoval. She found precancers that I had missed." — Danna H. (September 19, 2023)
"Dr Sandoval is a very kind and genuine person and she is very good in dealing with patients. She is always willing to help and answer any questions about skin issues and provide all kinds of solutions." — Elda R. (September 17, 2023)
"Frances and Dr Sandoval were excellent efficient, a real pleasure to meet and work with!!" — Lawrence M. (September 15, 2023)
"Dr Sandoval is amazing! She is very caring and makes sure her patients are comfortable and feel as little pain as possible." — Marc L. (September 14, 2023)
"Love the doctor. Love the staff. Always on time or early." — Patsy T. (September 11, 2023)
"Visiting Westlake is like a very pleasant night at the movies! Front desk folks are great. Waiting time is short. Treatment is thorough and mostly painless." — Milton M. (September 8, 2023)
"It looks like that they don't over schedule so the wait time is short. Dr. Sandoval is terrific!" — Taryn L. (September 1, 2023)
"The office is beautiful and very well managed. Dr. Sandoval is very professional and informative. She and her nurse made me feel very comfortable throughout my appointment. I will definitely be back!" — Meagan P. (September 1, 2023)
"Dr. Sandoval always takes the time needed to address all my skin concerns. She is thorough." — Chase M. (August 28, 2023)
"Dr. Sandoval is very professional, attentive and knowledgeable. She's very personable and I fell like I can trust her with my health every year." — Donald M. (August 25, 2023)
"Excellent service, staff & professionalism. Dr Sandoval is best! Same high quality every time!" — Leigh S. (August 23, 2023)
"Dr. Sandoval and her team are friendly, caring, good-natured, and thorough. Highly recommend!" — Kent K. (August 22, 2023)
"Dr. Sandoval is very knowledgeable and personable. I love going to Westlake Dermatology." — Peter G. (August 21, 2023)
"Dr. Sandoval and her medical asst. Olga are very thorough. They are awesome!" — Ronald S. (August 21, 2023)
"Dr Sandoval and team were thorough, professional, and friendly, and surprisingly efficient at the same time." — Stephen B. (August 21, 2023)
"Dr. Sandoval is always so great personally and professionally. She always asks about my kids, and she is always on top of her game for my annual checkup." — Jessica U. (August 17, 2023)
"Dr. Sandoval and her team are amazing!" — Danielle R. (August 15, 2023)
"Ms. Sandoval is most pleasant and efficient." — Stanley B. (August 10, 2023)
"I loved Dr Sandoval's technique for my lip filler and Botox. She was super gentle and precise. And she was very quick too! I highly recommend her." — Renee D. (August 10, 2023)
"Westlake Dermatology & Dr Sandoval came highly recommended to us through family members. We had a bad experience at a previous place so we were hesitant, and being picky about our next dermatologist. My husband and I both had visits with Dr Sandoval. She was extremely kind, non-judgmental, was professional in the actual visit and treated us with respect. She listened to our concerns and was very knowledgeable. We both had skin checks (which require almost no clothing). She made me feel very comfortable in a not so comfortable situation. We already have our next appts scheduled. At this time we do recommend Westlake Dermatology & Dr Sandoval. Thank you!" — Heather P. (August 8, 2023)
"The Dr. Sandoval is awesome. She was able to assist with my concerns on the first visit. They are very professional, knowledgeable, and ensure you are comfortable throughout the process. I will be returning for other services." — Veronica S. (July 25, 2023)
"The front office staff is very professional and sweet. Dr Sandoval's nurse is top notch and Dr. Sandoval….wonderful!!!!" — Linda P. (July 24, 2023)
"I absolutely love Dr Sandoval she is always very truthful, gives me great suggestions and eases my mind by answering any and all questions. She is amazing at what she does. Would recommend her for sure." — Patricia M. (July 21, 2023)
"I'm comfortable with Dr. Sandoval. She's very thorough with skin checks. If she needs to do a biopsy it is not painful. And she reviewed my skin care products and gave me helpful advice." — Diane H. (July 20, 2023)
"Very friendly office. Love Dr. Sandoval. She made me feel very comfortable. Her exam was very thorough." — William L. (July 20, 2023)
"Dr. Sandoval is kind, always on time, and let's me know exactly what needs to be done." — Jack T. (July 18, 2023)
"Dr Sandoval cares and listens to me ! ! !" — Bonnie S. (July 18, 2023)
"Very professional & personable! I did not have to wait long at all to see Dr. Sandoval. She was very thorough, and answered all my questions. She and her staff made me feel very welcome & they treated me with care." — Karen C. (July 13, 2023)
"Dr Sandoval answered all questions and was very supportive and insightful. Appointment was right on time!" — Neeraj A. (July 10, 2023)
"This was my first time getting filler and my experience with Dr. Sandoval was wonderful! I felt no pain or discomfort and the results were immediately apparent. Everything went very well, even better than I had hoped for." — Joshua N. (July 7, 2023)
"Dr. Sandoval is just great!" — Jennifer C. (June 29, 2023)
"I love Dr. Sandoval. She is kind, compassionate and very thorough! I'm so very grateful that she's my dermatologist!" — Stephanie T. (June 5, 2023)
"Dr Sandoval takes her time and listens to your concerns, very professional." — Debra T. (May 30, 2023)
"Dr. Sandoval is super! She is very nice and very thorough! I know I am in good hands!" — Russell D. (May 19, 2023)
"Always love Dr Sandoval and any assistants she has. They all are professionals with empathy. I trust her with my skin health (which always comes first) and lip injections." — Valerie V. (May 18, 2023)
"Dr. Sandoval was amazing. She was extremely knowledgeable, and caring. I would recommend her to anyone." — Janice K. (May 15, 2023)
"I certainly liked Dr. Sandoval and Frances, her assistant." — Michael H. (May 12, 2023)
"Staff always eager to help. Very friendly and patient. Dr Sandoval is absolutely amazing. Kind and supportive and gentle with the needle :)" — Deborah F. (May 4, 2023)
"Always a great visit with Dr. Sandoval, along with the excellent staff there. They are all top notch…helpful, pleasant and a joy to be around." — Sandra L. (May 2, 2023)
"Dr Sandoval is especially involved in caring about my health." — William A. (May 2, 2023)
"Dr. Sandoval and her nurse are fantastic! Always learn something when I visit." — Michael S. (April 25, 2023)
"I'm in love with Dr Sandoval! She has been so kind & sweet to me all of the years that I have seen her. I will miss her tremendously! I have told her that I might be flying back for my appointments as I will be moving to Richmond Virginia" — Paul G. (April 19, 2023)
"I'm so happy with the results! Dr. Sandoval is so nice and amazing! She'll tell me options about treatments what's good for me. I'm glad I chose Dr. Sandoval." — Fritchie R. (April 14, 2023)
"Still waiting for results, however, Dr. Sandoval did good job. Very nice, no pain, and a good nurse. Thank you" — Stephanie E. (April 13, 2023)
"Dr. Sandoval is great. She is so caring." — Kay K. (April 11, 2023)
"Nurse Frances and Dr. Fareesa Sandoval were professional, efficient & knowledgeable. That was the most productive medical appointment I have ever had! They handled my concerns, made recommendations & completed a simple procedure in a timely, professional manner." — Amy M. (April 5, 2023)
"Staff is very friendly and efficient. Dr. Sandoval is very thorough and wants to give the best care possible." — Sheryl C. (April 2, 2023)
"Dr Sandoval and her staff are so professional and caring. The front desk personnel are friendly and courteous. Such a nice atmosphere" — Vickie T. (April 1, 2023)
"Dr. Sandoval is just great! She is knowledgeable, patient and kind! She is everything you want in a doctor. I would never even consider going anywhere else." — Joy S. (March 31, 2023)
"Dr. Sandoval is sweet and very caring!" — Sheryl L. (March 31, 2023)
"I love my doctor. Dr. Sandoval is the very best I've ever seen!!!!" — Letitia S. (March 28, 2023)
"Dr. Sandoval and her assistant are so kind and make the experience so easy and painless." — Chasity H. (March 24, 2023)
"Staff is very pleasant and Dr. Sandoval is very friendly." — Barbara K. (March 23, 2023)
"Olga was very quick and efficient. Had everything ready for Dr. Sandoval to get me fixed up. The girls at the front are great too. Easy and friendly check in and check out. Love the location too." — Tayne R. (March 21, 2023)
"Love Dr. Sandoval! She is incredible at what she does and she is also super sweet and kind. She treats my entire family and we could not be happier with our care!" — Karen C. (March 20, 2023)
"My doctor is wonderful. The staff is always very pleasant. It feels so different than most medical visits. And in a very good way different!" — Gillian G. (March 17, 2023)
"I really appreciate the efficient manor in which my appointment was conducted when combining both medical and cosmetic treatments. Dr. Sandoval is always focused and informative." — Jil B. (March 7, 2023)
"Staff are very kind. Physician is efficient, but takes her time and listens. Highly recommend." — Nancy B. (February 25, 2023)
"Dr. Sandoval is very thorough in her exam. She is very clear about what she is going to do before performing any procedure, i.e. freezing, numbing, biopsy. She is also very personable and is not rushed during the visit. So glad she is my dermatologist." — Sharon A. (February 21, 2023)
"Love the office set up, promptness and overall care. Dr. Sandoval is just great! She has a truly great bedside manner and approach to skin health." — Meyers M. (February 9, 2023)
"I absolutely love Dr Sandoval. She is wonderful. She shows a sincere interest in her patients and makes them feel special. Couldn't ask for a better doctor or person." — Rutherford R. (February 9, 2023)
"Love my dermatologist Dr Sandoval, the friendliness of all staff and the punctual manner in which the facility is operated." — Maschal M. (January 25, 2023)
"Love everyone here. Dr Sandoval is the best I've ever seen." — Brand B. (January 24, 2023)
"Love the practice!!! Dr Sandoval is fabulous!!!" — Pospisil P. (January 19, 2023)
"Love Dr. Sandoval!" — Escover E. (January 13, 2023)
"Never a long wait. And professional and helpful staff! Dr. Sandoval is excellent!! Thank you!!" — Wickett W. (January 9, 2023)
"Dr. Sandoval is one of the most compassionate care providers I've ever been to. She's incredibly smart and thorough and makes me feel at ease. Thank you!" — Ziebell Z. (January 9, 2023)
"Dr. Sandoval and the Westlake Dermatology team at Round Rock are amazing. Truly amazing people." — Angel S. (December 19, 2022)
"Very friendly and precise evaluation. I really would recommend Dr. Sandoval to anyone." — Leslie P. (December 19, 2022)
"Dr. Sandoval and team are great. Front desk is outstanding! I've been a patient for 13+ years. I highly recommend Westlake Dermatology! Thank you for taking such good care of my skin!" — Cintia G. (December 16, 2022)
"Entire staff is great. Friendly and professional. Dr Sandoval is awesome" — Mark M. (December 16, 2022)
"I love love love Dr. Sandoval" — Deborah P. (December 15, 2022)
"Highly recommend Dr. Sandoval! Her medical assistant Desiree was super sweet :)" — Kennedi R. (December 15, 2022)
"I like that Dr. Sandoval and her staff are so kind and caring." — Paul D. (December 12, 2022)
"Love Dr. Sandoval and her staff" — Jill W. (December 9, 2022)
"My friends all recommended I see Dr. Sandoval as I was requesting a female for my body scan. She was so through and sweet!" — Chasity H. (December 8, 2022)
"Dr. Sandoval and staff are always pleasant and professional." — Lee B. (December 6, 2022)
"Dr. Sandoval is so friendly and kind. I feel like she genuinely cares for me." — Stephanie T. (December 1, 2022)
"I have recommended a couple of friends and they are now seeing Dr. Sandoval." — Rex H. (December 1, 2022)
"Dr. Sandoval took the time to explain her diagnosis and discussed treatment. Made my son feel very comfortable and eased his mind about the injection he ended up receiving. Staff was also helpful and very professional!" — Leslie J. (November 29, 2022)
"Dr Sandoval is so very patient, kind, and gentle; she always takes her time with you and answers all your questions." — Diane W. (November 29, 2022)
"Dr. Sandoval is always amazing! I've never gotten a result I didn't love!" — Christina L. (October 21, 2022)
"Dr. Sandoval was on time and was very knowledgeable and kind, taking time to answer all of my questions. She is a wonderful doctor, very intelligent and personable." — Janet F. (October 17, 2022)
"Dr. Sandoval and her staff are very friendly and knowledgeable. If you're looking for a dermatologist that cares, takes time with you then Dr. Sandoval is the dermatologist for you. I highly recommend Dr. Sandoval." — Richard V. (October 14, 2022)
"Love my doctor!! Dr Sandoval has a great disposition and her staff is equally as sweet!" — Poonam M. (October 11, 2022)
"Dr. Sandoval is awesome! Professional and caring." — Sheryl L. (October 4, 2022)
"Dr. Sandoval is amazing and the staff is wonderfully nice." — Jovana M. (September 30, 2022)
"Dr. Sandoval and her nurse were kind and professional. I felt at ease and never rushed. Dr. Sandoval took the time to listen to my concerns and developed a plan to address my skin issues. I highly recommend Dr. Sandoval and this facility, I definitely will return to her in the future!" — Jennifer B. (September 27, 2022)
"I really like Dr. Sandoval's thorough and caring manner." — Sandra M. (September 13, 2022)
"Dr. Sandoval has the most gentle touch with injectables. No pain, no bruising and doesn't over do it – she keeps it very natural looking. Her staff is amazing too! Francis is so caring & detail oriented. Kennedi is very sweet and Lizzy is so knowledgeable about products! I love going to the RR location :)" — Sue B. (September 13, 2022)
"Dr. Sandoval was very thorough with my care and patient with my questions. I left feeling like I had a good plan for treating my rosacea." — Laurie M. (September 6, 2022)
"Dr. Sandoval is a great Doctor." — Mark P. (August 29, 2022)
"Dr. Sandoval is amazing! I couldn't say enough good things. The level of care and commitment from her and everyone I've encountered in the office is unmatched. Highly recommend!!" — Olivia F. (August 29, 2022)
"Everyone was so friendly and welcoming. The whole experience was great! Dr. Sandoval was awesome and made me feel hopeful about my thinning hair. My nurse, Desiree, was so sweet." — Carol T. (August 25, 2022)
"Dr. S is so kind and patient and caring!" — Teresa F. (August 25, 2022)
"Dr. Sandoval and her staff are amazing. They explain everything and always make you feel very comfortable." — Laurie R. (August 23, 2022)
"Dr. Sandoval has been a life saver for me. I have had acne, scarring, and skin irritation for years that she was able to fix. The staff is excellent as well." — Kali A. (August 23, 2022)
"Good energy. Love Dr. Sandoval. Makes the money I've spent worth it!" — Glenda F. (August 18, 2022)
"Great staff, and Dr. Sandoval is very thorough and kind" — Stacey F. (August 16, 2022)
"Dr. Fareesa Sandoval is so pleasant and thorough. Check in and out is very efficient." — Stanley B. (August 9, 2022)
"From first walking into the door I was made to feel very comfortable. Dr Sandoval takes her time and answered all of my questions and concerns." — Gayle C. (August 4, 2022)
"Dr. Sandoval is kind, caring, and efficient :)" — Julie B. (August 2, 2022)
"Dr. Sandoval was very warm and professional." — Robert P. (August 2, 2022)
"Dr .Sandoval is beyond kind, compassionate and professional. Ms. Robinson the front associate is exemplary. Value added service. Thank you!" — Mary A. (August 1, 2022)
"I like Dr. Sandoval. She is thorough and has a pleasant manner." — Jackie O. (July 28, 2022)
"Love the staff and Dr Sandoval" — Braden A. (July 25, 2022)
"Dr. Sandoval is wonderful. The staff is always nice, friendly and helpful. It is a pleasure to recommend this office to care for your skin needs." — John M. (July 23, 2022)
"Dr. Sandoval is very professional. He explained everything very well about my acne. The treatment is working well." — Genevieve T. (July 20, 2022)
"Dr. Sandoval is very caring and tender when she is inspecting my shin and keeps me informed." — Joe S. (July 19, 2022)
"It was clean, relaxing and friendly staff. Dr Sandoval's nurse and Dr Sandoval were incredible!!! " — Linda P. (July 18, 2022)
"Dr. Sandoval prioritizes patient health even during cosmetic visits. She is patient and thorough." — Jil B. (July 18, 2022)
"Dr. Sandoval & Frances were so nice, reassuring & professional. I was so glad that they were a part of my first experience as a new patient at Westlake. I hope that they will be my medical team at the facility for years to come." — Susan W. (July 18, 2022)
"Dr. Sandoval and her staff are very professional, caring and capable. Dr Sandoval patiently answered my questions and explained options, and has excellent bedside manner!" — Caroline A. (July 18, 2022)
"Dr Sandoval was engaged, kind and the visit didn't feel rushed." — Sharon T. (July 15, 2022)
"Dr. Sandoval and her nurse very thorough and pleasant. Made me feel at ease for yearly skin check ." — Kathleen B. (July 11, 2022)
"Dr. Sandoval took time to review the procedure and offer expert advice for the best possible outcome." — Matt M. (July 11, 2022)
"Just love the visit, everyone is friendly & helpful. Dr Sandoval is very caring and thorough and always explains things & answers any questions I have." — Bernadette K. (June 30, 2022)
"Very friendly and professional staff .. Love Dr. Rhodes , she has been so caring and such an attentive physician over the years! So glad I found her and grateful for her care.." — Susan R. (June 27, 2022)
"Dr. Sandoval has a great bedside manner. She is professional while friendly, patient and thorough in explanations and treatments. She doesn't recommend things I don't need that will end up costing me money unnecessarily and yet she performs the procedures I want or need with the precision and expertise I hope for in a doctor. I recently had an aggressively growing lump on my hairline that was extremely painful and swelling my face and frankly worrisome for me but within minutes, Dr. Sandoval calmly identified that it was a cyst of no concern and she and her assistant drained, bandaged it and I left with no more pain and immediate swelling relief and within a few short days everything was back to normal. I highly recommend Dr. Sandoval!!" — Aubrey W. (June 26, 2022)
"Dr. Sandoval is extraordinary . You will not find someone better than her as a dermatologist." — Charlotte R. (June 14, 2022)
"Dr. Sandoval is great. She seems to genuinely care for her patients." — Edward F. (June 14, 2022)
"Dr. Sandoval was very thorough!" — Jonathan D. (June 9, 2022)
"Dr. Sandoval is so sweet and gentle." — Tristan P. (June 7, 2022)
"Dr. Sandoval and the staff are very friendly, they maintain a comfortable and relaxed environment which I enjoy greatly." — Gregory J. (June 6, 2022)
"Dr. Sandoval is always so kind and caring!" — Stephanie T. (June 2, 2022)
"Office is amazing, staff is kind, Dr Sandoval was helpful, friendly, competent, and efficient." — Alex H. (June 2, 2022)
"Dr. Sandoval is so kind and knowledgeable! I'm thankful to have her as my dermatologist." — Holly F. (May 26, 2022)
"Dr. Sandoval is a pleasure to deal with and very knowledgeable." — Guy R. (May 26, 2022)
"Always like the attention and great care Doctor Sandoval gives. The support staff are excellent." — Rex H. (May 19, 2022)
"Everything was great as always. Dr. Sandoval is always a delight to visit and she takes care of everything suspicious on my body. I very much appreciate her." — Sandra R. (May 14, 2022)
"Dr. Sandoval was so kind and empathetic with my situation and reason for the visit. She wanted to understand my goals and worked on a solution and plan to tackle my difficulties. Will recommend her to everyone." — William R. (May 12, 2022)
"Dr. Sandoval & staff are very personable, professional, friendly & do a thorough job!" — Cleveland C. (May 10, 2022)
"I love Dr Sandoval! She and her staff always make the time with me to answer all my questions and keep my skin cancer free and smooth. Just love them!" — Elizabeth G. (May 5, 2022)
"Dr. Sandoval and the staff are very professional and caring. They always make sure I am taken care of and all my issues are addressed. Westlake Dermatology in Round Rock is great!" — Stacey P. (May 3, 2022)
"Dr. Sandoval worked hard to make sure my biopsy pain was under control." — Holly D. (April 28, 2022)
"Dr. Sandoval is very thorough and has a great bedside manner" — Osborn M. (April 26, 2022)
"I'm so happy with the results! Dr. Sandoval is so nice and amazing! She'll tell me options about treatments what's good for me. I'm glad I chose Dr. Sandoval." — Fritchie R. (April 14, 2022)
"Dr. Sandivol is great. She is so caring." — Kay K. (April 11, 2022)
"Dr Sandoval was prompt for the appointment and addressed my concerns both amicably and factually. The visit was extremely informative in a relatively short time frame." — Cary K. (April 7, 2022)
"I was taken on time for my appointment. Dr. Sandoval is always thorough and caring." — Donna M. (April 7, 2022)
"Nurse Frances and Dr. Fareesa Sandoval were professional, efficient & knowledgeable. That was the most productive medical appointment I have ever had! They handled my concerns, made recommendations & completed a simple procedure in a timely, professional manner." — Amy M. (April 5, 2022)
"Staff is very friendly and efficient. Dr. Sandavol is very thorough and wants to give the best care possible." — Sheryl C. (April 2, 2022)
"Dr Sandoval and her staff are so professional and caring. The front desk personnel are friendly and courteous. Such a nice atmosphere" — Vickie T. (April 1, 2022)
"The Dr. Was extremely courteous and knowledgeable." — Tyra H. (March 31, 2022)
"Dr. Sandoval is sweet and very caring!" — Sheryl L. (March 31, 2022)
"Love everyone here! Th entire staff is great!" — Brenda S. (March 29, 2022)
"I like my doctor. She takes good care of me." — Kristopher B. (March 29, 2022)
"I usually am not in the waiting room for more than 10 minutes, and am in the exam room for less than 20 minutes waiting for Dr. Sandoval. She does a very thorough exam." — Geraldine T. (March 28, 2022)
"Everyone was nice. Professional. Thorough." — Benito P. (March 25, 2022)
"Everything is great from walking in the front door to walking out. Great staff. Keep up the good work. My wife and I started going when we moved here in 2015 and it's been great, not one problem… thank You All" — Donald T. (March 23, 2022)
"I love everything about this WD location. The space, the staff, product selection and most importantly, Dr. Sandoval. I feel so welcomed and comfortable with every visit, I can't imagine going anywhere else!" — Amanda R. (March 22, 2022)
"I really like Dr. Sandoval's kind and caring demeanor." — Sandra M. (March 10, 2022)
"Even when the visits go quick dr Sandoval always listens to me. She has great bedside manner and has real discussion with me, while still being time efficient. I never feel rushed." — Julia H. (March 7, 2022)
"Dr Sandoval is amazing! I've never felt happier with my results. She's so knowledgeable, calming and skilled." — Lindsay P. (March 4, 2022)
"Doctor and Staff very professional and friendly!" — Jeannie M. (March 3, 2022)
"Dr. Sandoval, nurse, front desk staff are great!" — Rachel F. (March 3, 2022)
"Dr. Sandoval is always efficient and friendly!" — Jil B. (March 1, 2022)
"Short waiting time. Friendly staff and doctor." — Rodney C. (February 26, 2022)
"Don't ever have to wait long to get into see doctor. Dr Sandoval is always so good to check everything when I go in for a skin checkup once a year. The staff are alway so helpful and friendly. I wouldn't go anywhere else." — Teresa S. (February 24, 2022)
"Dr. Sandoval is very thorough and gives me the time needed to fully answer all my questions." — Chase M. (February 24, 2022)
"Dr. Sandoval and all staff are very professional, efficient, friendly and make you feel comfortable. They clearly love their work and are exceptional it." — William C. (February 22, 2022)
"My Dr & assistant were very thorough & always kind." — Lynn C. (February 21, 2022)
"Dr. Sandoval and her staff were very pleasant and caring." — Barbara W. (February 17, 2022)
"I was very pleased with the service and my Doctor is superb!! Loved visiting Westlake Derm!" — Hazel D. (February 15, 2022)
"Dr. Sandoval is always very patient with all my questions since I'm a newbie." — Samantha P. (January 28, 2022)
"Front desk was cordial and helpful. Dr Sandoval was awesome. She took her time easing my fear of 1st time Botox and answered all my questions." — Wendy L. (January 28, 2022)
"I absolutely love Dr. Sandoval. She has a generous and knowledgeable bedside manner. Her nurse, Olga, is a sweet person with a gentle nature that is comforting just like Dr. Sandoval." — Poonam T. (January 27, 2022)
"Staff was great, very cool interior design" — Amy D. (January 27, 2022)
"Dr Sandavol was so kind and caring during my recent surgery. It was quick and easy and I was worried about this for a while. Thanks so much!" — Lisa C. (January 25, 2022)
"Caring, competent physician and staff. Questions always addressed and answered. Respectful of your time and lifestyle." — Sandy R. (January 24, 2022)
"Dr Sandoval is my favorite doctor. She is very professional and extremely like-able. I am fortunate to have her as my dermatologist." — William A. (January 20, 2022)
"Everyone is so kind! Makes for such a comfortable experience. I love WLD at RR!" — Stephanie K. (January 20, 2022)
"I liked that the doctor took my concerns seriously and took immediate action to see if my skin affliction is pre cancerous." — Mary A. (January 20, 2022)
"Never a long wait. Dr is very thorough and thoughtful. Check in and out are a breeze." — Edward H. (January 13, 2022)
"Dr. Sandoval and her staff are friendly, knowledgeable and professional." — Robert F. (January 13, 2022)
"Utmost professionalism amongst everyone at the RR location! Dr. Sandoval is always so kind, patient, and takes the time to answer my many questions! Five-star operation!" — Joan M. (January 13, 2022)
"I never have to wait more than 5 minutes to be seen. The staff is always polite and kind. And Dr. Sandoval is wonderful!" — Jane B. (January 11, 2022)
"The patient waiting area is very nice and comfortable. The staff is friendly and accommodating. I couldn't see my regular dermatologist and had to see another and she was very nice." — Joanne D. (December 24, 2021)
"Doctor Sandoval is fantastic!" — Michael A. (December 23, 2021)
"Very friendly professional people. Great atmosphere always looking out for your best interest." — Robert L. (December 23, 2021)
"Beautiful space with very friendly people. They understood what my goal was and made it happen." — Robyn C. (December 21, 2021)
"As always the entire staff is very friendly and professional. Dr. Sandoval is just a pleasure to work with." — Mark M. (December 16, 2021)
"Very nice atmosphere, appointment on time and Dr. Sandoval is awesome!" — Eva K. (December 14, 2021)
"The office is great and very welcoming. Dr Sandoval is great. Very professional and very friendly, make you very comfortable." — Simone M. (December 13, 2021)
"Everything was efficient, friendly, caring , overall wonderful" — Lee P. (December 10, 2021)
"I love Dr. Sandoval and her team. She is kind, knowledgeable, and a skilled medical provider. I have referred my mom and my aunt to her practice. They love her too! As a registered nurse, I am very picky when choosing medical providers for those nearest and dearest to me. Medical providers who have repeat medical provider patients are at the top of their field. Dr. Sandoval is among this group! Thank you for your compassionate and competent care Dr. Sandoval. " — Jessica H. (December 9, 2021)
"I was very pleased with the excellent customer service, medical assistant was extremely helpful she treated me very nice and Dr Sandoval was very helpful with my diagnosis of my rash on my leg answer every question I asked, also the Medical Assistant explained in detailed the medication take and the insurance authorization.. I'm very pleased with my visit 100% satisfaction." — Josefina P. (December 9, 2021)
"The Dr was very kind and took her time talking to me. The appointment did not seem rushed." — Ashley M. (December 7, 2021)
"Dr Sandoval is a gem. She's very kind and understanding. Appointments at Westlake Dermatology are always fast and efficient." — Brian D. (December 6, 2021)
"Dr. Sandoval is always so patient with me and I really feel she does everything she can to help me achieve the results I'm looking for. So grateful for her!" — Jessica D. (December 6, 2021)
"I very much like Dr. Sandoval. She explains the situation, forms a plan and executes … all with a very calm, bedside manner. I would recommend her highly. Also her assistant Olga was very attentive and considerate of my feelings. They both made me feel calm and relaxed. I had a couple of mole/cysts removed." — Jackie O. (December 6, 2021)
"As always, the checkin and checkout were quick and easy. No wait time and Dr Sandoval was as awesome as always. Thank you." — Dan P. (November 30, 2021)
"Dr. Sandovol is very gentle and thorough, and she treats you like a person, not just a "patient." I really appreciate that." — Diane W. (November 23, 2021)
"The service and attention from the moment you go in until you leave is excellent! Also they are all very nice and kind. I would go back anytime and would recommend it 100%" — Adriana C. (November 23, 2021)
"Doctor Sandoval and staff are great!" — Michael S. (November 22, 2021)
"Love Dr. Sandoval and her team!" — Alexandria G. (November 22, 2021)
"Everyone is always so welcoming. And nobody is ever too busy to answer a quick question." — Angela H. (November 19, 2021)
"I felt the staff were very professional and took the time to listen to me and fully answer my questions." — Anna D. (November 19, 2021)
"I'm impressed with the staff and care every time I have treatments." — Rex H. (November 18, 2021)
"The doctor is great, caring for my health." — Jeffrey P. (November 18, 2021)
"Everyone is very friendly and professional. My visit was great, doctor was friendly and informative." — Syndia T. (November 16, 2021)
"I have the utmost confidence in Dr. Sandoval. She is very thorough. I trust her completely." — Shirley B. (November 16, 2021)
"The doctor was lovely, she took the time to listen to my concerns, to help soften my frown lines and some other areas on my face. In a few minutes I was pricked and on my way!" — Michelle A. (November 15, 2021)
"The friendliness, and helpfulness of everyone was beyond fantastic. My procedure went better than I expected." — Michael G. (November 12, 2021)
"I have nothing but good things to say. They are so friendly and efficient. Everyone is very nice and accommodating. Dr. Sandavol is very kind and caring." — Deloris C. (November 11, 2021)
"Dr. Sandoval is wonderful. I trust her knowledge, expertise plus having a wonderful personality." — Nancy L. (November 10, 2021)
"The doctor was so great helping me with my anxiety. Being awake while she cut me open was stressful for me. Big gruff biker… freaking out. But she talked to me and was so kind. I really appreciate everyone there." — Maurice A. (November 5, 2021)
"Fast, thorough,caring!" — Deborah R. (October 28, 2021)
"Dr. Sandoval and staff are excellent!" — Erhin S. (October 21, 2021)
"Dr. Sandoval is wonderful!" — Sharon F. (October 15, 2021)
"From start to finish this office is stellar! Kennedi and Tristan are always great! Doctor Sandoval is always such a pleasure to see, not to mention one of the best injectors in the business. Highly recommend. Her MA Alex was wonderful as well. The office and staff are beautiful and professional." — Kaylyn B. (October 11, 2021)
"Always courteous and friendly service. Expert and professional treatment. Highly recommend!" — Elvin B. (October 8, 2021)
"First Botox appointment for me and it went great! Dr. Sandoval made me feel extremely comfortable and I'm extremely happy with how things went." — Samantha P. (October 8, 2021)
"Courtesy and professionalism are the words to describe you services." — Mark L. (October 7, 2021)
"Love the doctor and staff! Everyone is friendly and helpful." — Patricia M. (October 7, 2021)
"Dr. Sandoval is the absolute kindest and best doctor I have ever had. I am so thankful to have found her." — Tracy Z. (September 29, 2021)
"Dr. Sandoval and her nurse are amazing! Customer service at the front desk and check out is outstanding!" — Howard E. (September 24, 2021)
"I am so grateful for my provider! She is very empathetic and takes time to listen to exactly what I need and offers great solutions. The actual building is beautiful and decorated very nicely, which creates a calm, professional environment." — Kira L. (September 23, 2021)
"Love Dr. Sandoval and her team!" — Donna P. (September 23, 2021)
"Doctor was very polite and friendly." — Vincent S. (September 17, 2021)
"I love visiting Dr Sandoval, one of the sweetest people I know and very professional." — William A. (September 14, 2021)
"I was recommended to Dr. Sandoval and I love her. She seems so sweet and caring." — Sandra M. (September 12, 2021)
"I love the doctor. She is so patient and kind." — Gina P. (September 2, 2021)
"Staff is very professional and friendly. Very knowledgeable and helpful. Always take the time to answer questions and concerns." — Kara K. (August 27, 2021)
"We have found the doctors and staff to be the most efficient and pleasant group of people we have to deal with. We always recommend them to friends and family." — Patsy T. (August 27, 2021)
"Dr. Sandoval is SO sweet and gentle and kind. She makes you feel completely comfortable. The office is beautiful and the staff is friendly and very efficient. I don't think I have ever had to wait!" — Kristen H. (August 27, 2021)
"Dr. Sandoval was terrific as was her nurse, both were very nice, knowledgeable and helpful." — Pikul P. (August 26, 2021)
"Always a very thorough exam and very professional. Very friendly and able to discuss any concerns." — Chase M. (August 24, 2021)
"Dr. Sandoval is so personable and friendly." — Renita S. (August 20, 2021)
"The doctor was caring and gave a complete examination." — Arlene K. (August 18, 2021)
"Dr Sandoval and the staff are excellent." — John W. (August 16, 2021)
"All of the receptionists were great at assisting me with appointment. Dr Sandoval was so nice and informative. Thank you for your services." — Michelle E. (August 16, 2021)
"Your people are very nice, very respectful, And very efficient. The wait is never long. Dr Sandoval is a very caring person. I wouldn't go anywhere else." — Pamela D. (August 13, 2021)
"Online scheduling was easy and Dr. Sandoval was empathetic and efficient (a rare combo)." — Daniella P. (August 13, 2021)
"Dr. Sandoval is amazing. She has excellent bedside manner. She is very patient and willing to answer all the questions I have. She made me feel very comfortable and have full confidence in her. She is definitely one of my favorite doctors." — Chayanit P. (August 12, 2021)
"Dr Sandoval is great! The whole staff was very nice and helpful. We appreciate all of you!" — John M. (August 12, 2021)
"Very thorough!" — Mary M. (August 12, 2021)
"Their agility! There was one procedure that I wanted done today that was not on file to be done. They accommodated me after I told them that I took some days off because of the recovery time that was needed. Thanks for your hospitality that was shown." — Michael R. (August 12, 2021)
"Dr Sandoval is extremely knowledgeable and kind. She understands and listens to my concerns in her diagnosis and treatment. The entire staff is warm and welcoming, from the front desk to the nurses helping. Great staff and it is run very efficiently." — Encarnacion V. (August 12, 2021)
"Everyone is so nice at the RR office. Dr. Sandoval is very nice, professional and has a great way with everything." — Hilda C. (August 10, 2021)
"Everything very professional. Dr. Sandoval is wonderful!" — Robert P. (August 7, 2021)
"From the moment I walk in, until the moment I walk out, I always feel taken care of at Westlake Dermatology in Round Rock. Dr. Sandoval takes the time to listen, thoroughly examines, and explains any concerns/dermatological issues that I am facing. " — Madison A. (August 7, 2021)
"Quick access, friendly staff, competent physician." — Deborah B. (August 5, 2021)
"I'm very pleased with Dr. Sandoval and her assistants, Frances and Alex, with the professional/personal medical care that she provides for me. Although I'm not Round Rock, I'm from Laredo,Tx, I don't mind the travel for my medical care… Thank you, WD RR." — Rosa A. (August 4, 2021)
"Extremely clean facility and the people are super nice. Dr. Sandoval was very professional and easy to communicate with. Very pleasant visit." — William H. (August 3, 2021)
"From the moment you walk in , everyone is extremely nice and helpful. The doctor was very caring which is so very important . I would fully abs highly recommend." — Jayden P. (August 2, 2021)
"Very personable and professional." — Delores B. (August 2, 2021)
"Staff were very friendly and efficient. Dr. Sandoval was pleasant, thorough and reassuring. Never felt rushed and very pleased with my first visit with Westlake Dermatology!" — James M. (July 30, 2021)
"Dr. Sandoval is smart, friendly, and very thorough. She has a great bedside manner and keeps me safe every six months." — Charles F. (July 28, 2021)
"The staff was amazing and constantly helpful. The doctors were very down to earth and knowledgeable. They made me feel comfortable and they knew what they were doing. 100% would recommend." — Steven F. (July 28, 2021)
"Appointment was on time. Dr. Sandoval is thorough and professional." — Edward H. (July 27, 2021)
"Love Dr. Sandoval. You run a nice office. Very timely. And thankful you were able to get me in for my problem!!!" — Debra W. (July 26, 2021)
"Very pleasant environment with good staff and physician." — Karla C. (July 26, 2021)
"Love Dr. Sandoval! She's very considerate and conservative in her approach, which makes her a great dermatologist. Love her attention to detail and attitude of always taking extra care of her patients!" — Jasneet C. (July 26, 2021)
"The Dr and staff are all very personable and professional!! I was given options for treatment and treatments were done the same day!!! I'm so happy with the people and services here!!" — Vickie D. (July 23, 2021)
"Great patient waiting area. The appointment was very timely and dermatologist was very knowledgeable with a great bed side manner." — Richard G. (July 20, 2021)
"Loved the on time service! Dr Sandoval is always fantastic!" — Rachel M. (July 19, 2021)
"The wait to see Dr. Sandoval is usually very short. She does a very thorough full body exam." — Geraldine T. (July 19, 2021)
"Staff and doctor are very professional. Doctor did a very through exam and was very knowledgeable." — Shuler P. (July 19, 2021)
"Very caring and calming to their patients." — Dendy S. (July 17, 2021)
"Friendly and professional staff who listened to my concerns and made sure to find solutions that fit my issues and requirements." — Julien D. (July 16, 2021)
"My doctor and her staff including reception are also very nice. My doctor listens to me and answers all my questions and I really appreciate that." — Mary R. (July 15, 2021)
"Really liked Dr Sandoval, clearly explained my options." — Susan P. (July 13, 2021)
"Everyone was very nice. It came highly recommended. That proved to be true. Dr. Sandoval was amazing." — Mary H. (July 13, 2021)
"Everyone's kind and caring attitude is truly appreciated." — Hyland C. (July 13, 2021)
"Good bedside manner, very friendly, positive, little wait time, easy scheduling." — Jennifer L. (July 13, 2021)
"Great service and attention from Dr. Sandoval, Assistant Olga, and the front office staff. Overall, great customer service." — Hector A. (July 9, 2021)
"Excellent service. I recommend Dr. Sandoval and her assistants highly for their diligence and exceptional care." — Erhin S. (July 8, 2021)
"Great visit! Friendly, thorough, and efficient. Explained everything and is very knowledgeable. Overall, great care from Dr. Sandoval and the staff." — Robert F. (July 6, 2021)
"Honest and gifted doctor." — Dudley K. (July 6, 2021)
"Dr. Sandoval is excellent in every situation. She takes care of our whole family including our children. Our experience with her is always professional and caring." — Elle B. (July 2, 2021)
"Dr. Sandoval is excellent. Thorough, friendly, professional. I trust her completely, and recommend her to anyone looking for an outstanding Dermatologist." — William C. (July 2, 2021)
"Always caring. Kind and attentive. All staff." — Connie P. (July 1, 2021)
"Dr Sandoval is amazing! She always makes sure to explain everything before the procedure, and makes sure I'm comfortable throughout my visit. Everyone is extremely friendly and professional!" — Christina L. (July 1, 2021)
"Dr. Sandavol is my all time favorite. So caring and friendly. She has treated me for many issues successfully. I recommend her to all my friends and family. Rockstar." — James A. (July 1, 2021)
"I arrived at my scheduled time and was promptly seen. I appreciate the professional efficiency and value of my time." — Kimberly P. (June 7, 2021)
"My visit was wonderful, I was very pleased with the entire experience." — Gregory J. (June 2, 2021)
"Visit went very well! Honestly can't think of how it could have gone better. Very impressive. Everyone I interacted with was friendly and professional. Facility was clean, up to date, and well maintained. I'm happy I chose Westlake." — Susan M. (June 2, 2021)
"Dr. Sandavol is an absolute delight as my favorite doctor. She always spots items of concern and treats them immediately. I get kind, warm, friendly care from her. The office staff and medical assistants are all top notch." — James A. (May 28, 2021)
"Outstanding service! I will come back. Thank Y'all." — Elfida M. (May 18, 2021)
"Dr. Sandoval has extremely high standards and is a top grade professional. Her bio shows exemplary achievements. So lucky to have her at Westlake. She is a tremendous asset to her profession." — William G. (May 7, 2021)
"I like my doctor, my nurse and reception lady. Everyone's nice and I feel I am in vey good care." — Jim M. (May 4, 2021)
"I appreciate that the appointments are always on time." — Terry A. (April 30, 2021)
"I am very comfortable there and have full confidence in my doctor." — Patricia Z. (April 29, 2021)
"Staff took away a lot of my anxiety." — Richard K. (April 21, 2021)
"Doctor is very competent and professional." — Robert G. (April 20, 2021)
"Dr. Sandoval and her nurse were very nice. They explained procedures, and were very efficient." — Patricia M. (April 1, 2021)
"Just keep doing what y'all are doing! So easy getting appointments, checking in and LOVE all the staff I have Interacted with! Beautiful facility!" — Anne B. (April 1, 2021)
"Love Dr. Sandoval!" — Jessica D. (April 1, 2021)
"It was my first time in Westlake Dermatology. I am very satisfied with my appointment. Dr. Sandoval and her staff are awesome and I am very happy to be referred to her." — Juliana I. (March 31, 2021)
"Prompt, caring care!" — Deborah R. (March 26, 2021)
"Every time I go there everyone is so nice. Dr. Sandoval is outstanding. I have had a lot of issues with insurance. Never Westlake Dermatology's fault. They are awesome and I will never go anywhere else." — Andrew W. (March 5, 2021)
"Dr. Sandavol and her staff are practitioners of the highest regard. I would go nowhere else and I would recommend them to anyone in need of such services." — Charles T. (March 2, 2021)
"First time getting a skin cancer screening. Process was easy and staff was very kind." — Richard B. (February 23, 2021)
"Dr Sandoval is great!!" — Robert A. (January 27, 2021)
"Great service and love the results." — Paige M. (January 20, 2021)
"Everything is very enjoyable about coming to the office. The waiting area is extremely nice, and the staff is also very friendly. They have a really neat temperature check to ensure everyone is feeling okay coming into the office and my doctor is very efficient about making sure we go over everything while answering all of my questions." — Bryan H. (January 19, 2021)
"Great friendly professional staff. Just like all of my appointments in the past." — Roger M. (January 19, 2021)
"Westlake is always so PROFESSIONAL! This is the second location I've been to and every time I've felt so welcome and comfortable. Dr. Sandoval was so easy to work with and provides a clear plan! So grateful for Westlake." — Teylor M. (January 19, 2021)
"I find the people in the Round Rock office to be friendly, and even kind. I am always treated with respect and with compassion by Dr. Sandoval. I think she is a wonderful doctor, and I have recommended her to others. She actually listens to and responds to my questions." — Anita D. (January 15, 2021)
"The entire staff at Westlake are courteous and professional. I can't recommend Dr. Sandoval highly enough! Outstanding medical experience every time." — William C. (December 30, 2020)
"I appreciated all explanations about my treatment and options, and look forward to my next visit. Thank you." — Joannes H. (December 29, 2020)
"Best experience I've ever had at any doctors office. Doctor Sandoval was caring and professional and I would recommend her to anyone. Thank you again!" — Melanie V. (December 21, 2020)
"Dr. Sandoval is amazing. She's kind and a great listener. I feel really comfortable with her as my dermatologist." — Shelby C. (December 12, 2020)
"I receive superior care and treatment with each and every visit. I couldn't ask for anything more!" — Sharon W. (December 8, 2020)
"Very nice experience and Dr. Sandoval always explains everything so I understand." — Carson F. (December 7, 2020)
"I'm a very nervous patient and Dr. Sandoval took the time to answer my questions and explain everything." — Dawn A. (December 7, 2020)
"Everything went smoothly from checking in to seeing the Dermatologist. I appreciated that I was seen as soon as I checked in." — Julie D. (November 9, 2020)
"My provider, Dr. Sandoval, is such a great person and very professional in her field. I even recommended her to my neurologist for any medical problems that people might have that needed the attention of a dermatologist." — Rosa S . (11/9/2020)
"Staff is friendly and professional. I'm seen at my appointment time. Doctor is thorough and professional. I have great trust in her. " — Stephen K. (November 5, 2020)
"Great service, thorough and didn't have to wait. " — Gary J. (November 4, 20200)
"My experience was very positive in every way…..one that I would describe as EXCELLENT. Thank you for promoting a model that other medical facilities should adopt" — Mary L. (11/3/2020)
"We love the staff and Dr Sandoval!!" — Tia M. (November 3, 2020)
"Dr. Sandoval is patient, professional and always a breath of fresh air." — Jil B. (October 24, 2020)
"Dr. Sandoval is great! Very patient and listens. Answers questions. She made an uncomfortable situation as comfortable as could be." — Robert M. (October 16, 2020)
"Dr. Sandoval is always so empathetic and caring. She remembers all my history, even that I have a horse, every time I visit her and wants the best for me always. I just love her. Thank you." — Sandra R. (November 10, 2020)
"My entire appointment exceeded my expectations. From check in to check out was about 30 minutes. The doctor and medical assistant were both very thorough and answered all my questions. Everyone I interacted with was so nice! I can't wait to go back. " — Kristen S. (October 15, 2020)
"Dr. Sandoval is great, she takes the time to explain issues and medications." — Sydney H. (October 13, 2020)
"A+ people and A+ facilities. Just moved to Austin and am super impressed with WD. Couldn't ask for anything more from my visit." — Maziar R. (September 28, 2020)
"My visits are always great and I actually look forward to going to them! Olga was great and super friendly. I liked that she didn't waste any time setting things up and was a great multi-tasker and was on point. Dr. Sandoval is always a pleasure to see as she is very knowledgable and I totally trust her medical opinions when it comes to my health. She listens to any questions or concerns that I may have and I never feel rushed. I recommend Westlake Dermatology to everyone I know." — Emily D. (September 24, 2020)
"The person who scheduled me was wonderful and helped pick a doctor that would be a good fit for my anxious ten year old daughter. Check in was easy and fast. The paperwork you sent was easy to complete online. The doctor and nurse were both wonderful with both my daughter and I. We had such a pleasant experience I will be making an appointment for myself and any other family members moving forward with Dr. Sandoval." — Harper F. (September 23, 2020)
"Dr. Sandoval is the absolute most self aware and present Doctor. We appreciate her very much!" — Ladonna W. (September 21, 2020)
"You all do a fantastic job in providing my needs and informing me of options available. Always friendly and smiling from start to finish. And, of course, results of a procedures I've had done are always very, very good. I recommend Westlake Dermatology to people all the time. Thank you to the Doctors and their assistants at Westlake Dermatologist in Round Rock for their professionalism and the consistent good results with my procedures." — Ann S. (September 15, 2020)
"No complaints at all. Dr. Sandoval was extremely kind, professional and thorough." — Nikki B. (September 15, 2020)
"After having no success with multiple other dermatologists, I finally found Westlake Dermatology. You've been able to clear my adult acne with the most innovative and effective methods. I am so impressed and thankful!" — Kennedy J. (September 4, 2020)
"Great initial visit! Dr. Sandoval was professional and personable." — Vidette F. (August 26, 2020)
"My experience at the Round Rock office was a pleasant one. Everyone there was very professional. I saw Dr. Sandoval and I thought she was great…she will be my new dermatologist." — Larry D. (August 20, 2020)
"Dr. Sandoval is always phenomenal. So thankful to have her care." — Tracy Z. (August 19, 2020)
"This was the best experience I have EVER had with a doctor's office — quick and efficient! I brought my mother and it was a very pleasant experience for her and for me." — Ruth W. (August 19, 2020)
"Dr. Sandoval was great! This was my first time with Westlake Dermatology. I highly recommend them!" — Jason K. (August 18, 2020)
"Love Dr. Sandoval!" — Karen C. (August 17, 2020)
"I always have such a pleasant experience visiting the Round Rock location. I truly enjoy seeing Dr. Sandoval, as she always takes her time with me, listening to my needs, and providing thorough care and advice." — Terri T. (August 13, 2020)
"Dr. Sandavol is highly competent, professional, thorough and friendly! I could not recommend her more. Westlake Dermatology is of the highest caliber. If you have the need for such services then go see them. You will not be disappointed." — Charles T. (August 12, 2020)
"Dr. Sandoval is the sweetest and most personable doctor I have ever had. Could not ask for a better and more caring doctor." — Richard R. (August 10, 2020)
"Saff is courteous and professional. Dr. Sandoval listens, treats with respect, and provides excellent care. I would recommend the practice to anyone needing their services." — James E. (August 10, 2020)
"I was very fortunate to come to Westlake due to a psoriasis outbreak as an emergency since I'm from Laredo. Dr. Sandoval was able to see me, even if I have to come to Round Rock. Since then she's been my dermatologist. She's more than a professional Dr..she's my angel…Yes!! I would recommend her and staff." — Rosa A. (August 6, 2020)
"Dr. Sandoval was great. She listened to my concerns and recommended a treatment plan." — Ryan G. (August 5, 2020)
"The whole experience was a delight, from the time of check in to the assistant to the procedure and Dr. Sandoval. The office was exceptionally clean, almost sparkling. The staff was very professional and A pleasure to work with." — Dawn H. (July 29, 2020)
"Dr. Sandavol is professional, kind, caring and personable. 10 plus stars!!" — Deborah P. (July 27, 2020)
"This went about as well as I could have hoped. Quick, courteous, and efficient. Thanks!" — Stephen O. (July 27, 2020)
"Dr Sandovol is amazing! I look forward to my visits with her (even my skin checks… which are not fun appointments in general). Her integrity, kindness, bedside manner (is that still what it's called)…is outstanding. I feel lucky that I found her as my doctor and hope she stays with you guys for many years to come. She is an 11 on a 1-10 scale." — Michelle M. (July 27, 2020)
"Great staff, great doctor. Dr. Sandoval is very thorough and I wouldn't trust another to check my skin." — Jason N. (July 24, 2020)
"The facility is very clean, the front desk is always very pleasant and helpful, Dr. Sandoval is always respectful, pleasant and very thorough in her examination. The assistants are also respectful and pleasant." — Richard P. (July 23, 2020)
"Awesome experience that helped make me more comfortable seeking some of my skincare health needs. I had never been to a dermatologist before and Dr. Sandoval was very knowledgeable and helped ease my concerns." — Patricia M. (July 22, 2020)
"Always a pleasant experience at Westlake Dermatology. Dr. Sandoval is always so kind and caring. The entire staff makes for a very nice experience." — Vickie T. (July 21, 2020)
"Doctor Sandoval and her assistant Olga are awesome! Both were very sweet and perfect at what they do." — Julie P. (July 17, 2020)
"My visit was great. I have complete confidence in my physician, and will recommend her in the future." — Patricia M. (July 14, 2020)
"I greatly appreciated being able to do my appointment via telehealth. By sending pictures in advance, we were able to have all of our needs addressed from the safety/comfort of our home!" — Madden S. (July 10, 2020)
"Entire staff is exceptional.Dr.Sandoval is warm, caring and does not rush you. Love them all." — Brenda B. (July 11, 2020)
"We were very pleased with everything, not only the thoroughness of the doctor but also the professionalism of all the staff including the doctor. We were most appreciative of the extra safety measures in place due to Covid 19." — Justine L. (July 3, 2020)
"Dr. Sandoval is wonderful! She is sincere, professional, kind and knowledgeable. I have great respect for her and highly recommend her!" — Kathleen S. (June 29, 2020)
"The staff, including Dr Sandoval is very caring." — Ruth S. (June 28, 2020)
"Appointments have always been on time. Physician and all staff very professional, polite and informative." — Roger M. (June 26, 2020)
"Everyone was so friendly and I felt like Dr. Sandoval was knowledgeable and provided me with an examination that was complete. All in all a very professional and pleasant experience." — Judith D. (June 26, 2020)
"AI thoroughly enjoy being a patient at Westlake Dermatology. I have been a patient of Dr. Sandoval's for several years now, and I have no intent of ever looking for another Dr. to be my dermatologist." — James V. (June 19, 2020)
"They're very efficient there, very little to no waiting. My doctor makes sure to address any questions skin issues. I feel very cared for when I go for my checkups. Thank you!" — Lisa C. (June 12, 2020)
"I am very satisfied with the physicians and staff at Westlake Dermatology. They are always professional, courteous, and thorough. I never feel rushed and treatments and follow-ups are explained very well." — Marsha B. (June 9, 2020)
"Dr. Sandavol is wonderful. Very thorough." — Lisa J. (June 8, 2020)
"Dr. Sandoval is amazing. I recommend her to anyone who is searching for a dermatologist." — Deborah B. (June 2, 2020)
"Yesterday was my first appointment with Dr. Sandoval. She listened and discussed my experiences over the years with botox and Dysport then gave her suggestions. I'm excited to see my results and looking forward to my appointment next week for filler." — Penny R. (May 20, 2020)
"Always a comfortable and complete visit and good results." — William G. (May 19, 2020)
"This was my third visit to Westlake Dermatology. Every visit has been easy from making the appointment to visits with the doctor. My visits have been for skin issues (mole removal) and I'm always treated well and left well informed." — Renee D. (May 14, 2020)
"Always enjoy seeing Dr. Sandoval, who is always very personable and caring, while simultaneously professional in my treatment protocol. Thank you, God bless." — Sandra R. (May 11, 2020)
"Everyone is so sweet. I love Dr. Sandoval. She is very thorough and excellent bedside manners." — Monica B. (May 8, 2020)
"They took me in early and I was able to get in and out efficiently. Great doctor and staff. Very smooth appointment. Thanks!" — Nancy B. (May 6, 2020)
"The ladies at the front were so friendly, understanding, and lovely. The time between sitting down in the lobby and being called back was less than five minutes. The nurse and doctor that saw me were so helpful and patient. They took the time to explain things fully and answer all of my questions, as well as put me at ease. I felt truly cared for. I am SO grateful for them, as well as everyone that I met during my visit!" — Dana E. (May 6, 2020)
"You are doing a great job. Check in is quick. Wait times to be called back are short. The MA is efficient and gets her screening done quickly. The doctor arrives shortly after. She thorough, kind, compassionate. I never feel rushed and all my questions answered completely." — Stephen K. (May 5, 2020)
"Dr. Sandoval and her nurse Francis were kind and understanding. Both were very professional and Westlake Dermatology is fortunate to have them as associates." — Jack L. (May 1, 2020)
"Wonderful visit every time." — Alaina J. (April 26, 2020)
"I absolutely love Dr. Sandoval. She always sets me at ease and you can tell she genuinely cares about you. She's also incredibly smart and thinks through the options for treatment with you. She's truly the kindnest doctor I have ever worked with. Thank you!!" — Tracy Z. (April 25, 2020)
"I LOVE Dr Sandoval!! She is a sweetheart and very professional. Staff is very nice also. Always professional, courteous and highly competent." — Mary N. (March 20, 2020)
"Dr. Sandavol and staff make me feel they are very genuinely concerned for me, they take thier time and don't rush or make you feel rushed." — Joel P. (March 11, 2020)
"Beautiful office, friendly staff. Overall great 1st experience." — Nicole R. (March 6, 2020)
"The cool water offered always hits the spot. I've recommended Westlake Dermatology as they 'listen' to my concerns. Very clean facility, everyone is polite and efficient." — Shirley V. (February 26, 2020)
"Dr. Sandoval was amazing. I came in with a list of questions and she had every answer for me. Knowledgeable, sweet and great bedside manner!!" — Lauri B. (February 21, 2020)
"I couldn't think of a single thing that could be improved upon. I feel so blessed to have found Westlake Dermatology. The staff is incredible and always friendly and informative and the patience Dr. Sandoval demonstrates explaining everything in detail is so rare these days. She always takes her time and makes you feel like you are talking to a friend. I have brought my entire family to Westlake and have no regrets." — Sherri F. (February 18, 2020)
"Dr. Sandoval is a great doctor, professional and caring." — William A. (February 17, 2020)
"Dr. Sandoval is the sweetest person I have ever met in my life! Excellent bedside manner. I've never had a doctor that was more likable and professional at the same time." — Richard R. (February 7, 2020)
"It is already enjoyable …the wait is not long. Dr. Sandoval is genuinely caring, her nurses Erica and Frances are awesome too….and staff as well…thx WDRR." — Rosa A. (February 7, 2020)
"Wonderful experience! Westlake provides consistently great treatment." — Laura N. (February 1, 2020)
"Dr. Sandoval is great! Very professional!" — Darryl S. (January 31, 2020)
"Dr. Sandoval is a supremely skilled clinician. she instantly diagnosed my ailment and her prescribed treatment brought immediate relief." — Xaviar A. (January 31, 2020)
"Always great. Thanks for the great care." — Gregory D. (January 31, 2020)
"All I can say is that my experience was better than wonderful!" — Paul G. (January 31, 2020)
"Dr. Sandoval is very knowledgeable, professional, and very thorough. She made me feel comfortable when I normally would've been very much the opposite during an examination. I would highly recommend Dr. Sandoval to anyone looking for a dermatologist." — William C. (January 29, 2020)
"I'm 1000 miles from home (New Mexico) and this is the second time I've visited. Dr. Sandoval is a cut above for sure." — Richard W. (January 28, 2020)
"This place couldn't be more pleasant! Always nice, always offer you something to drink when you arrive. The staff are all super friendly and comforting! I love my doctor (Dr Sandoval)!" — Lynessa H. (December 13, 2019)
"Doctor Sandoval is just awesome. Very professional and polite and very personable. She makes the entire visit easy and painless. Same for her assistants." — Mark M. (November 18, 2019)
"Dr. Sandoval always makes me feel very comfortable and at ease when she does my full body checkups for melanoma. She is genuinely concerned for me, my health and how things are going for me with my life. I appreciate her so much." — Sandra R. (November 14, 2019)
"This was my first interaction with the physician that replaced my previous doctor. I found her, as well as all of the staff, very professional, knowledgeable, efficient and informative. Appreciate the services your facility has provided over the years." — Nancy B. (November 11, 2019)
"This was my first appointment with Dr. Sandoval. I had been a patient of Dr. Fridlington, who recently moved. Dr. Sandoval was wonderful. She greeted me warmly. Her examination was very thorough. Excisions were necessary for biopsy, and those were done quickly & painlessly. Her assistant gave me information as to obtaining pathology results and was also very helpful and friendly." — Sandra G (November 8, 2019)
"Front staff, nurses, Dermatologist were all wonderful and friendly! Wouldn't change my doctor for anything!" — Joel G. (November 6, 2019)
"Dr. Sandoval was wonderful, made me feel very comfortable!" — Lori B. (November 6, 2019)
"Love my doctor!" — Eva K. (October 22, 2019)
"I love the experiences I have with Westlake Dermatology. My concerns were addressed professionally and I felt in good hands. Procedures were explained in a patient and caring manner and I have already recommended them to those I know seeking a dermatologist. From the greeting thru the checkout, my experience has been the top notch!" — Vanessa P. (October 18, 2019)
"My first visit to WESTLAKE and I will be back and recommend others!! Dr. Sandoval is professional and caring ~ everything people search for in doctors." — Nancy F. (October 15, 2019)
"I was seen on time, the staff was cheerful, and Dr. Sandoval is always so informative, positive and personable." — Lilibeth O. (October 7, 2019)
"Dr. Sandoval is so wonderful to work with. I love coming to see her. She always makes me feel comfortable and is easy to talk to. Thank you so much!" — Tracy Z. (October 1, 2019)
"Outstanding service. I love Dr. Sandoval. She was very kind, professional, and thorough in her examination." — Katheleen S. (September 27, 2019)
"I was so impressed with Westlake Dermatology! The staff and my doctor were first class. I will be referring my family and friends!" — Pam S. (September 4, 2019)
"Dr. Sandoval is both knowledgeable and professional while being caring and compassionate. I am confident I am in good hands with her. The friends I have recommended to her have been very pleased with their care as well." — Donna M. (August 21, 2019)
"You provided great service. Everybody is very friendly and helpful. Dr. Sandoval takes the time to go through a thorough skin check and talks with me about the process." — Chase M. (August 20, 2019)
"One of the best doctor visit experiences I've had." — William A. (August 19, 2019)
"Had a very pleasant experience. I think you're on top of your game. I sincerely appreciate that I saw a doctor and not a PA as I've often experienced in other practices. Really liked Dr. Sandoval. She was warm, friendly, thorough and genuinely caring." — Rebecca G. (August 19, 2019)
"I just want to thank Dr Sandoval! She is intelligent, compassionate, warm and so graceful! I am so fortunate to have her as my doctor!" — Susan M. (August 16, 2019)
"Dr. Sandavol is an excellent physician. She is genuinely concerned for her patients welfare. She helps present the expectation of a positive outcome and works tirelessly to deal with all the issues. I cannot recommend her more highly." — Charles T. (August 16, 2019)
"It was a very satisfying experience. Thank you." — Laetitia G. (August 14, 2019)
"Dr. Sandoval is a very caring person. She explains everything so you know what's going on. Her assistant is also great. The whole front staff is professional!" — Susan V. (August 7, 2019)
"Dr. Sandoval is the reason I keep coming back. But in addition, all the staff is wonderful." — Thomas I. (July 22, 2019)
"Very professional and courteous. Make you feel like family." — John E. (July 19, 2019)
"Great doctors, staff and front desk. Always feel welcome." — Michael S. (July 19, 2019)
"Everything was wonderful! And We love Dr. Sandoval!!" — Sue D. (July 17, 2019)
"Dr. Sandoval was very knowledgeable and caring. I am very satisfied with her diagnosis and treatment for my daughter. I would definitely recommend her." — Amber B. (July 12, 2019)
"Dr. Sandoval has one of the sweetest personalities of any person I have ever met in my 69 years. What a wonderful bedside manner she has. Now I know why my wife and daughter just love her. I've had a lot of doctors over the years and she is by far the best of them." — Richard R. (July 10, 2019)
"Dr Sandoval was amazing. She took the time to talk through my medical history and put me at ease for my procedure." — Lindsay G. (July 10, 2019)
"My visit at Westlake Dermatology and with Dr Sandavol was probably the very best Doctor appointment I have ever had. She was very genuine, concerned and very confident she knew what was going to help me. Spent time with me too and didn't try and rush the appointment. Very happy I found her as my doctor." — Joel P. (July 8, 2019)
"Dr. Sandoval and her assistant were very good. They asked questions about my health that was pertinent to my visit. They made me feel comfortable and at ease." — Joe S. (June 28, 2019)
"Dr. Sandoval is absolutely awesome!!! She keeps me coming back even though I've moved to Buda which is a rather long commute!" — Becky U. (June 26, 2019)
"Dr. Sandoval is so nice and concerned for my comfort. She is truly a professional as is her medical assistant." — Sheila F. (June 25, 2019)
"Don't change a thing. The team, environment and processes are working well. Keep the team happy and in place. Great customer experience and results." — Mike B. (June 24, 2019)
"Compliments to Dr. Sandoval and her nurse. Excellent treatment, service and genuine concern for the patient." — Steven S. (June 19, 2019)
"My visits are always professional and pleasant. The staff goes out of their way to accommodate." — Don G. (May 29 2019)
"I had been seeing my MD for a rash, and after four months my rash only got worse. After two days of taking the medications prescribed by Westlake, the rash is almost gone." — David D. (May 27, 2019)
"My experience was wonderful! The staff was super friendly and Dr Sandoval was awesome. She took her time with me and came up with an aggressive treatment plan based on my wants and needs. Beautiful office and great staff." — Ashely L. (May 6, 2019)
"Easy to schedule and appointment was on time. good advice and multiple options were provided to address my concerns by physician." — Camron B. (April 30, 2019)
"I was very satisfied with the whole experience. Everyone was very professional and courteous. Dr. Sandoval's exam was very thorough." — Justine L. (April 26, 2019)
"Fantastic MD! Wonderful visit, nothing could make it better . Everyone was A+" — Beth D. (April 15, 2019)
"All of the staff was very professional and friendly. Dr. Sandoval is wonderful. Very pleasant and professional. Saved my life by finding an early stage melanoma and having it removed." — Mark M. (February 8, 2019)
"On time, no wait! Great service!" — James P. (February 8, 2019)
""Everyone was very kind to my 90 year old mother and acted very professionally. Great office, wonderful dr. and personnel." — Ethelyn H. (February 7, 2019)
"All was exemplary. I appreciate the time and expertise given. I felt valued and well-cared for." — Sherry R. (February 6, 2019)
"All the staff and Dr Sandoval are knowledgeable, attentive, kind and efficient." — Billie J. (February 6, 2019)
"Our experience with Westlake Dermatology was excellent! Dr. Sandoval and her staff were amazing. They are a very welcoming, kind and compassionate team, absolutely love them!" — Christian M. (January 30, 2019)
"Absolutely love Dr. Sandoval & staff! Love how she takes time with me every time I come in! I receive all the answers to my questions & do not feel rushed. Highly recommend her!!" — Kristi M. (January 29, 2019)
"Dr. Sandoval is the nicest, sweetest doctor I've ever met… she speaks gently and she made I understand. The removal of my tag was really painless, I didn't even have to take anything after. I was so impressed I scheduled a Botox and acne appointment. There was no upselling at all… which is nice. She recommended services when I ask but discouraged for some that I want to try because it's not appropriate for me…" — Jhoana M. (January 24, 2019)
"Dr. Sandoval is so patient and lovely. She is just fantastic and remembers everything about you even if it's been a while since your last visit." — Jessica M. (January 24, 2019)
"I can't think of anything that would improve my experience! Everyone I interacted with was fast, friendly and made me very comfortable. Dr. Sandoval listened to my concerns and I never felt rushed." — Jessica C. (January 22, 2019)
"Fast & friendly service & care by Dr Sandoval and staff!" — Kelsey H. (January 4, 2019)
"Though I am informed that there is no cure known so far for my disease of Psoriasis and Psoriatic Arthritis, Westlake Dermatology has shown me a way to lead a normal happy life. Dr. Fereesa Sandoval and her staff make me feel that I am in good hands or I can even reverentially say I am in God's hands. The front desk staff are also very courteous and make us feel like VIP." — Bhasker S. (December 19, 2018)
"Very pleasant experience. Dr. Sandoval saw me on time and treated my problem expertly. All involved were polite and efficient." — Paula A. (December 14, 2018)
"Both the physician and the medical assistant were great and I will recommend them to anyone. My daughter Emily has had a rash on her face for over two months. The medical assistant interacted with Emily, who is 15 months, while I spoke with the doctor. I appreciated her so much because it allowed me to focus on the doctor and what she was telling me. The doctor was calm and kind interacting with Emily making her comfortable. She has stranger anxiety so this is big for us. So happy with our visit and the support I felt here." — Emily R. (December 12, 2018)
"Everything was great. My 7 year old son felt comfortable when the Dr explained the procedure plus she was very calm and sweet which made my son feel at ease." — Logan M. (December 4, 2018)
"Totally pleased with the experience." — Lois C. (November 25, 2018)
"My favorite doctor, office and staff!" — Karen W. (November 14, 2018)
"Always am made to feel comfortable by the front desk, nurse and my physician. They are all very supportive and it is appreciated." — Sandra R. (November 6, 2018)
"First time visit and was very impressed." — Erika F. (November 6, 2018)
"Great experience!" — Susan C. (October 15, 2018)
"Everything was really great. Dr. Sandoval is so knowledgeable and very kind. I felt that she is generally interested and concerned with helping me and my skin condition. I appreciate how everyone I interacted with made me feel so comfortable." — Katie T. (August 1, 2018)
"Everything runs smoothly for all of my visits and this is why I recommend Westlake to friends and family." — Barton L. (July 26, 2018)
"You guys are wonderful!" — Melissa P. (July 18, 2018)
"Y'all were outstanding. Yow were able to see me and take care of my issue without needing an additional appointment." — Stephen M. (June 17, 2018)
"It was a wonderful first experience at this practice!" — Gillian C. (May 10, 2018)
"We travel an hour just to see Dr. Sandoval." — Sharon B. (April 11, 2018)
"Both the nurse and doctors went above and beyond to make the appointment work even with a baby in tow who was less than thrilled to be there." — Whitney K. (April 7, 2018)
"Great professional Dr and staff. Appointment on time, in fact a few minutes early, and very shot wait in exam room." — Roger M. (April 5, 2018)
"The experience was excellent. As someone who was a sun worshiper it was good to be evaluated and make sure there were no issues associated with what I stupidly did in my youth." — Veronica A. (March 29, 2018)
"Everything and everyone was Great." — Frank C. (March 19, 2018)
"I was in and out in 30 mins ans my nasty growth on my hand was gone. Wish all my docs were timely like this and took care of stuff in one visit." — Ronald M. (March 19, 2018)
"The MD's attitude, her interest in the patient and in providing professional information which was important in allaying the fears of the patient. Kudos!! very courteous and well informed Physician." — Dhanraj N. (March 9, 2018)
"Doctor Sandoval is the consummate professional… I have complete confidence in her judgment… and her assistants, Erica and Alice… my procedures have been comfortable and successful." — Stephen T. (November 21, 2017)
"You guys always make me feel welcome and important. I'm constantly telling my coworkers about how awesome you all are. Thank you for that." — Chyrl C. (November 18, 2017)
"I saw someone else and didn't get the results I wanted. Dr. Sandoval listens and takes the time to make sure I get the results from my procedure how I want it. I won't see anyone else but her." — Sharon B. (November 8, 2017)
"It's a great experience. I can't think of anything that would make it t better." — Linda G. (October 28, 2017)
"I can't say that anything would make my visit more enjoyable, my experience was fantastic from start to finish! Great staff from the front desk to the physician." — Kelli S. (October 18, 2017)
"The staff was great and I was very pleased with the experience." — Mary C. (October 5, 2017)
"Good experience all the way around." — Bill A. (September 8, 2017)
"Keep doing what you are doing, fast check ins, on time seeing patients, taking moments to build a relationship with patient. Diligence in maintaining patients health." — Kay S. (September 7, 2017)
"Very professional staff. I felt at ease and not nervous." — Julian H. (August 19, 2017)
"Dr. Sandoval and her nurse were both very through and professional. Very pleased. From entering until leaving, everyone was very kind, considerate and helpful." — Vickie T. (August 18, 2017)
"Everyone was so nice and helpful from the front desk to everyone I encountered once I was in the room. The wait time was minimal and everything was explained to me and a future plan was put in place. I went home that night and told my husband to make an appointment asap. I would definitely recommend to anyone." — Jacqueline B. (August 11, 2017)
"The staff and physician were incredibly friendly and accommodating. Dr. Sandoval was kind and explained everything very well. They got me in and out very efficiently. Great experience!" — Austin B. (July 28, 2017)
"I've been coming to Westlake for the past three years. Everytime I go there, it is a very pleasing experience. Dr. Sandoval and the rest of the staff are very courteous and polite, and they are attentive to their patients' needs. I would recommend Westlake Dermatology to anyone." — Angel S. (July 27, 2017)
"Everybody was wonderful! I have forgotten the name of the nurse, but especially her and Dr. Sandoval were exceptional with their communication and compassion. Bedside manner was awesome! I will 100% be coming back for all my dermatology needs, and recommending you guys to anyone who needs your services!" — Ellen B. (July 27, 2017)
"Dr. Sandoval is very good. Listens to patient, not in a hurry, explains things, and most importantly, made me feel like a valued patient. Smiled and pleasant during the whole process. Nurse, (can't recall her name) the same comments. Was very pleased with both of them. Thanks." — John. (July 20, 2017)
"Doctor Sandoval was very pleasant and friendly. My son felt like he was going to pass out at one point during a small, in office procedure and they went and got him some apple juice and goldfish to eat. They were very caring. Great experience :)" — Colleen F. (July 19, 2017)
"I trust Dr. Sandavol's judgement very much and the location is so convenient to me." — Shannon A. (July 15, 2017)
"Dr. Sandoval and Pam are wonderful. They both were so kind and patient. Love this practice." — Hope W. (July 8, 2017)
"Dr. Sandoval is the most caring physician I have ever had. She takes her time with you and answers all your questions." — Sylvia I. (July 4, 2017)
"All personnel were extremely helpful and professional. I am so very pleased with Dr. Sandoval. She was kind, gentle, and professional. She answered all of my questions and made me feel at ease. I am so thankful that I have found "my" doctor! Her assistant was also very kind and helpful. Thank you for a very good experience." — Linda H. (July 1, 2017)
"Everyone was incredible!! Dr Sandoval and all of her staff could not have been any better. I've been in healthcare >30 years and this is what we all strive for. They was no wait time, they were compassionate, kind & informative. I could not have asked for better!!! FYI… I was a work-in" — Martha H. (June 29, 2017)
"Dr. Sanvoval treated the condition and gave me some research that might completely remove the condition. The skin eruption has been stubborn. I appreciated the numerous ways to tackle the issue. I'm not use to repeated problems. Deciding to treat issue numerous ways really gave me some hope of finally treating the very stubborn rash I've had for the last year. I was very pleased with this visit." — Steve C. (June 29, 2017)
"It was a great appointment. The medical assistant and the Dr were awesome." — Cheryl M. (June 29, 2017)
"Wonderful experience! Everyone was very professional and friendly. Dr. Sandoval is very proficient and easy to work with on personal concerns. I would highly recommend the Round Rock location and Dr.Sandoval." — Kim C. (June 14, 2017)
"All 3 people that I was with were very nice, warm and friendly. Dr.Sandoval seems (is) so sincere with her care and concern with my skin condition. I wish my granddaughter lived here to go to her." — Jo Ann B. (May 25, 2017)
"Dr. Sandoval and Pam were extremely professional and efficient. They both made me feel comfortable and confident in the care I received!!" — Janine H. (May 17, 2017)
"Pam and Dr. Sandoval were very efficient, thorough, and polite. My first dermatology experience and am more than satisfied. Thanks." — Stan B. (April 21, 2017)
"The office is beautiful, the front desk staff members are always pleasant and helpful. Dr. Sandoval is wonderful! She was on time and listened to all of my concerns. She answered every questionthat I had and was very kind. Her assistant was also very kind and efficient. I would highly recommend Dr. Sandoval and your office." — Erin O. (March 21, 2017)
"I was extremely pleased with the exam, her manner, and God Bless Her, she is from Houston. No suggestions at this time but I was very impressed on the first visit." — Kay S. (March 8, 2017)
"I had great experience here and I feel Dr. Sandoval early understands and knows her field very well." — Kathleen C. (March 4, 2017)
"Always a pleasure to schedule/attend this doctor appointment!" — Kimberly E. (March 2, 2017)
"Everything Was Great!!!!" — Leon F. (February 28, 2017)
"Everyone made it an extremely pleasant, painless and efficient visit. The water was a very nice touch. I've been going to this location for years and have recommended it to several people." — Martha H. (February 25, 2017)
"Great staff. Always in and out quickly. Great bedside manner by doctor." — Edward H. (February 11, 2017)
"My visit was most enjoyable and I appreciated being treated not only as a patient but in a professional way. Dr. Sandoval understood my frustration of what I have had for over 2 years with no solutions found by other physicians. I look forward to my return appointment next month as a follow-up with the medicine that she prescribed in hopes it will help to solve my problem." — Elizabeth M. (February 8, 2017)
"Westlake Dermatology was a great experience. Everyone was very nice. Dr. Sandoval was extremely caring. She took a biopsy of my rash and prescribed a cream to use until the results come back. The cream is working after two days the rash shows a remarkable improvement. I can't wait for the test results and get the right drug to finally be rid of the rash that spread everywhere on my body." — Jasper M. (February 8, 2017)
"I would highly recommend Westlake Dermatology to all my friends and family. The staff is very friendly and my experience was wonderful. Dr. Sandoval was great." — Regina B. (February 4, 2017)
"Dr. Sandoval is absolutely amazing!!!" — Dawn J. (January 27, 2017)
"Everyone I encountered during this visit did they jobs very well, were pleasant, made eye contact, smiled, neatly dressed, and represented your office well." — Paul L. (January 19, 2017)
"I drove 30 minutes to see the dermatologist. And let me tell y'all it sure was worth it. This company knows what customers is all about. I give you a 100 and more." — Maria M. (January 14, 2017)
"Dr. Sandoval is informative and friendly and always talks about the next steps for care. I am grateful that we found her and she is doing what is best for my daughter's skin care." — April H. (January 13, 2017)
"I am always treated extremely well by Dr. Sandoval and her staff. Very professional and confidence inspiring." — Harry R. (January 13, 2017)
"From my very first phone call through to the end of my visit with Dr. Sandoval, I was SO impressed with the staff at this office. Everyone was so kind, friendly, and informative. Your front desk staff is amazing–they never made me feel stupid for asking a lot of questions. I felt valued. And Dr. Sandoval is amazing–so kind and knowledgable. She set me at ease right away. Thanks to all of you for a phenomenal experience!" — Tracy Z. (January 11, 2017)
"Such a pleasant change from the hustle/bustle of my previous dermatologist's office in Walnut Creek, California.  I am made to feel like a real person at Westlake, everyone is SO nice, smiling, happy, and they all obviously enjoy their jobs.  I love it!  Thank you for making me feel cared for."  — Sandi R. (December 2, 2016)
"Clean. Efficient. No sales pitches. Staff is informative and helpful. Love it."  — Nathan A. (December 1, 2016)
"They are so friendly.   Dr Sandoval is brilliant.  If you have a dermatology problem she has the answers."  — Mary T. (November 29, 2016)
"My experience with Westlake Dermatology was wonderful! I am in the process of relocating to RR and my goal was to locate a practice to address my medical and cosmetic dermatological concerns. From the moment I entered the facility I was treated with courtesy and assistance. Beginning at the front desk staff to Pam and Dr. Sandoval to checkout. And Angela went out of her way to research a question for me and follow up with the answer. Both Pam and Dr. Sandoval took the time to fully explain the process I was undergoing and I am most pleased with the results. I look forward to a long and productive relationship with Westlake Dermatology and highly recommend this practice. Thank you!" — Karen W. (October 31, 2016)
"Dr. Fareesa and her assistant were amazing. They were nice, friendly and thorough. I had a little procedure to remove a mole and the experience was pain free. I thanked them there and I thank them here again for taking care of me with such friendly professionalism. If you are looking for a dermatologist, look no more." — George G. (October 29, 2016)
"Everything at that office has always been a very pleasant and enjoyable experience. I highly would recommend this office to Everyone!! Rates a 10 with me!!" — Pam N. (October 28, 2016)
"I'm thrilled I found your office having just relocated from out of state.  Angela and Ivy helped at the front office.  They were both extremely helpful as I was a new patient.  Pamela and Dr. Sandavol were personal and professional and were very thorough.  It was my best experience in years with a Dermatologist.  I'd highly recommend this office for aesthetic or medical procedures."  — Carolyn K. (September 24, 2016)
"The professional and competent doctors and staff at Westlake Dermatology along with a clean and organized environment make every visit a positive experience. Dr. Sandoval is always focused and thorough."  — Jil B. (September 8, 2016)
"My visits with Westlake Dermatology are always pleasant and Dr. Sandoval is wonderful.  She listens to my concerns and has helped me tremendously with my problem.  The entire staff is very considerate and accommodating.  I highly recommend Westlake Dermatology."  — Gloria W. (September 7, 2016)
"I love Dr. Sandoval!! " — Patricia W. (August 27, 2016)
"I never feel rushed when I have an appointment with Dr. Sandoval. The medical team and reception never leave me waiting for long."  — Shelly C. (August 24, 2016)
"Everyone was so helpful and very nice, I'll be bringing my son to see Dr. Sandoval! The front staff are awesome and helped me figure out what I needed and pricing….Thank you!"  — Autumn I. (August 17, 2016)
"Great physicians!!"  — Brett H. (July 20, 2016)
"The Round Rock office is so lovely! The staff and physicians are so friendly and do everything they can to make you feel comfortable! My physician is Dr. Sandoval and she is one of the sweetest dermatologist I've ever met with, and she really listens to your wants and needs and finds the best way to make you feel good in you skin. I would definitely recommend Westlake Dermatology in Round Rock to anyone who has skin issues and wants to work with a physician who really cares about their patients!" — Marion W. (June 25, 2016)
"Dr. Sandoval is very professional and took time to address my issues."  — Jim B. (May 13, 2016)
"It was wonderful to be greeted with a welcoming smile and upbeat attitude.  Everyone was so very nice.  Having been used to a "rat race" dermatology office in California where one is barely acknowledged and told to sit down until called, this was such a pleasant experience.  Even more so when I didn't need any biopsies for anything suspicious on my body.  Thank you all so very much!"  — Sandi R. (May 5, 2016)
"I have nothing but praise for this practice.  I was able to get an appointment within a few days.  Everyone I met was friendly, nice and professional.  I did not feel rushed at all when discussing my case with Dr. Sandoval.  She explained the procedures and follow-up results and answered all my questions."  — Nancy R. (April 7, 2016)
"The doctor I saw was Dr. Sandoval.  I was very pleased with her.  Very courteous, listened well and had reviewed all info supplied prior to visit.  The office is beautiful – was wondering if I was in the wrong place!"  — Lynda G. (March 30, 2016)
"It is so nice to have such a great facility less than 5 miles from my house. Both my daughter and I are patients of Dr. Sandoval, and we both think the world of her."  — Lisand B. (March 18, 2016)
"It was a great experience. Well trained staff. Will definitely be coming back."  — Cindy D. (March 16, 2016)
"Not only are the employees very friendly, the office itself is very conducive. I enjoyed my visit."  — Charles E. (February 13, 2016)
"The assistant was AMAZING!! When she was administering the numbing shot in my back her method was on point, I couldn't feel anything. She was also very friendly and made me comfortable. I love her! Thank you for yalls exceptional service every visit!"  — Meagan J. (January 13, 2016)
"I have no suggestions since Westlake Dermatology pretty much has thought of everything. Dr. Sandoval is amazing. She is very gentle with the injections I am getting for a keloid and the result have been promising. I wish every doctor had her bedside manner. The entire staff is wonderful and very gracious. I've never been to a medical office that made check-in so nice and the offer of very good bottled water each time I visit is a plus. Thank you for making what could be an unpleasant experience a very pleasant one."  — Gloria W. (December 30, 2015)
"Beautiful clean office! Welcomed by front desk! Excellent nurse and doctor! Dr. Sandoval is so personable and allows you time to ask all your questions! Highly recommend!"  — Kristi M. (December 17, 2015)
"Phenomenal service, prompt, thorough and kind."  — Crystal J. (December 1, 2015)
"Wonderful experience."  — Ava S. (October 9, 2015)
"My first appointment ever in this clinic, Dr. Sandoval and her assistant were awesome, made me feel safe, provided me with lot of support and made me feel less nervous. Thank you."  — Maria M. (September 18, 2015)
"I was very pleased with the service from beginning to end. Dr Sandoval was wonderful!"  — Gloria W. (August 15, 2015)