Kellyanne Creviston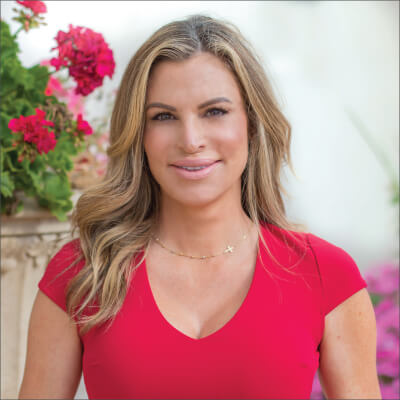 Kellyanne Creviston is a seasoned Cosmetic Consultant, working with Westlake Dermatology since 2015. She graduated from Texas A&M University in 1998 and is married with three teenage daughters.
Kellyanne's favorite part of her job is working alongside the cosmetic dermatologists and plastic surgeons of Westlake Dermatology and directing patients to the physician best suited for their needs. Kellyanne strives to provide a simple and enjoyable experience through the journey of cosmetic surgery.
WD Cosmetic Consultants offer complimentary consultations for plastic surgery procedures including breast augmentation, facial procedures, and body contouring, as well laser treatments for skin tightening and resurfacing.
Book Online
Kellyanne Creviston

Patient Testimonials for Kellyanne Creviston
"Kellyanne was fantastic. She explained everything succinctly and made me feel at ease" — Rene G. (July 21, 2023)
"I was passing by Westlake and walked in to ask if they did facelifts under local (it's hard to find a good dr who does local in Austin), and Kellyanne dropped what she was doing and talked to me, showed me pics and gave me a quote. I am humbled by her service and that she took the time to talk with me even as I was just asking a pop in question. As such, I am very excited now about scheduling the surgery with Dr. Cameron Craven. Thank you Kellyanne for taking the time to speak with me and answer my questions!" — Christine B. (May 18, 2023)
"I was a bit skeptical at first, but after my meeting with Kellyanne, I knew this was and will be the best decision for me. She was so kind, sweet and personal. I am super excited. Thank you!" — Vanh T. (April 7, 2023)
"Kellyanne was so nice. I know I spelled her name wrong. I'm sorry! I'm so excited to get my procedure done here!" — Whitney T. (March 31, 2023)
"My consultant, Kellyanne was great! She was very knowledgeable, kind and personable. She guided me through the pros and cons of my desired procedure and was considerate of my budget. This is my first procedure and I felt welcomed and comfortable. She helped ease my nervousness and feel confident with my end decision." — Luera L. (February 3, 2023)
"I loved how Kellyanne actively listened to all of my questions and engaged in a conversation about the look I want to achieve with the surgery. She also went through the whole process in great detail to ensure I felt fully informed and confident with having the surgery." — Holliman H. (January 6, 2023)
"Kelly Anne was so sweet and informed:)" — Fred U. (December 21, 2022)
"Kellyanne was amazing, friendly & so informative." — Penelope C. (October 21, 2022)
"Kellyanne is so sweet! She made me very excited for my procedure and explained everything so thoroughly!" — Julia S. (September 29, 2022)
"Kellyanne was great and not pushy at all. Very informative and helpful. She explained how everything would work from the procedure to recovery." — Crystal M. (July 20, 2022)
"I was very nervous going into the consultation, but Kellyanne was so professional and personable. I'm so excited to schedule my procedure" — Jamie R. (July 15, 2022)
"Very friendly staff. Comfortable environment. Enjoyed visit with Kellyanne who was very thorough and answered all my concerns at the present time" — Ronald F. (June 7, 2022)
"Friendliness of staff, ambiance and most of all quick service!" — Natalie L. (April 8, 2022)
"I was a bit skeptical at first, but after my meeting with Kellyanne, I knew this was and will be the best decision for me. She was so kind, sweet and personal. I am super excited. Thank you!" — Vanh T. (April 7, 2022)
"Kellyanne was so nice. I'm so excited to get my procedure done here!" — Whitney T. (March 31, 2022)
"Had a consult with Kellyanne today and she is absolutely brilliant! She makes you feel so at ease & comfortable." — Paige W. (March 7, 2022)
"Impressive facility. Easy to find and park. Everyone was so friendly and welcoming. Kellyanne immediately made me feel so comfortable and she was easy to talk to. I loved her honesty and enthusiasm!" — Jean M. (March 4, 2022)
"Kellyanne was knowledgeable and friendly. Helped me make good decisions and steered me right. Thanks so much for her help." — Judi D. (February 7, 2022)
"Personable service and discussion as well as positive outcome presentation. Truly made me feel confident in the procedure I was seeking and answered every question presented!" — Leigh T. (January 3, 2022)
"The entire staff was super friendly and engaging. Even under the stupid masks I could tell they were smiling." — Tina G. (December 31, 2021)
"Quality of service and explanation of treatment." — Cynthia G. (November 1, 2021)
"I was met with a very pleasant, and interested person. She knew about me and why I had made the appointment. She asked questions and remembered what I told her, staying on point. I had many questions, and she never rushed me, answered them carefully to my satisfaction. I was a bit put off by the wait for the surgery date with the very excellent doctor I chose. She assured me it was worth the wait, would put me on her cancellation list and often I would move up. I really appreciated her positive attitude. Altogether, it was a very positive experience. She was lovely to work with." — Georgia L. (October 1, 2021)
"Very professional and knowledgeable. Also very accommodating regarding scheduling the procedure on the same day as the counsel." — Marla B. (August 10, 2021)
"Kellyanne is brilliant & laser focused on making sure all questions and concerns are addressed." — Marietta M. (August 6, 2021)
"Kellyanne is lovely, and professional." — Andrew G. (August 2, 2021)
"Kelly Ann was very personable and straightforward with matching my expectations to the available options for treatments that are offered. Appreciate her attentiveness and care for my situation. 10/10" — Kim C. (July 30, 2021)
"Elegant and clean environment. Kellyanne was very polite and honest throughout the whole consultation." — Kysha R. (July 4, 2021)
"Very good service, all my questions answered at my consult. Made me feel super comfortable." — Cinthya M. (March 31, 2021)
"Everyone was kind and welcoming. Staff was knowledgeable and very encouraging. Great experience!" — Lindsay P. (March 15, 2021)
"Everything was great. Everyone was courteous and professional. The facility was very clean and welcoming." — Karen C. (December 23, 2020)
"Everything has been wonderful! At this time (before surgery), every interaction has been VERY great!" — Elayne L. (October 19, 2020)
"I had a consultation for plastic surgery and my experience with Kellyanne was wonderful." — Shannon G. (March 3, 2020)
"Everything was great." — Dwain B. (February 19, 2020)
"Everyone I had interactions with were very professional, courteous, kind and just plain wonderful! I wouldn't change a thing… I look forward to my procedure with this office and staff… I have never been treated so well or important like I was here… Kellyanne is Awesome! She's a keeper!!!!!" — Tammy D. (June 13, 2019)
"Everyone is great 🙂 the office is also extremely beautiful." — Kristianna C. (April 10, 2019)
"Westlake Dermatology is always very professional but makes you feel at home." — Teresa C. (February 20, 2019)
"Experience was pleasant and friendly." — Ersilia A. (December 12, 2018)
"Kellyanne greeted me with a beautiful pleasant smile and made me feel very welcome. She was very professional, nice, and an excellent person to talk to."  — Yassi F. (October 19, 2017)
"I found your clinic and personnel to be a very well oiled, organized machine full of very lovely, professional, knowledgeable and encouraging people. Kellyanne Creviston was especially impressive as well and my visit with Dr. Prather. I already trust their judgement after discussing my concerns and having them incorporate my needs into a plan that I am excited to begin. Because of my wonderful conversations with these two beautiful ladies, I am considering other treatments and services. Westlake is the most reputable of its kind, but the people really made my enthusiasm go through the roof. I trust the plan that has been customized for me and I trust Westlake to provide the services that it's famous for. I am really glad I chose you. Thank you so much."  — Dawn B. (July 29, 2016)