Lauren Rimoin, MD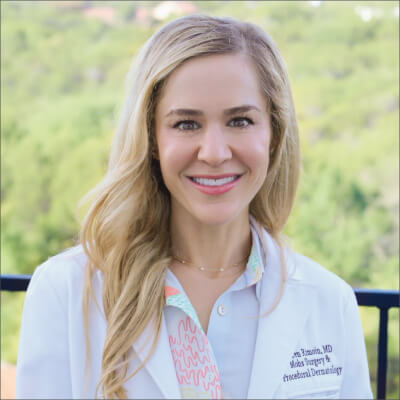 Lauren Rimoin, MD is a Board-Certified Dermatologist and Board-Certified, Fellowship Trained Mohs surgeon at Westlake Dermatology.
Dr. Rimoin was born and raised in Los Angeles. She received her bachelors degree in Human Biology at Stanford University. She then earned her medical degree at University of California, Los Angeles where she was elected to the prestigious honors society Alpha Omega Alpha. She trained at Emory University in Atlanta, Georgia for her Dermatology residency, as well as her fellowship in Mohs Micrographic Surgery and Cutaneous Oncology. She received several honors during her internship and residency, including Intern of the Year, Most Valuable Resident, the Ben Newman, M.D. Humanitarian Award for Outstanding Physician Empathy and Compassion, and the Donald C. Abele Resident Symposium Award. She was also a Chief Resident during her final year of residency.
Dr. Rimoin specializes in skin cancer, Mohs surgery and facial reconstruction, with an emphasis on melanoma. She previously spearheaded a melanoma education and training program for surgical oncology fellows. She is also well-versed in a wide variety of cosmetic procedures, with a strong background in laser resurfacing and photorejuvination.
Dr. Rimoin is board-certified by the American Board of Dermatology. She is a member of American Academy of Dermatology, the American Society for Dermatologic Surgery, the American College of Mohs Surgery, the Texas Medical Association, and the American Medical Association.
Book Online
Lauren Rimoin, MD
Testimonials for Dr. Rimoin
"My first visit with Dr Rimoin, and I was pleasantly surprised at how easy it was to talk to her about my concerns. She was very through with her knowledge of my skin problem and explained the surgery she would do to correct it. Office staff was excellent, great nurses and the facility is beautiful." — Pamela V. (July 13, 2023)
"I appreciated the thorough exam and explanation of the findings. Staff is friendly and helpful. I have already recommended Dr Rimoin to a friend." — Alva E. (March 9, 2023)
"One of the most efficient, productive, results-oriented, friendly, knowledgeable, realest doctors I have ever visited. I came in with one problem and I left with a solution for literally every problem in my life sans meeting a man" — Carey N. (March 7, 2023)
"Dr Rimoin is great. She treated me so well. Very pleasant and nice to talk with." — James H. (February 28, 2023)
"Dr. Rimoin very friendly and thorough. Front desk staff and nurse (Ellie) also wonderful." — Catherine H. (February 23, 2023)
"Dr Rimoin and staff go above and beyond to provide great patient care. I have the utmost confidence in her and highly recommend her to anyone looking for a dermatologist." — Cohen C. (February 8, 2023)
"Very nice office, staff friendly and caring, Dr. Rimoin very professional!" — Edel E. (February 6, 2023)
"I went in for a first ever skin cancer screening. The Dr. made me feel very comfortable and she was highly knowledgeable about my various types of moles. Overall great experience." — Decker D. (January 25, 2023)
"Dr. Rimoin and Elijah were/are an amazing team!" — Oliver O. (January 23, 2023)
"Extremely fast service from both check in and getting seen by the doctor. The doctor was so helpful in getting all of my questions answered very thoroughly. Excellent visit! Also – beautiful building" — Stotlemyer S. (January 17, 2023)
"Dr Rimoin was attentive, kind, knowledgeable. I would definitely recommend her to anyone who is looking for dermatologist." — Bergstein B. (January 10, 2023)
"Loved my new dermatologist! And her senior assistant /scribe is excellent. Very good customer service and lovely bedside manner." — Thompson T. (January 4, 2023)
"Everyone was very friendly and helpful. The doctor was knowledgeable and efficient and answered all my questions. I did not have to wait . They got me in right away." — Susan M. (December 29, 2022)
"The staff is welcoming and there is no wait. Dr. Rimoin and her assistant was very professional." — Diann B. (December 28, 2022)
"Loved Dr Rimoin and her assistant!" — Robert H. (December 14, 2022)
"Dr. Rimoin is fantastic!! She takes years off my face and such enjoyable company!!" — Linda T. (December 7, 2022)
"Great staff, great physician. Loved the whole operation." — Eugene H. (December 7, 2022)
"Dr. Rimoin and Elijah were excellent, thoughtful, and very helpful. Dr. Rimoin gave me detailed responses to all my problems and Elijah made sure I was clear on everything before I left. Great service. Front desk staff was also very helpful and professional." — Saba T. (November 30, 2022)
"MD I saw was great! Very thorough for my skin Ca screen. Also very pleasant & answered all my questions. Would highly recommend her!" — Gael L. (November 16, 2022)