Stephanie Saxton-Daniels, MD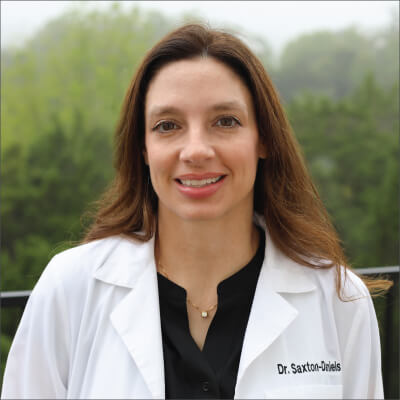 Dr. Stephanie Saxton-Daniels is a Board-Certified Dermatologist and a Fellow of the American Academy of Dermatology.
She graduated from Rice University with a degree in molecular biology and biochemistry, and she received her medical degree from the University of Texas at Southwestern Medical School. Dr. Saxton-Daniels completed a General Surgery internship at the University of New Mexico prior to graduating from the nationally recognized Dermatology residency program at UT Southwestern in Dallas, Texas.
Dr. Saxton's clinical and procedural abilities are her greatest strength. The scope of her practice encompasses medical, surgical, pediatric & cosmetic dermatology. She enjoys treating families and has a special interest in skin cancer, acne, eczema, allergic contact dermatitis and alopecia. In addition to publishing several articles and textbook chapters, she is involved in the clinical & surgical training of dermatology residents at the Dallas Veterans Administration Medical Center.
Dr. Saxton is a DFW native and she and her husband have 5 amazing children.
Dr. Stephanie Saxton-Daniels sees patients in Dallas at our University Park location.
Dr. Saxton-Daniels in the News
Book Online
Stephanie Saxton-Daniels, MD