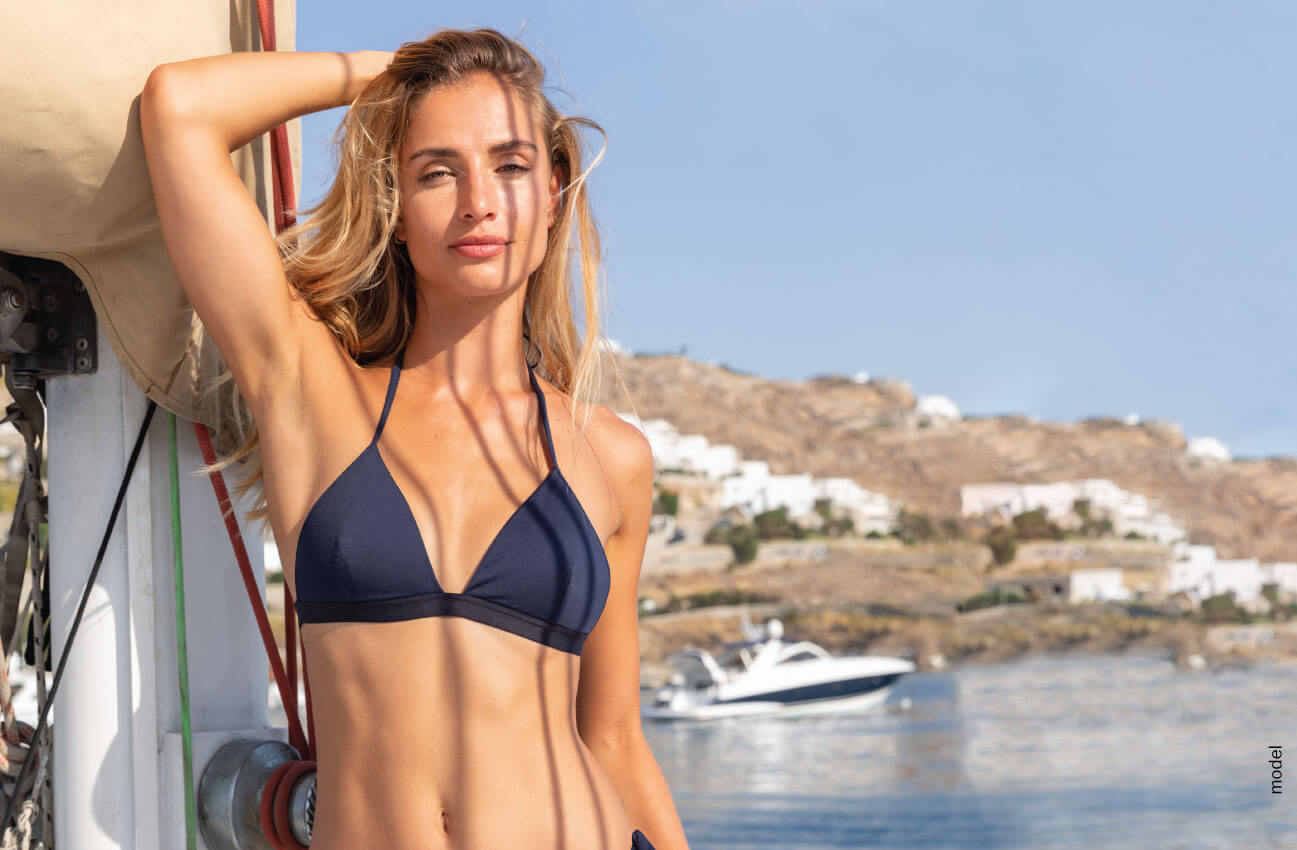 Facelift Surgery
Facelift surgery, also called rhytidectomy, is a facial plastic surgery procedure that is performed to address common aging symptoms of both the face and neck. Facelift surgery tightens and smooths the face by lifting up the facial skin and tissues and/or tightening lax underlying muscle. The procedure involves the surgical removal of sagging skin, loose muscle, or excess fat tissue that often causes deep lines and wrinkles, droopiness, and jowls.
Westlake Dermatology is a leading provider of facelift surgery in Texas. We offer a full range of facial plastic surgery procedures in Houston at our West University and River Oaks locations. Our skilled plastic surgeon and caring staff are dedicated to working with patients to safely and effectively reverse the symptoms of facial aging to look their very best at any age.
What Results Can Facelift Surgery Provide?
Facelift procedures can enhance the appearance of the entire face and neck, correcting a variety of aesthetic issues including:
Lines, wrinkles, and creases
Drooping or sagging skin
Jowls
Submental fullness (double chin)
Visit our Facelift Before & After Photo Gallery.
Types of Facelift Procedures
There are several different types of facelift techniques, each differing in terms of severity and how they are used to address various types of aging symptoms. Facelift techniques range from minimally invasive (like the mini facelift which may be ideal to address minimal symptoms experienced by younger patients) to more invasive like a deep plane facelift (which addresses more severe aging symptoms and produces a more dramatic result). At Westlake Dermatology Houston we offer a range of facelift options to meet the specific needs of each individual patient.
Am I a Good Candidate?
Any individual who is in good overall health and wishes to improve their facial appearance may be a candidate for a facelift surgery. Ideal candidates are those that do not smoke and have realistic expectations regarding the results a facelift can provide.
What is Recovery from the Procedure Like?
Facelift is an outpatient surgical procedure. Patients may experience mild pain and discomfort directly following their surgery which can be managed using prescribed medication. Depending on the technique used, some patients may be required to wear facial bandages for 1-3 days following their procedure. Stitches, if used, will be removed within 7-10 days following surgery. Most people will feel ready to return to work, school, and normal daily activity after about 2 weeks. After 4 weeks, patients can typically wear makeup and undertake moderate physical activity. After 6 weeks, patients are typically fully recovered and all restrictions are lifted.
About Westlake Dermatology Houston
Westlake Dermatology is a leading provider of facial plastic surgery procedures in Texas. Our Houston team is dedicated to providing the best care to our patients. We use the latest techniques in our state-of-the-art facility to ensure patients safely achieve their desired end results.
Our Houston Locations

3636 Westheimer Road
Houston, Texas 77027

832.924.3300


2132 Bissonnet St. Suite 200
Houston, Texas 77005

281.203.0600
Meet Our Houston Plastic Surgeons
Cameron Erickson, MD: Dr. Erickson is an experienced plastic surgeon who believes in a patient focused approach with an emphasis on obtaining a true connection with his patients. He served as Chief Resident at UT Southwestern in Dallas, the #1 plastic surgery training program in the country.
Kristy Hamilton, MD: Dr. Kristy Hamilton is a board certified plastic surgeon specializing in cosmetic and reconstructive surgery. As a member of the Texas Society of Plastic Surgeons, Dr. Hamilton loves about helping Houstonians look and feel their very best.
Request A Facelift Surgery Consultation in Houston
Ready take the next step? Schedule your consultation online or contact us for more information.
Additional Facelift Resources