Case Study: Sclerotherapy Treatment for Leg Veins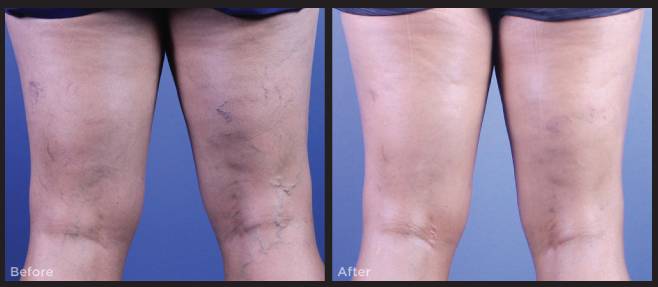 Patient Overview (Before)

Female patient in her late 30's with multiple spider veins (very superficial, 1 mm in size) and reticular veins (deeper, ≤3 mm in size) of the back of her thighs and knees. The patient was seeking to reduce the visibility of these veins but wanted a minimally invasive procedure that did not require a significant recovery period.
Physician Recommendation
Dr. Friedmann chose to treat the patient with sclerotherapy because of the minimal discomfort and lack of downtime associated with treatment. Given the patient's goals, sclerotherapy was the best fit.
An alternative treatment plan could have combined laser-based vein treatments (such as with the Excel V laser) and phlebectomy (manual extraction of veins with a hook) to achieve the patient's goals. However, laser treatments typically require multiple sessions, and phlebectomy requires the use of local anesthesia and has a significantly longer recovery period.
Procedural Overview
Each lower extremity was treated in separate visits spaced 24 hours apart. Both extremities were treated with Sotradecol foam (for the reticular veins) and Sotradecol liquid (for the spider veins). A 30-gauge needle was used for all injections. The patient wore thigh-high compression stockings (30-40 mm Hg) on an uninterrupted basis for 1 week following the procedure.
Results (After)

The after photos were taken approximately 3 months following sclerotherapy, as treated veins can take a few months to completely resolve. The remaining spotty areas on the left and right thighs are a result of post-treatment pigmentation that will resolve on its own over time, further improving the final result. All treated veins have been permanently destroyed and will not recur.
Do you currently suffer from unsightly leg veins? Contact us today for more information on vein removal treatment options.
---
---
4 Responses to "Case Study: Sclerotherapy Treatment for Leg Veins"