How Much Fat Does Liposuction Remove?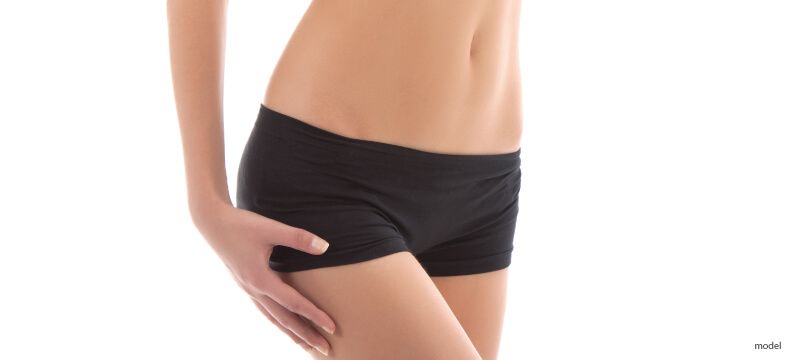 One common question our prospective patients ask is "How much fat will liposuction remove?" The most important concept to understand is that liposuction is a body contouring procedure and not a weight loss procedure. Most weight loss programs center around a patient's weight, easily measured by standing on a scale. However, weight is affected by many variables relating to the composition of the body (water, muscle, bone, and fat). Most liposuction patients want to change the shape of a certain area or areas of their body. So, the more specific question is, how much will the area that the patient wants to reduce change. The goal of liposuction is not a goal weight but rather a goal shape.
As for any cosmetic surgery procedure, an in-person examination with a plastic surgeon is the best way to determine realistic expectations. However, there is a simple maneuver that a patient can perform to determine how much fat can be removed from an area. The patient should use their thumb and index finger to pinch the tissue in the area of potential liposuction. The thickness of the tissue is a good representation of the volume of fat is in the area and consequently how much fat can be removed to reshape the area. The weight of the fat removed is generally only 1-2 pounds per area and not nearly as important as the volume of fat removed from the area.
Remember, liposuction is a targeted fat removal procedure to contour the shape of the body and not a weight loss treatment. Skilled liposuction in areas like the abdomen, flanks, love handles, arms, chin, inner and out thighs can drastically change a patient's figure and enhance an entire silhouette and to create aesthetically pleasing contours.
Example: Fat Liposuction Removes (Per Body Area)
Note: These estimates are for a female patient with a weight of 150 pounds and a height of 5'5″. The below quotes are for removed fat only and does not count the additional tumescent fluid removed during a liposuction procedure.
Abdomen (Stomach): 2 to 2.5 pounds of fat
Flanks (Love Handles): 1.5 to 2 pounds of fat (both sides combined)
Back: 1 to 1.5 pounds of fat
Inner Thighs: 2 to 3 pounds of fat (both thighs combined)
Outer Thighs: 1 to 1.5 pounds of fat (both thighs combined)
Upper Arms: 0.5 to 1 pound of fat (both arms combined)
Chin: around 0.5 to 1 pound of fat
Liposuction is Body Contouring Not Weight Loss
As you look at the above numbers, you're probably thinking something along the lines of "wow that's not a lot of weight taken off." You're very right!
Remember liposuction is not a weight loss treatment. It's a fat loss treatment that is performed to enhance and contour specific targeted areas of the body. Skilled liposuction providers are able to transform bulging areas into tight, lean contours. Removing isolated fat pockets from specific body areas, say 2 pounds of fat from the flanks or 3 pounds of fat from the thighs, can drastically change a patients figure and enhance an entire silhouette.
---
---
4 Responses to "How Much Fat Does Liposuction Remove?"