11 Common Types Of Sun Damaged Skin (See Pictures)
Ultraviolet (UV) rays can affect the skin in a number of negative ways. The list below describes various types of sun damage that can occur.
Sun Tan

A suntan is the darkening of the skin in response to sun exposure. A suntan that develops immediately is primarily a response to UVA exposure, while a tan that develops days after exposure is mostly due to UVB. A sun tan reflects changes in the skin that are occurring on a molecular level. Individuals with certain skin types may be more or less sensitive to sun exposure, but there is no such thing as a "healthy tan."
Sun Burn
A sunburn is a thermal burn occurring on the outer layer of the skin after prolonged exposure to ultraviolet (UV) rays. A first-degree sunburn is a milder form where the skin reddens and may hurt when touched. Second-degree sunburns can lead to blistering of the skin and deep tissue damage. Having a sunburn during childhood or adolescence significantly increases the chances of developing melanoma later in life. Always seek medical assistance if your skin blisters due to a sunburn.
Freckles
Freckles are flat and circular spots that are usually small in size and brown or beige in color. They usually develop in clusters on areas of the body that are regularly exposed to the sun, such as the face and forearms. Many people notice their freckles darken during the summer months when UV exposure is greatest. There are many ways to minimize the appearance of freckl es, including topical creams and laser skin resurfacing.
Melasma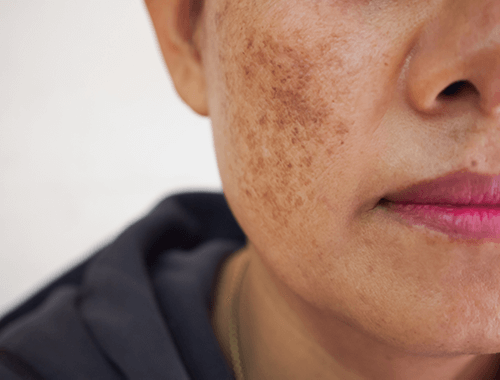 Melasma (or chloasma) is an abnormal patch of skin discoloration/darkening that typically occurs on the forehead, cheeks, nose, chin, or upper lip. Often melasma is uniform and symmetrical along both sides of the face. Melasma is strongly influenced by hormonal shifts, including pregnancy.
Individuals with melasma should practice safe sun protection, as additional UV exposure will cause the condition to worsen. Melasma can be treated with topical skin lightening treatments, chemical peels, or microdermabrasion.
Age Spots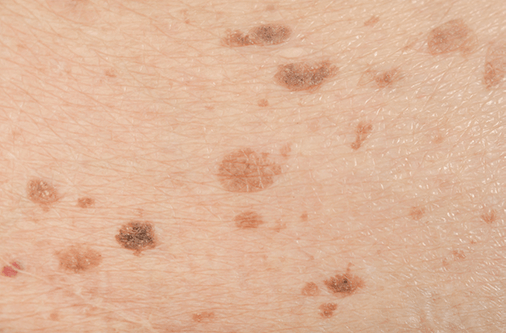 Also referred to as sun spots or solar lentinges, age spots are flat brown spots that appear when the skin is chronically exposed to ultraviolet (UV) light, either from the sun or from tanning beds. Age spots commonly form on areas of the body that are most frequently exposed to the sun, like the face, hands, neck, décolletage, arms and legs. Treatment options for age spots include topical skin lightening products, chemical peels, laser treatments, and microdermabrasion.
Actinic Keratosis
Actinic Keratoses (AKs) are rough, scaly, red or brown colored patches on the skin caused by excessive exposure to the sun. Common in individuals with light skin tones and red or blonde hair, AK's are concerning as they may further develop into skin cancer (carcinoma).
AK's can be treated in several different ways. We offer a special 2-step treatment for treating Actinic Keratoses that combines Luvelan (a topical solution) with Blu-U light therapy. Learn more about treating AK's
Actinic Cheilitis
Sometimes referred to as Farmer's Lip, actinic cheilitis is very similar to actinic keratosis but it appears on the lower lip. Symptoms include persistently dry and cracked lips as well as the development of scaly patches.
Bowen Disease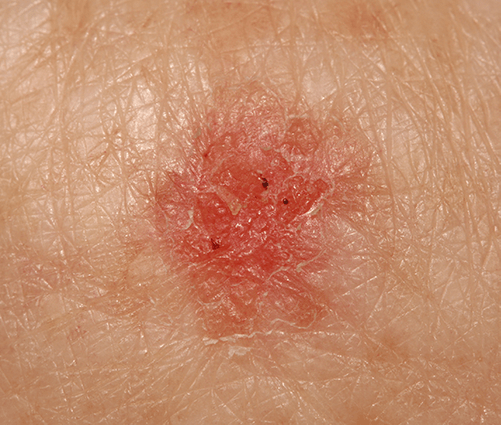 Bowen disease is a form of skin cancer that stays on the surface of the skin. It commonly appears as scaly or crusty plaque that is red/brown in color. After properly being diagnosed by a dermatologist, areas afflicted with Bowen disease can be surgically excised.
Basal Cell Carcinoma
Basal cell carcinoma is the most common form of skin cancer. It is typically not life threatening and rarely spreads, as it grows very slowly. Basal cell carcinoma may appear in many ways, with the most common being a pimple that will not go away, a spot that bleeds when you wash your face, a shiny pink bump, or a non-healing sore. Basal cell carcinoma may appear anywhere on the skin.
Squamous Cell Carcinoma
Squamous cell carcinoma is the second most common form of skin cancer. It is also rarely life threatening and highly curable if detected early. It often occurs on the head, face, ears, or hands and can range in size from a few millimeters to a few centimeters in diameter. Squamous cell carcinoma can look like a red bump or an ulcer/sore that just won't heal on its own.
Melanoma
Malignant Melanoma is the least common but most serious form of skin cancer. It usually appears as a dark brown or black mole with uneven borders and irregular color, with shades of black/blue, red, or white. Contact your dermatologist if you spot any irregular appearing moles or lesions.
Preventing Sun Damage
The best way to avoid skin damage from the sun is to practice proper sun protection every day. This means always wearing a high SPF broad-spectrum sunscreen (even on cloudy days), avoiding the outdoors during peak UV hours, and wearing UV resistant apparel. For more tips on sun protection, checkout these additional posts:
---
---
8 Responses to "11 Common Types Of Sun Damaged Skin (See Pictures)"