What's The Difference Between Retinol and Retinoids?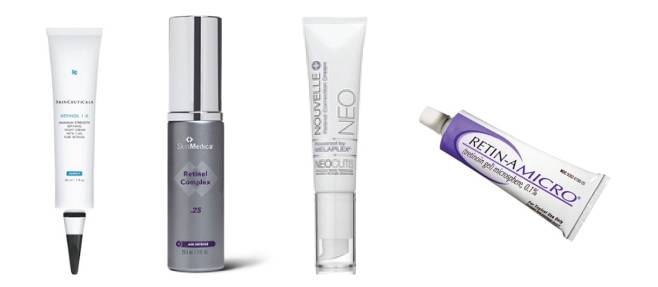 Quick Answer: Retinol and Retinoids are powerful anti-aging ingredients that can rejuvenate the look and feel of the skin. Retinol is a form of vitamin C that is found in over-the-counter skin care products. Prescription strength retinoids like tretinoin or retinoic acid are stronger formulations that should only used by individuals who did not realize improvements from retinol. Continue reading to learn more about retinoids and retinol.
During the natural aging process the skin begins to lose its elasticity, resulting in the development of fine lines, wrinkles, and rough feeling skin. The accumulation of sun exposure over the years tends to dramatically accelerate and compound this effect.
Two products that lend themselves to preventing and reversing the signs of aging are Retinol and Retinoids. Retin based skincare products are worth understanding because of their proven ability to reduce wrinkles, increase blood flow in skin, fight acne, increase cellular turnover, boost collagen and even skin tone.
What are Retinoids?
Retinoids are chemical compounds that are related to vitamin A. Retinoids work by initiating the skin to rapidly turn over cells, killing old cells in order to boost new cell growth. They also stimulate collagen production and thicken deeper layers of the skin, which is the source of wrinkles. Finally, retinoids correct pigmentation related issues by sloughing off brown spots and curbing melanin development. The type of retinoid and the percentage strength that is best for you depends on several factors:
Skin type
Skin condition
Your age
Reasons for use (some retinoids are better than others for acne or anti- aging)
All of these factors combine in determining what your skin needs and can tolerate. Generally you want to use a retinoid that gives the best result and the least irritation.
What is Retinol?
Retinol is a form of vitamin A that naturally occurs in the skin. It is commonly used in over-the-counter skin care products, normally in concentrations of around 0.05 to 1 percent. When retinol is topically applied to the skin enzymes work to convert it into retinoic acid; which is clinically proven to improve lines, discoloration issues, and revitalize the skin.  Retinol is available in many high quality over-the-counter skin care products from brands like SkinMedica.
The process of converting retinol into retinoic acid can take several weeks. In fact it could take up to 3 to 6 months of daily usage for retinol based products to provide a noticeable difference.
Retin- A (Tretinoin)
Retin-A is the brand name of tretinoin, the first retinoid approved by the FDA over 40 years ago. Retin-A is a prescription drug that when launched was predominantly prescribed by dermatologists to treat acne. However, today the use of Retin-A for skin rejuvenation is commonplace as physicians have noticed how it can simultaneously boost collagen, diminish wrinkles, speed up cell turnover, and smooth the skin.
Retin-A is referenced as being 100 times stronger than retinol. It also has a more immediate effect because it is formulated as retinoic acid; unlike retinols, no conversion by the body is required. As such, many users of Retin-A experience notable improvements in as little as 4-8 weeks.
Retinols vs Retinoids, which is better?
Every individual is unique. As such, patients my find that adding retinol alone to their skincare regimen provides all the results they are looking for. If over-the –counter retinol products prove to be ineffective we may suggest a prescription based retinoid, such as Retin-A. Your dermatologist will examine your skin and prescribe the proper strength for your unique skin type and concerns.
---
---
48 Responses to "What's The Difference Between Retinol and Retinoids?"