Breast Lift Recovery: Tips + What To Expect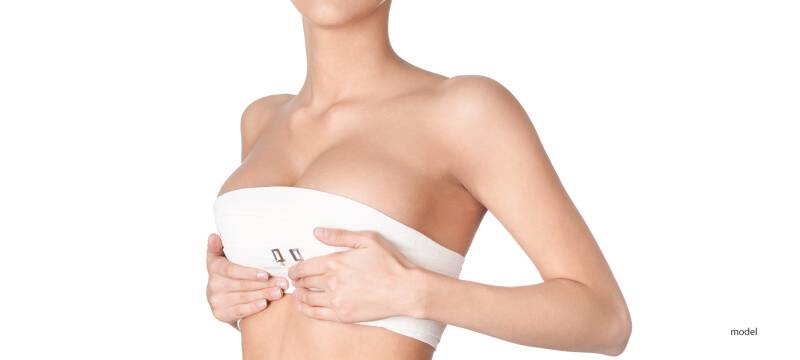 Are you considering a breast lift procedure (mastopexy)?  In this post, we'll provide a basic breast lift recovery timeline along with some tips to make the recovery process fast and easy.
Recovery Milestones & Restrictions
2 Weeks prior to surgery:
No aspirin, ibuprofen, herbal supplements, fish oil or any medication that can increase the risk of bleeding.
Make arrangements for responsible friend/family member to drive you home after surgery.
Prepare for your recovery period by making arrangements for childcare and/or work accordingly.
Purchase any supplies you may need after the surgery (frozen peas/ice packs, gauze, sports bra).
Notify the office of any symptoms of illness prior to surgery. Your medical history may require medical clearance like lab work, mammogram or an EKG prior to surgery.
Day prior to surgery: Confirm your surgery time and transportation. Fill prescriptions. Start taking Arnica Montana.
Night before surgery: Do NOT eat or drink anything 12 hours prior to surgery. Shower. Relax, go to bed early and try to sleep at least seven hours.
2-3 Days Following Surgery: Many women may experience light to moderate pain in the days following their procedure, which can be managed through prescription medication (see section below for more detail). Nausea stemming from the anesthesia used during the procedure is also common but typically subsides without intervention. Surgical dressings and any drains that were used are often removed by the surgeon within this time frame. However, many surgeons will recommend that their patients continue to use a surgical bra and compression bandages to protect the incision sites. By day 2 or 3 many patients will be able to shower.
1 Week Following Surgery: Pain levels usually significantly decline while moderate bruising and swelling of the breasts may continue to persist. Many patients are cleared to return to work and perform light daily activities including walking. However, patients should avoid bending, lifting heavy objects, and other forms of strenuous movements.
2 Weeks Following Surgery: Many patients begin to feel normal and are able to perform daily activities without pain. Vigorous activity or exercise should continue to be avoided. Incisions typically fully heal around the 2-week mark and patients may be cleared to take baths.
4 Weeks Following Surgery: Most patients are healed enough to resume their normal exercise routine (however exercises and activities like golf, tennis, etc. that specifically target the chest should still be avoided).
6 Weeks Following Surgery: The 6-week point usually marks the completion of the recovery process as most bruising and swelling of the breasts has resolved. Most patients can exercise without restraint, sleep on their abdomen and sides, and are cleared to wear an underwire bra.
Pain Management
Most patients report experiencing mild to moderate pain following their breast lift procedure. Pain is typically greatest in the first 2-3 days following the procedure and subsides thereafter. Your surgeon can prescribe pain medication to relieve any discomfort experienced by the patient. Note that many surgeons do not recommend taking over-the-counter, non-steroidal, anti-inflammatory drugs such as ibuprofen or naproxen post-procedure as they may increase bleeding.
Nipple Numbness
Nipple sensation is often increased in the weeks immediately following the procedure and returns to normal.
Scars
Breast lift surgery can result in scarring, the extent and location of which depends on the type of breast lift technique performed. In some cases, the incisions can be placed in low visibility areas like around the areola line or under the breast fold. Additionally, there are several non-surgical cosmetic treatments that can be performed to minimize the appearance of any resulting scarring.
Tips For A Quick & Easy Recovery
Follow all post-procedure care instructions provided by your plastic surgeon.
Take pain medication, antibiotics, and any other prescriptions as prescribed by your surgeon.
Attend all scheduled post-op appointments.
Refrain from showering or bathing until you are cleared to do so.
Wear all recommended compression garments or surgical bras.
Plan to take 1-2 weeks off from work.
Ask a trusted friend or family member to be a caregiver over the first 2-3 days following your procedure.
Get plenty of rest and sleep.
Drink lots of water throughout the recovery period.
Eat light and healthy foods following your procedure.
Avoid touching or removing bandages from incision sites as they may re-open your wounds.
Wear loose fitting clothing, specifically tops that will not require you to raise your arms in order to put them on.
Avoid sleeping on your belly or side for 6 weeks following your procedure. Patients are advised to sleep with their head propped up under 2-3 pillows in order to reduce pain and swelling.
Limit all forms of vigorous exercise including any physical movements which make the breasts bounce (like running or jumping) until you are fully healed.
It is important to understand that your recovery experience may differ from the information presented here due to several factors including your pain tolerance and your body's healing response. Following all surgeon provided post surgery advice is essential to getting the best possible results and helping results last as long as possible. Procedure-specific variables like the type of breast lift technique performed also plays a role in recovery. Finally, patients who combine a breast lift with other surgical procedures (like breast augmentation or breast reduction procedure) may require a longer recovery period.
---
---
58 Responses to "Breast Lift Recovery: Tips + What To Expect"